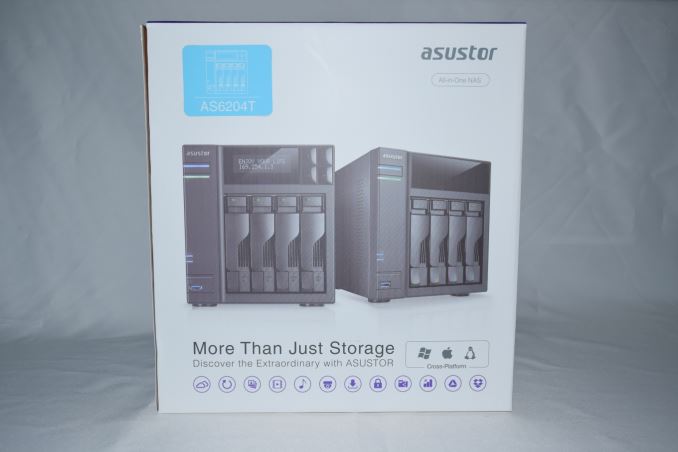 Asustor is one of the recent entrants in the NAS market. Over the last couple of years, they have tried to play in the same space as QNAP and Synology, targeting power users and SMBs. They have a wide variety of hardware platforms to choose from, ranging from ARM-based 2-bay systems to Xeon-based rackmounts. Asustor became the first COTS NAS (commercial off-the-shelf network-attached storage) vendor to introduce models based on Intel's 14nm Braswell SoCs back in September 2015. In this review, we take a look at the performance of the AS6204T, a 4-bay model.
Introduction and Testbed Setup
Asustor recently introduced ARM-based NAS models as well as an update to their Bay Trail models in order to serve both home consumers and SOHO / SMBs with better hardware platforms. Their Braswell lineup consists of four models, with each model name following the pattern AS6X0YT, where X (1 or 2) refers to the number of cores in the Braswell SoC in the model and Y (2 or 4) refers to the number of bays. The dual-core SoC used by Asustor is the Intel Celeron N3050, while the quad-core SoC is the Intel Celeron N3150. One of the more important updates in moving up from Bay Trail-based SoC such as the Celeron J1900 to the Braswell-based SoCs is the availability of AES-NI for accelerated encryption capabilities.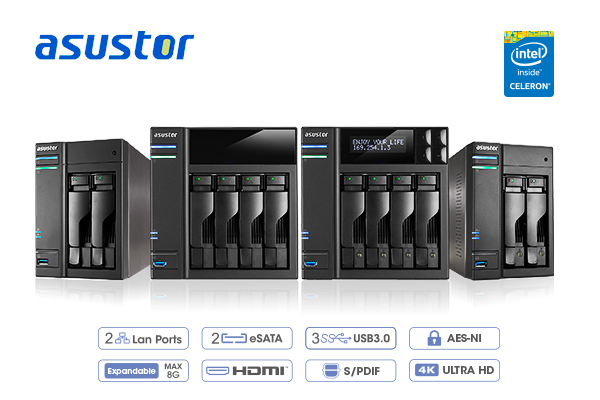 Asustor sampled us with the highest end model in the AS6xxx series, the AS6204T. The specifications of the Asustor AS6204T are provided in the table below. The corresponding specifications of some of the other contemporary NAS units are also included.
Comparative NAS Configurations
Aspect
Asustor AS6204T
Processor
Intel Celeron N3150 (Braswell 4C/4T Airmont x86 @ 1.6 GHz)
Intel Celeron N3150 (Braswell 4C/4T Airmont x86 @ 1.6 GHz)
RAM
4 GB
4 GB
Drive Bays
4x 3.5"/2.5" SATA II / III HDD (Hot-Swappable)
4x 3.5"/2.5" SATA II / III HDD (Hot-Swappable)
Network Links
2x 1 GbE RJ-45
2x 1 GbE RJ-45
External I/O Peripherals
3x USB 3.0, 2x USB 2.0, 2x eSATA
3x USB 3.0, 2x USB 2.0, 2x eSATA
Expansion Slots
None
None
Display Out
HDMI 1.4b
HDMI 1.4b
Power Supply
90W (12V @ 7.5A) External Power Adapter
90W (12V @ 7.5A) External Power Adapter
Full Specifications Link
Asustor AS6204T Specifications
Asustor AS6204T Specifications
Price (when reviewed)
USD 670
USD 670
The various specifications of the NAS are backed up by the data gleaned via SSH access to the unit. The most interesting aspect here is the use of the Broadcom BCM57781 Ethernet controllers.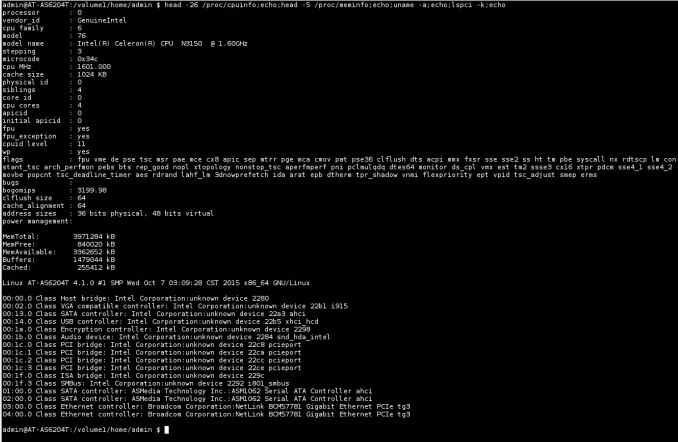 The industrial design of the Asustor units give us nothing to complain about. The LCD screen provides a quick way to look at and control the essential NAS configuration. The drive bays are solid and can take both 3.5" as well as 2.5" drives. The caddies also come with a basic locking mechanism to protect against accidental disk removal.
The setup process is quite straightforward. Upon connection to the network, the Asustor AS6204T receives a DHCP address even in a diskless state. The IP address can be determined either from the DHCP provider in the system or via the Asustor Control Center Windows / OS X utility. Starting off in a diskless state results in a prompt from the web UI to insert at least one disk in order to continue. The single disk can be configured in a JBOD volume and the login credentials can also be set up. The unit had no trouble in handling our standard RAID migration, expansion and rebuild operations using the 4TB WD Re drives.
In the rest of this piece, we will take a look at how the Asustor AS6204T takes advantage of the Braswell platform. We will be solely concentrating on objective metrics in this review. A discussion of the mobile apps, we UI and other subjective aspects will be covered in a future article. Benchmark numbers for both single and multi-client scenarios across a number of different client platforms as well as access protocols will be presented. We also have a separate section devoted to the performance of the NAS with encryption enabled. Prior to all that, we will take a look at our testbed setup and testing methodology.
Testbed Setup and Testing Methodology
The Asustor AS6204T can take up to 4 drives. Users can opt for either JBOD, RAID 0, RAID 1, RAID 5, RAID 6 or RAID 10 configurations. We expect typical usage to be with a RAID-5 volume. In order to keep things consistent across different NAS units, we benchmarked a RAID-5 volume with four Western Digital WD4000FYYZ RE drives were used as the test disks. Our testbed configuration is outlined below.
AnandTech NAS Testbed Configuration
Motherboard
Asus Z9PE-D8 WS Dual LGA2011 SSI-EEB
CPU
2 x Intel Xeon E5-2630L
Coolers
2 x Dynatron R17
Memory
G.Skill RipjawsZ F3-12800CL10Q2-64GBZL (8x8GB) CAS 10-10-10-30
OS Drive
OCZ Technology Vertex 4 128GB
Secondary Drive
OCZ Technology Vertex 4 128GB
Tertiary Drive
OCZ Z-Drive R4 CM88 (1.6TB PCIe SSD)
Other Drives
12 x OCZ Technology Vertex 4 64GB (Offline in the Host OS)
Network Cards
6 x Intel ESA I-340 Quad-GbE Port Network Adapter
Chassis
SilverStoneTek Raven RV03
PSU
SilverStoneTek Strider Plus Gold Evolution 850W
OS
Windows Server 2008 R2
Network Switch
Netgear ProSafe GSM7352S-200
The above testbed can run up to 25 Windows 7 or CentOS VMs simultaneously, each with a dedicated 1 Gbps network interface. This simulates a real-life workload of up to 25 clients for the NAS being evaluated. All the VMs connect to the network switch to which the NAS is also connected (with link aggregation, as applicable). The VMs generate the NAS traffic for performance evaluation. However, keeping in mind the nature of this unit, we restricted ourselves to a maximum of 10 simultaneous clients.
Thank You!
We thank the following companies for helping us out with our NAS testbed: