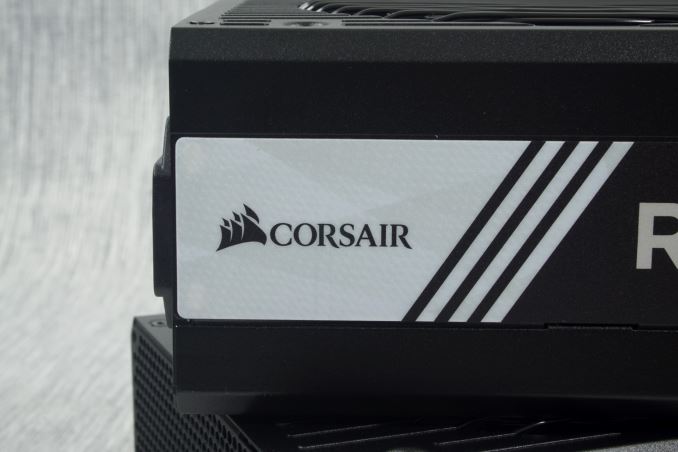 Corsair might have started off as a computer memory manufacturer, but today they sell a number of components for PCs. One of their most active product lineups is their computer power supply units (PSUs) business, with the company offering dozens of products through six different series. Each of their PSU series has been designed with a specific target group in mind, ranging from the low-cost VS series to the top-performance AX series. Amongst them, the RM series consists of units with modular cables that have been designed with low noise operation in mind.
We had our first take on the RM series one and a half year ago with the review of the RM1000, which was the pinnacle of the RM series at the time. A few months ago, Corsair upgraded the RM series, presenting the RM-i series that also featured Corsair's Link interface. This week, the company is further releasing the RM-x series, which are an upgrade of the original RM series, receiving essentially the same upgrade as the RM-i units but leaving out the Corsair Link support. Corsair has provided us with an RM1000i and an RM1000x for evaluation, both of which we will have a look at in this review.
Power specifications ( Rated @ 50 °C )
AC INPUT
100 - 240 VAC, 50 - 60 Hz
RAIL
+3.3V
+5V
+12V
+5Vsb
-12V
MAX OUTPUT
25A
25A
83.3A
3A
0.8A
150W
1000W
15W
9.6W
TOTAL
1000W
Packaging and Bundle
Corsair supplies the RM1000i and the RM1000x into large, tough cardboard boxes. The packaging is virtually identical, with the only major difference being the main color, which is white for the former and black for the latter. A lot of information regarding the PSU has been printed on all sides of the box, in multiple languages.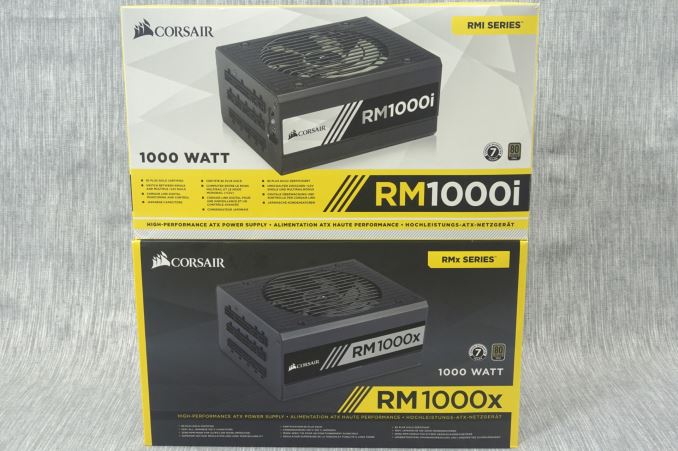 The company kept the bundle simple, supplying only the standard AC power cable, a manual and four black mounting screws, as well as a case badge and a few cable ties.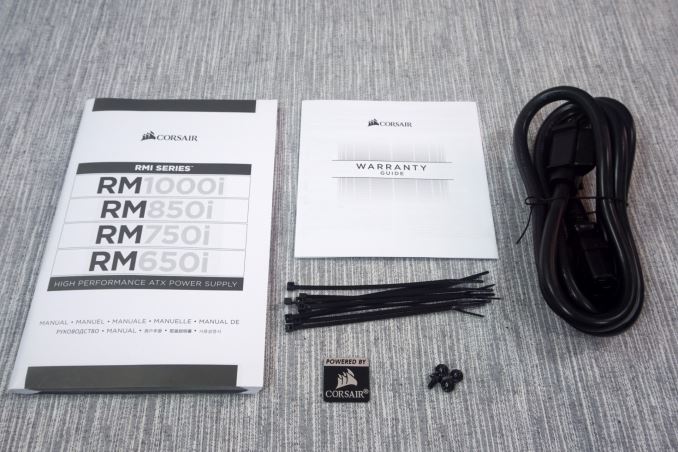 Both of the new RM units comes with the same number of cables and connectors, with the exception of the extra internal USB cable that the -i variation has for the Corsair Link interface. The SATA/Molex cables are flat, ribbon-like cables, while the thicker ATX/EPS/PCI-E cables are sleeved. All of the wires are black.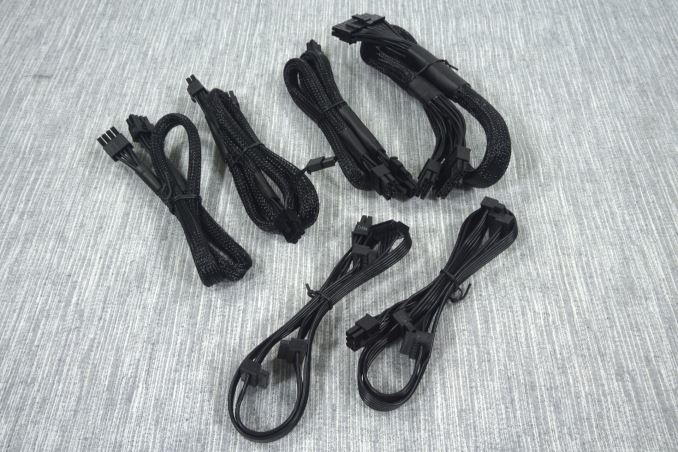 The following table lists the number of connectors.
Corsair RM1000x/RM1000i
Connector type
Hardwired
Modular
ATX 24 Pin
-
1
EPS 4+4 Pin
-
2
EPS 8 Pin
-
-
PCI-E 6+2 Pin
-
8
PCI-E 8 Pin
-
-
SATA
-
12
Molex
-
11
Floppy
-
2