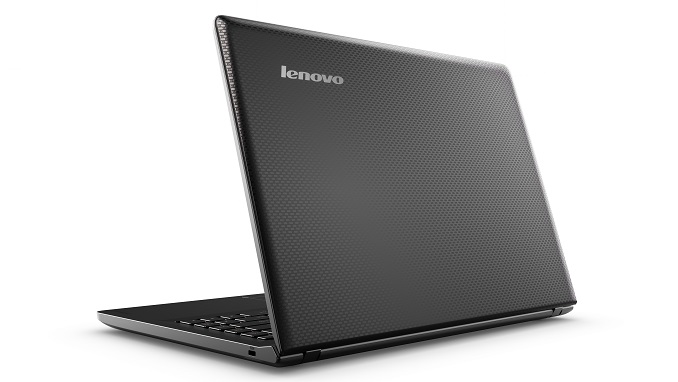 Today Lenovo is holding their Tech World conference in Beijing, and as part of the festivities they are announcing three laptops for those on a tight budget. The Lenovo ideapad 100 is a 14 or 15-inch laptop which starts at just $249, and the Lenovo Z41 and Z51 are 14 and 15-inch models starting at $499.
We don't have the full list of available models of these devices yet, but let's start with the ideapad 100 first. At just $249, it certainly is going to be easy on the wallet. It is available in a 14-inch model which is 20.2 mm thick, and a 15-inch model which is 22.6 mm thick. It is powered by the Intel Pentium N3540, which is a BayTrail-M class part. This is a four core model which has a base speed of 2.16 GHz and a turbo frequency of 2.66 GHz. The specifications do say "up to" the N3540 though, so the assumption is that the base model will be something else. The display is what you would expect in a budget offering with a 1366x768 resolution, and likely a TN panel. Somewhat surprisingly you can get up to 8 GB of memory, and up to 500 GB of storage through a hard disk drive or 128 GB with a solid state drive. It seems to have all of the connectivity covered with two USB ports (one 3.0, one 2.0), HDMI out, a 4-in-1 card reader, and somewhat surprisingly an Ethernet jack. On the downsides, the battery life from the 30 Wh battery is rated at just four hours, and the weight is hefty at 4.2-5.1 lbs depending on the model.
Lenovo ideapad 100
14-inch
15-inch
Processor
Up to Pentium N3540 BayTrail-M 4 core 2.16-2.66 GHz
Display
14" 1366x768
15" 1366x768
Memory
Up to 8GB DDR3L
Storage
Up to 500GB HDD or 128GB SSD
Connectivity
1xUSB3.0, 1xUSB2.0, HDMI, Card Reader, RJ-45
Wireless
802.11n 2.4GHz, BT 4.0
Battery
30 Wh, Up to 4 hours
Dimensions
340 x 237.8 x 20.2mm (13.39 x 9.33 x 0.8 inches)
378 x 265 x 22.6mm (14.88 x 10.43 x 0.89 inches)
Weight
1.9kg (4.19lbs)
2.3kg (5.07lbs)
Operating System
Windows 8.1 Update
Price
Starting at $249
It is certainly a budget offering, but for many people this will likely fit the bill. It's surprising they could only fit a 30 Wh battery in though on an up to 5 lb laptop, and a larger battery would make this a lot more appealing for people who need something on the go.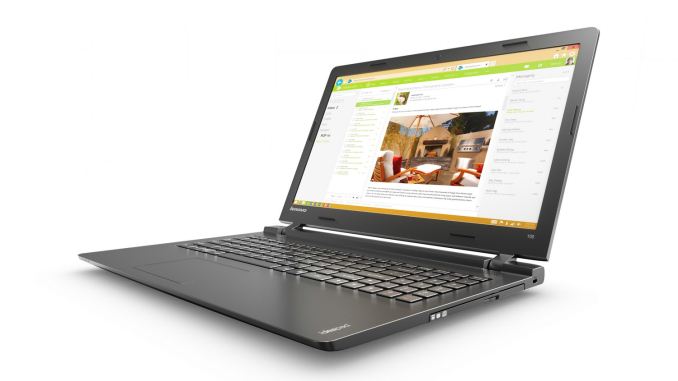 Lenovo ideapad 100 15
The Z41 and Z51 models ramp up the price, but offer quite a bit more potential as well. The Z41 is a 14-inch laptop, and the Z51 is the 15-inch model and both have 1080p panels, but it is not stated whether they are TN or IPS. The processing power on tap is quite a bit more than the ideapad 100 (yes it is written in all lower case in the press release) with Intel Broadwell Core i7 as the top processor available. Once again it is "up to" i7, so expect the base model to come with something less than that. The base models of both use integrated graphics from Intel, but both can be outfitted with a discrete GPU. The Z41 is available with the AMD R7-M360, and the Z51 bumps that up to the AMD R9-M375. Memory is up to 16 GB of DDR3L, and storage is up to 1 TB of HDD or SSHD. The Z models have two USB 3.0 ports, one USB 2.0 port, HDMI, a 4-in-1 card reader, VGA, and once again, an Ethernet jack. Wireless is 802.11ac as well. The 15-inch model will even be available with an optional Intel RealSense 3D camera system which should set it up for Windows Hello login when Windows 10 ships. The integrated 41 Wh battery is once again just rated for four hours though, so this is not going to be the best device for someone on the go. The 14-inch model is also a rather hefty 4.63 lbs, and the 15-inch comes in at 5.07 lbs. It is available in ebony black or chalk white, with the 14-inch model also available in crimson red.
Lenovo Z41/Z51
Z41
Z51
Processor
Up to 5th Gen Intel Core i7
Display
14" 1920x1080
15" 1920x1080
Memory
Up to 16GB DDR3L
Storage
Up to 1TB HDD or 1TB SSHD
Optional GPU (base is iGPU)
AMD R7-M360
AMD R9-M375
Connectivity
2xUSB3.0, 1xUSB2.0, HDMI, Card Reader, RJ-45, VGA
Wireless
802.11ac, BT 4.0
Battery
41 Wh, Up to 4 hours
Dimensions
347 x 249 x 24.4mm (13.66 x 9.8 x 0.96 inches)
384 x 265 x 24.6mm (15.12 x 10.43 x 0.97 inches)
Weight
2.1kg (4.63 lbs)
2.3kg (5.07 lbs)
Operating System
Windows 8.1 Update
Price
Starting at $499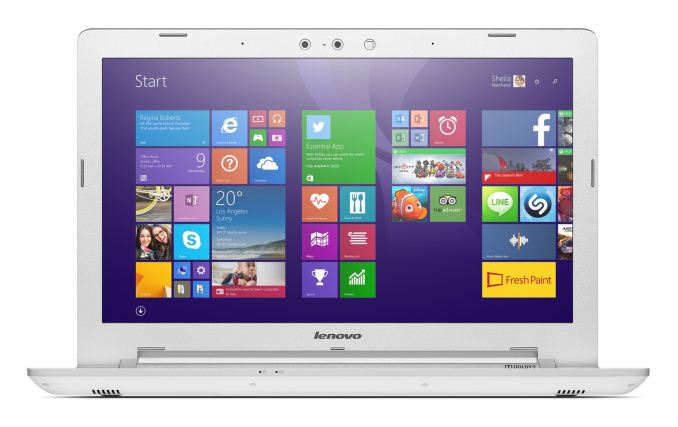 Lenovo Z41
The ideapad 100 models will be available online and in retail stores in June, and once again starts at just $249. The Z41 and Z51 are also going to be available in June, starting at $499 for both models. The Z51 with Core i5, 8 GB of memory, and the RealSense 3D camera starts at just $599.
AMD M300 Series GPU Specification Comparison
R9 M375
R7 M360
Was
Variant of R9 M270/M260
Variant of R7 M270/M260
Stream Processors
640
384
Texture Units
40
24
ROPs
16
4?
Boost Clock
<=1015MHz
<=1015MHz
Memory Clock
2.2GHz DDR3
2GHz DDR3
Memory Bus Width
128-bit
64-bit
VRAM
<=4GB
<=4GB
GPU
Cape Verde
Oland
Manufacturing Process
TSMC 28nm
TSMC 28nm
Architecture
GCN 1.0
GCN 1.0
Depending on the prices with discrete GPUs, these could work out to be reasonable priced laptops with some gaming potential as well. We'll have to wait and see how the pricing works out for those models though.