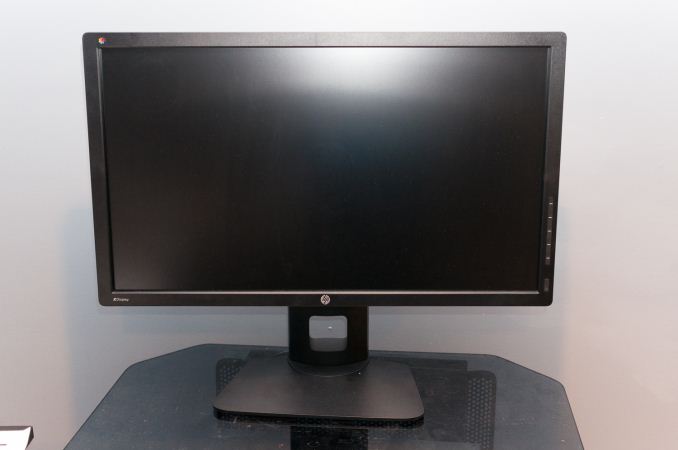 The HP z27x is loaded with features. Beyond the usual features like a USB hub and multiple inputs it offers multiple color space support for AdobeRGB, DCI, and even Rec. 2020. It goes well beyond this by offering the ability to self-calibrate any of the presets to your own requirements and an Ethernet jack for network management.
With all of these features it is obvious that the HP z27x isn't a monitor generally meant for home use. It is very much targeted at the professional world, say someone like Pixar, where control and flexibility are necessary. The first feature that the HP z27x brings to the table is support for a very large color gamut.
While AdobeRGB support is common in professional displays, a gamut that goes beyond that is not as common. The HP z27x also has support for the DCI P3 (Digital Cinema Initiative) and Rec. 2020 which is the color gamut of the UltraHD TV standard. Now nothing can actually display the full Rec. 2020 gamut, and that includes the HP z27x, but it gets much closer than other monitors out there on the market today. We will see later just how large the gamut is on the HP z27x.
It also has features for working with digital cinema material. It is still a QHD display with 2560x1440 resolution but can display true 4K content (4096 pixels wide) through either scaling or 1:1 pixel mapping. Using this mode lets you scroll around a larger desktop or scale it to fit onto the screen so you can see your whole desktop and then zoom into 1:1 mode when you need to edit. Very few displays can handle a 4096 pixel signal but the HP z27x can.
Your inputs are limited to a single HDMI 1.4a and dual DisplayPort 1.2 inputs. Either of these can accept a 4096 pixel signal, though at 24Hz and not 60Hz due to bandwidth limits. There is a complement of USB ports with four USB 3.0 ports and two USB 2.0 ports. Four of these are on the bottom of the display and are harder to access but two are on the side and convenient for flash drives and other accessories.
All the features of the HP z27x are accessible through a well designed on screen display. Straight out of the Dell handbook for how to do it right, buttons on the right control the features while they are clearly labeled on-screen. There are no annoying touch sensitive buttons that are hard to use or controls that don't work intuitively. Finding the setting you need is easy, as is switching between calibrated presets. HP seems to have actually spent time working on the OSD of the z27x to make sure it is easy to use, which I can't say for most companies.
The Ethernet jack on the HP z27x is a first for a display that I have reviewed. After all, why does a monitor need Ethernet? What it allows is for complete management of the display over the network and to tie it into your account management. Once again, let's look at a company like Pixar. You have people that work on film production and home video production. Each of these has a different color gamut and a different setting in the HP z27x. With the management features in the HP z27x you can tie accounts to those profiles. Log in to a machine and the display automatically chooses the appropriate profile for you. If it is a work environment where people share machines during different shifts, this prevents errors from happening. You can get notifications on how long it has been since a calibration happened, letting you know that a monitor calibration needs to be done and sending someone to do it. It's another feature that the home user will not need, but it can prove very useful in a large corporate environment.
HP z27x
Video Inputs
1x HDMI 1.4a, 2x DisplayPort 1.2
Panel Type
AH-IPS
Pixel Pitch
0.2331mm
Colors
1.07 Billion
Brightness
300 cd/m2
Contrast Ratio
1000:1
Response Time
7ms GtG
Viewable Size
27"
Resolution
2560x1440
Viewing Angle (H/V)
178 / 178
Backlight
LED
Power Consumption (operation)
65 W
Power Consumption (standby)
< 1.2W
Screen Treatment
Anti-Glare
Height-Adjustable
Yes
Tilt
Yes, -5 to 20 degrees
Pivot
Yes
Swivel
Yes, 45 Degrees
VESA Wall Mounting
Yes, 100mm VESA
Dimensions w/ Base (WxHxD)
25.24" x 9.55" x 15.55"
Weight
19.4 lbs.
Additional Features
3.5mm stereo out, 4x USB 3.0, 2x USB 2.0
Limited Warranty
3 year
Accessories
DisplayPort Cable, MiniDP to DP Cable, USB 3.0 Cable, HDMI Cable
Price
MSRP: $1,499
Online: Starting at $1,396
The HP z27x has all the features it needs to be a great performer, but it still has to prove itself on our test bench.