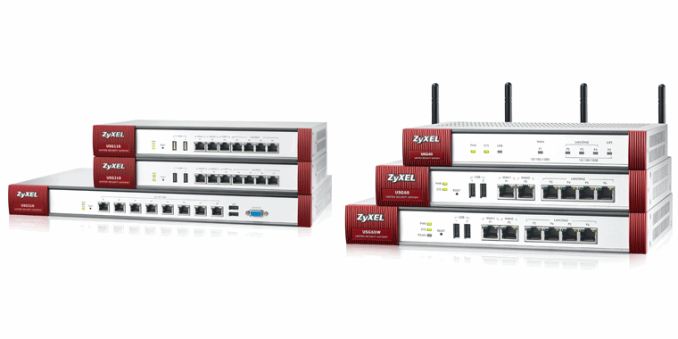 ZyXEL's Unified Threat Management (UTM) systems have been quite popular in the SMB market, thanks to their attractive pricing and excellent customer support (as evidenced in reviews on various e-tailer sites). By providing firewall, VPN and security services in a single product, the UTM lineup gives SMB IT administrators an integrated security solution that can even span distributed office locations.
ZyXEL is introducing 7 new products in this market segment today under the USG lineup. These are classified under the Advanced Series and Performance Series. While the former targets SMBs with up to 100 users, the latter is meant to support up to 5 - 10 users. UTM devices have generally suffered from greatly reduced throughput when security services are enabled, and the new models seem to have addressed them. In addition to a unified management interface for the firewall, intrusion detection features, anti-virus (Kaspersky), content filtering and application control, the USG units also include a built-in WLAN controller (some of the USG units also come with Wi-Fi radios).
In the Advanced Series, we have the USG310, USG210 and USG110. While the 310's eight RJ-45 ports are configurable, the 210 and 110 have 4x LAN, 2x WAN and 1x OPT ports. The 310 can support up to 5 Gbps of SPI firewall throughput, while the 210 and 110 come in at 1.9 and 1.6 Gbps respectively. Other system capacity and performance aspects follow a similar trend. ZyXEL has a very helpful table comparing the various models in the advanced series here.
In the Performance series, we have the USG40 and USG60 along with their Wi-Fi-enabled cousins, the USG40W and the USG60W. The USG60 model comes with 4x LAN and 2x WAN ports, with a 1 Gbps SPI firewall throughput while the USG40 has 3x LAN and 1x WAN along with a 1x OPT port. SPI firewall throughput also goes down to 400 Mbps. The USG60W has a dual band 802.11n radio with support for up to 16 SSIDs while the USG40W is a 2.4 GHz-only 802.11n device with support for up to 8 SSIDs. Both are 2T2R devices. Comparison of various models is available here.
ZyXEL's suggested MSRPs for the various models are provided in the table below.
ZyXEL USG Lineup Pricing
Model
Hardware +
1 Year Security Services License (USD)
Unbundled Hardware (USD)
USG40
$420
$320
USG40W
$520
$420
USG60
$700
$550
USG60W
$800
$650
USG110
$900
-
USG210
$1250
-
USG310
$2350
-
These new UTM devices come along with options for extended warranty / technical support. They seem to offer an attractive economical alternative to high end specialty vendor offerings for SMBs short on resources.