XFX Type 01 Bravo Exterior
XFX obviously spent most of their energy on making the Type 01 Bravo visually unique. While the rough silhouette may resemble a few cases, there are plenty of other differentiating factors. The corrugated design of the faceplate is the main attraction of this case, which effectively hides the 5.25" bays and even the power on/reset buttons nearly perfectly. Similar corrugated vents can be seen on both side panels and the top of the case. A metallic red band is glued on the lower part of both side panels, with the company logo and case model in silver lettering.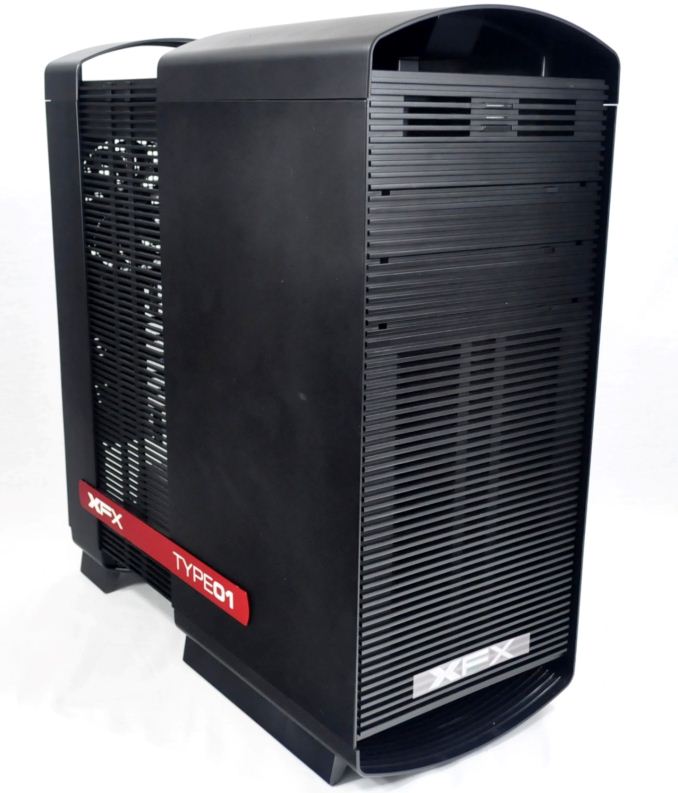 The Type 01 Bravo tips our scale at 10.44 kg (23 lbs.) when empty, which is couple of kilograms heavier than a typical mid-tower case. Strangely, XFX advertises this as a case of "standard mid-size proportions"; however, this could not be further from the truth. Plastic frames form a rounded top and bottom, lifting the metallic chassis about 3.75 cm (1.47") above the surface. With a total height of over 56 cm (22.2") and a depth of 52 cm (20.4"), the Type 01 Bravo is much larger than a typical mid-tower case and is likely to outsize even a few full tower cases as well.
We should also note that although the plastic frames appear to form handles, it would be a terrible idea to use them as such, as they are not designed to hold the weight of the case even when empty, let alone with a system installed inside it. Trying to lift the case by its plastic frame will most likely cause the plastic to crack or snap.
The placement of the front I/O ports is a bit strange as well, as XFX locates them at the top of the case, along the center of the plastic frame. There are two USB 3.0 ports, two USB 2.0 ports, and the standard 3.5 mm headphone jacks. Placing the ports so far from the front of the case is at the very least peculiar, as they would be hard to reach even if the case is placed beneath a desk, let alone on top of one.
A large filter comes pre-installed at the bottom of the case, covering the PSU intake and the bottom intake vents. The filter is removable from the rear of the case and, due to its length, you would likely need to lift the case up in order to detach it.
The rear of the Type 01 Bravo is all black, and the entire metallic chassis has been sprayed with a matte black paint as well. With the exception of the rear exhaust fan opening, there are no other vents, but expansion covers are perforated for additional airflow. There are four holes for liquid coolers and cables, covered by unique rubber grommets that form "S" like shapes.