Palomino where are you?
The codename Palomino was first introduced to us at Fall Comdex 2000 which we later passed on to all of you in our AMD CPU & Chipset Roadmap for November 2000.  The Palomino core is the successor to AMD's 9-month-old Thunderbird core and, according to AMD, offers no major improvements to the Thunderbird design other than it is a cooler running core.  This cooler operation will be met with much enthusiasm because of the fact that the Athlon's Thunderbird core, operating at 1GHz, generates more heat than a Pentium 4 running at 1.5GHz. 
Fast-forwarding to the present day, the two new CPU's being released here are both being clocked at speeds approximately 33% higher than the 1GHz Athlon we just used as an example.  If you thought the current Athlons were hot, you're about to be in for a "warm" treat. 
The 1.33GHz Athlon can draw a maximum of 42 amps of current (MAX Icc) while the 1.30GHz Athlon's MAX Icc is 40 amps.  In terms of heat dissipated, the 1.33GHz and 1.30GHz parts will radiate more than 64W of heat on average and up to ~72W. 
Power & Thermal Specification Comparison

CPU

Core Voltage

Maximum Current Draw

Maximum Thermal Dissipation

AMD Athlon 1.33GHz

1.75v

42A

73W

AMD Athlon 1.30GHz

1.75v

41A

71W

AMD Athlon 1.0GHz

1.75v

31A

54W

Intel Pentium 4 1.5GHz

1.70v

43A

52W
According to AMD's roadmap that was presented at Comdex, the Palomino was originally set to debut in mobile parts at the end of 2000 with the desktop version following in the first quarter of this year.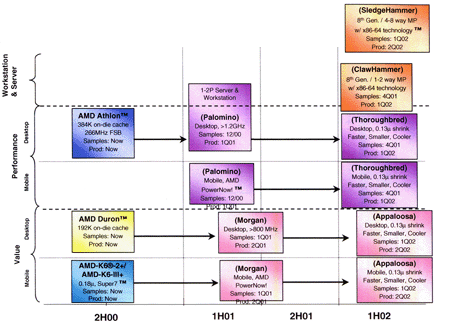 Click to Enlarge
We later provided an update to that roadmap that said not to expect the desktop Palomino until much later.  To quote our CPUs in 2001 article, we said the following:
"In February/March the Athlon should gain another clock step or two taking it up to 1.33GHz and possibly up to 1.4GHz. Both of these CPUs will still be based on the current Thunderbird core and they should generate a considerable amount of heat. Luckily the 1.4GHz Athlon should be the last Thunderbird based processor for AMD, paving the way for the 1.5GHz Athlon based on the cooler running Palomino core to be released sometime in the May - June timeframe."
Recent information seems to indicate that the Palomino could be released even later than that, it seems like Palomino could turn out to be more than just a cooler running core. Let's hope so.
On the mobile front, the Palomino could be witness to a delayed introduction there as well since there seems to be a lack of mobile chipsets for the part.