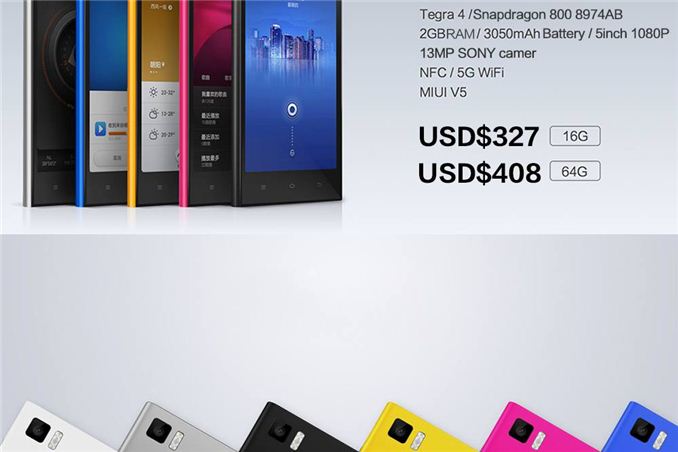 Xiaomi has been making some interesting news lately, first with the abrupt transition of Hugo Barra from Google to Xiaomi, now with the announcement of their latest high end smartphone, the MI3, at their New Product Convention 2013 event. What was interesting about the MI2 announcement last year was that it was one of the first to include Qualcomm's quad core APQ8064 SoC inside, and Xiaomi has included Qualcomm SoCs since the MI1 (MSM8660). I still remember my first experiences with the Xiaomi MI1 and the value prospect that the device made me realize existed with the right set of conditions, and how impressed I was with that hardware. With the MI3 Xiaomi goes to variants based on both Snapdragon 800 (MSM8974AB) and NVIDIA's Tegra 4 platform.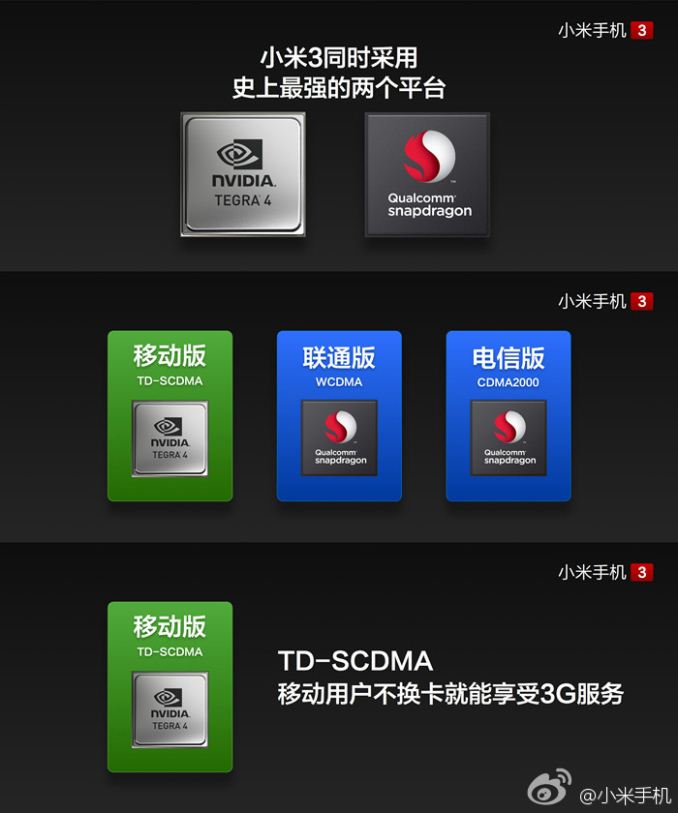 The WCDMA (China Unicom) and CDMA2000 (China Telecom) variants of the MI3 come based on Qualcomm's Snapdragon 800 MSM8974AB platform, while the TD-SCDMA (China Mobile) variant is based on NVIDIA's Tegra 4 platform.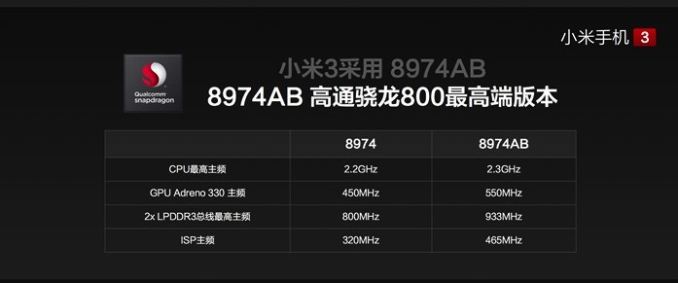 Xiaomi makes the first (to my knowledge) public disclosure of MSM8974AB, which is analogous to the changes we saw between APQ8064 and APQ8064AB. From 8974 to 8974AB, Adreno 330 GPU clocks climb from 450 MHz to 550 MHz, LPDDR3 memory interface maximum data rates go from 800 MHz to 933 MHz, and the ISP clock domain (I think Xiaomi might mean the Hexagon DSP here) goes from 320 MHz to 465 MHz. 8974 comes in both a bin with the 4 Krait 400 CPUs clocked at 2.2 GHz (really 2.15 GHz) and 2.3 GHz (2.26 GHz) with slightly different pricing, while 8974AB comes with a Krait 400 clock available only at 2.3 GHz. Process is still TSMC 28nm HPM, but I suspect that the AB variant might have the high k dielectric and/or transistor mix tuned slightly differently based on a few rumblings I've heard recently.
It's safe to say that Tegra 4 hasn't been the overwhelming success that NVIDIA had hoped for, nor able to continue the momentum that Tegra 3 built, so winning a slot with Xiaomi MI3 is a relatively big deal, even if Xiaomi's slice of the Chinese market isn't very large yet. The TD-SCDMA variant includes Tegra 4's 1.8 GHz ARM Cortex A15 4+1 architecture with 72 core GeForce GPU built on TSMC 28nm HPL. We've written a lot about Tegra 4, and got a chance to look at performance in the NVIDIA Shield review and came away impressed with performance in that platform. Of course the real interesting question is how Tegra 4 will perform in platform with smaller TDP and available platform power. Xiaomi claims relatively similar performance between Tegra 4 and 8974AB variants in a few system benchmarks as well. If we get the chance the MI3 might make for an interesting vehicle to compare the two SoCs in almost the same platform.
I'm not sure whether the MI3 uses the discrete Icera i500 modem for TD-SCDMA. i500 is fully TD-SCDMA enabled, so there's no reason that NVIDIA couldn't have won the entire platform slot, but I haven't confirmed it yet. Update: We've confirmed that the MI3 isn't using the i500 modem.
Either way Xiaomi is an increasingly interesting player in the Chinese market and always seems to make SoC choices that interest us.
Source: Xiaomi