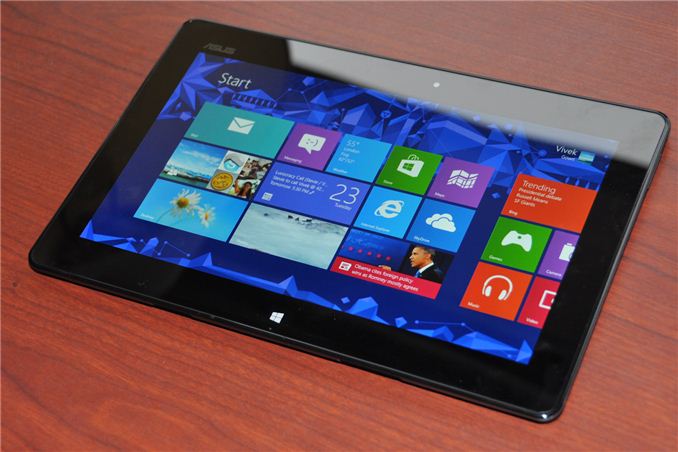 In a move that's likely to surprise…well, just about no one, the Wall Street Journal reports that ASUS will cease making Windows RT tablets. Windows RT is basically stuck in limbo between full Windows 8 (and 8.1) laptops and hybrid devices on the high-end and Android tablets on the low-end, and the market appears to be giving a clear thumbs down to the platform. Many critics have also noted the lack of compelling applications to compete with Android and iOS platforms, which is something we noted in our review of the VivoTab RT last year.
This morning, ASUS Chief Executive Jerry Shen stated, "It's not only our opinion, the industry sentiment is also that Windows RT has not been successful." Citing weak sales and the need to take a write-down on its Windows RT tablets in the second quarter, ASUS will be focusing its energies on more productive devices. Specifically, Shen goes on to state that ASUS will only make Windows 8 devices using with Intel processors, thanks to the backwards compatibility that provides—and something Windows RT lacks.
It looks like many feel towards Windows RT similar to how they feel towards Windows Phone 8. As Vivek put it in our recent Nokia Lumia 521 review, "Microsoft cannot expect to gain back market share after this many years unless they're willing to aggressively ramp their development cycle the way Google did with Android a few years ago—something they have thus far shown no indications of doing. They just haven't iterated quickly enough, and I can't think of a single time when I picked up a Windows Phone and thought it was feature competitive with Android and iOS. It's not even because I use Google services; there are just a number of things that are legitimately missing from the platform."
The situation with ASUS ditching Windows RT (at least for the near future) reminds me of what we saw with the netbook space several years ago. ASUS had some great initial success with the first Eee PC, and then just about every manufacturer came out with a similar netbook…and most of them failed. Couple that with a stagnating platform (Atom still isn't much faster now than it was when it first appeared, though the next Silvermont version will likely address this), and most of the netbook manufacturers have moved on to greener pastures. Specifically, we're talking about Android tablets, and while most companies didn't stop making Android products to try out Windows RT devices, we will likely see fewer next-gen Windows RT devices and more next-gen Android tablets in the next year or two. With Haswell showing potential to compete head-to-head with tablets for battery life, more lucrative Haswell-based tablets running full copies of Windows 8.1 look far more promising than RT.
Of course, long-term the story for Windows RT is far from over. Microsoft needs Windows RT or they are locked out of a huge market. They can't expect to compete with $300-$400 tablets that use ARM processors ($10-$35 per SoC, give or take) and run an OS that's basically free with tablets that need Core i3 or faster chips ($100+) and a full copy of Windows 8.1. Right now they're losing this battle, with fewer quality applications and far fewer hardware options. ASUS might not be carrying the flag for Windows RT, but if no one else will then Microsoft will have to carry the torch on their own. The next Windows Surfact RT will try to do just that, whenever it turns up, and certainly Silvermont will help provide a better x86 alternative to the current Atom processors.
Source: Wall Street Journal