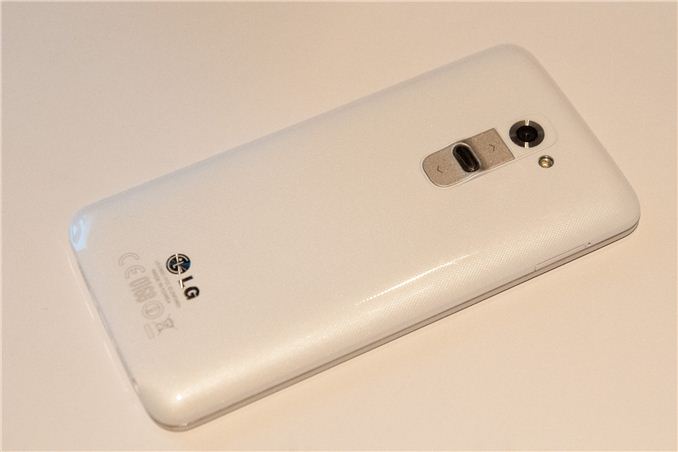 Today LG is announcing the LG G2, there's no Optimus this time, it's just the LG G2. The G2 is the successor to the Optimus G, the phone that also became the Nexus 4, and makes a number of improvements above and beyond the Optimus G. The G2 is the flagship product that LG is putting all of its resources behind, and takes the flagship throne from the G Pro.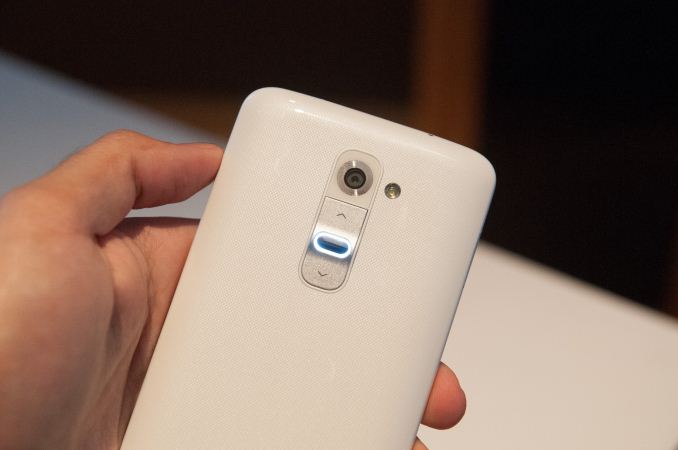 The G2 makes a number of interesting hardware changes in the shape, size, and button area compared to the competition. Rather than having side-mounted power and volume buttons, to minimize edge bezel, LG has moved them to the back of the device just below the camera module. The volume rocker is one solid piece with a raised power button in the center. The edge around the power button is the notification LED, which glows a white color when powered on or when things roll in.
LG G2
SoC
Qualcomm Snapdragon 800 (MSM8974)
4x Krait 400 2.3 GHz, Adreno 330 GPU
Display
5.2-inch IPS-LCD 1920x1080 Full HD
RAM
2GB LPDDR3 800 MHz
WiFi
802.11a/b/g/n/ac, BT 4.0
Storage
32 GB internal
I/O
microUSB 2.0, 3.5mm headphone, NFC, Miracast, IR
OS
Android 4.2.2
Battery
3000 mAh (11.4 Whr) 3.8V stacked battery
Size / Mass
138.5 x 70.9 x 9.14 mm
Camera
13 MP with OIS and Flash (Rear Facing)
2.1 MP Full HD (Front Facing)
LG believes that as devices grow in size, hand positioning has changed and putting the buttons on the side is no longer natural. I'll admit I was initially confused about how to turn the G2 on, but after a few minutes of playing with the device, turning it on and off via the rear center power button or changing the volume seemed natural. The raised bump makes it easy to locate the buttons, and there's another lip before your finger hits the camera front glass. Pressing the top button or bottom button for three seconds launches the memo app or camera, respectively. Inside the camera application, volume also doubles as a camera button and triggers image capture. It takes a little bit of getting used to, but putting the buttons on the back actually doesn't feel anywhere near as awkward as I thought it would. I'll have to spend more time with the G2 to really be able to tell how well this works in practice, but my initial subjective impressions are a lot more positive than I thought they would be.
The G2 eschews hardware buttons for the on-screen Android kind, although LG has made a number of customization options available in another settings menu.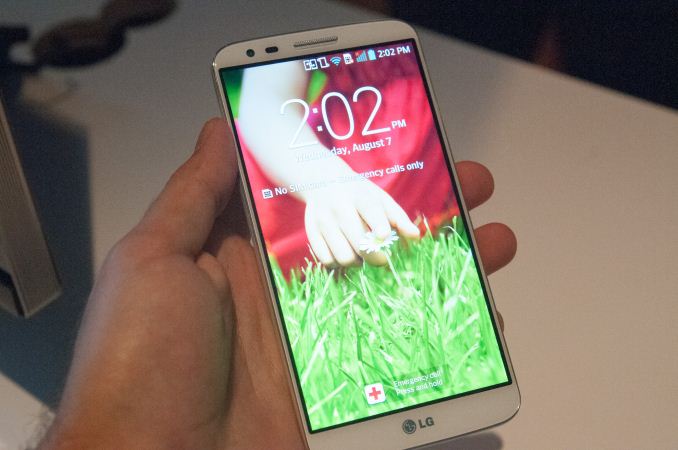 The back of the G2 is a curved, rounded profile. LG has included a stacked battery inside the G2 that maximizes the volume of the internal space. It's a 3.8V 3000 mAh (11.4 watt-hour) LG Chem battery. If you've been paying attention this was also something Motorola talked about for their Moto X (the stacked part), turns out that LG Chem is indeed a supplier for Motorola. Of course the back on the G2 is non removable, and sealed, which isn't a surprise anymore.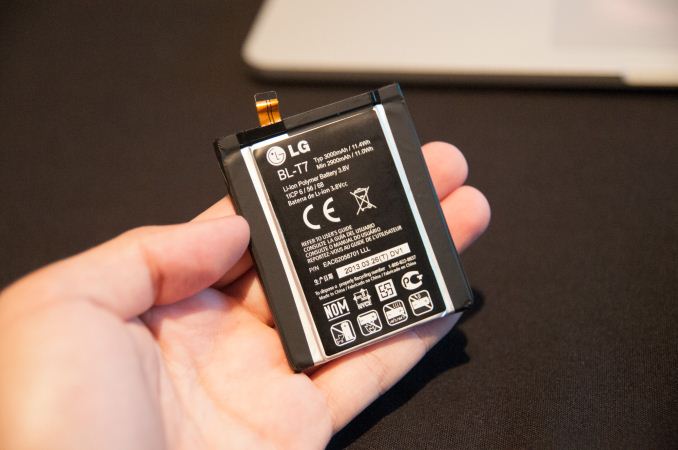 The G2 comes in white and black models which are of polycarbonate construction. The materials choices aren't anything revolutionary in a world where wood, metal, and composites seem to be the trend, but at least this time there's no glass on the back that's going to give people pause.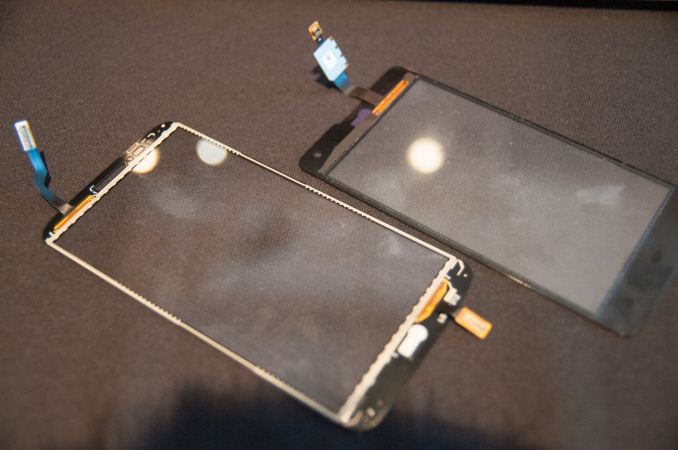 LG G2 Touch Panel (Left) LG Optimus G Touch Panel (Right)
The highlight of the G2 is of course its 5.2-inch 1920x1080 (Update: I meant 1080p, sorry, I had 1200 before on accident) IPS display, and thin bezel. Getting the bezel to be as thin as possible seems to have been LG's main design direction for the G2, and again moving the buttons to the back side means less button intrusion into the size and a thinner bezel. The other part is moving to top and bottom fanout for the touch traces – instead of routing everything to the top or bottom, there's a top connector and bottom connector, that means thinner edge profile.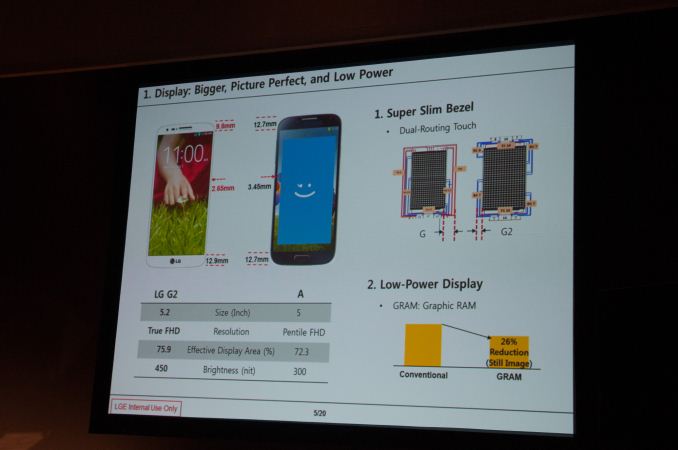 The G2 display also includes built-in memory to enable panel self refresh. When the display contents aren't being updated, the display GRAM holds this frame buffer and refreshes itself so the AP and display controller can go into an idle state. LG purports it gets a 26 percent reduction in power consumption from the display size using this GRAM (Graphic RAM) panel self refresh functionality.
Viewing angles on the G2 and brightness seemed great from what time I spent with a prototype model. LG Display always seems to do an awesome job with its panels, and I don't think the G2 will stray far from that mark.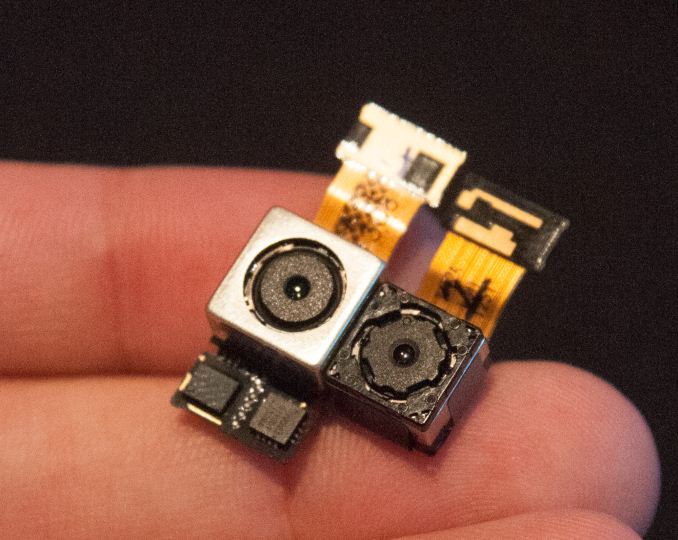 Camera on the G2 is also a step forwards from Optimus G. There's a 13 MP rear facing module with OIS (Optical Image Stabilization) this time, which means LG joins HTC and Nokia in the OIS party. The module for the G2 is considerably bigger and includes the on-package gyro you'd expect for OIS to work properly. LG tells me that the CMOS still uses the 1.1µm pixels and size shared with the original Optimus G, but is a newer, faster version that supports 1080p60 video capture. That's right, the G2 can do Full HD at 60 FPS on video. LG also does temporal oversampling (taking multiple frames and combining them into one image) for their digital zoom, instead of just a resampling. OIS definitely works on the G2 to help stabilize videos and take longer exposures in low light for still images.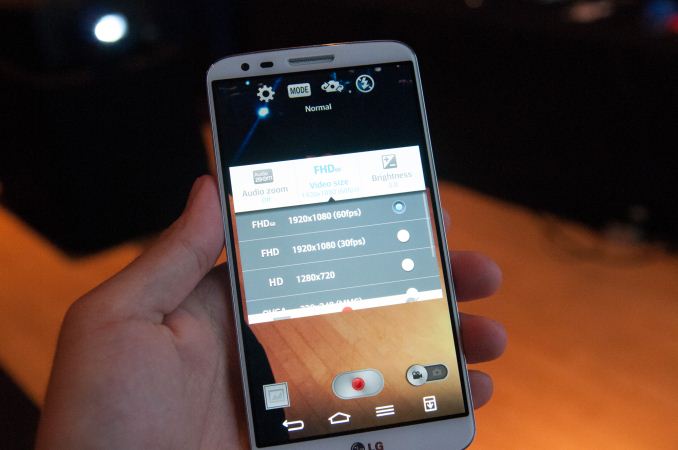 The G2 also includes a sapphire crystal window on the back side to prevent scratching.
LG has made audio in the line-out sense a priority for the G2. We've seen a lot of emphasis from other OEMs on speaker quality and stereo sound, with the G2 LG has put time into rewriting part of the ALSA stack and Android framework to support higher sampling and bit depth. The inability of the Android platform to support different sampling rates for different applications remains a big limitation for OEMs, one LG wrote around, and with the G2 up to 24 bit 192 kHz FLAC/WAV playback is supported in the stock player, and LG says it will make an API available for other apps to take advantage of this higher definition audio support to foster a better 24-bit ecosystem on Android.

I asked about what codec the G2 uses, and it turns out this is the latest Qualcomm WCD part, which I believe is WCD9320 for the MSM8974 platform. LG says that although the previous WCD9310 device had limitations, the WCD9320 platform offers considerably better audio performance and quality that enables them to expose these higher quality modes and get good output. The entire audio chain (software, hardware codec, and headphone amplifier) have been optimized for good quality and support for these higher bit depths, I'm told. I didn't get a chance to listen to line out audio, but hopefully in testing this emphasis will play itself out in testing.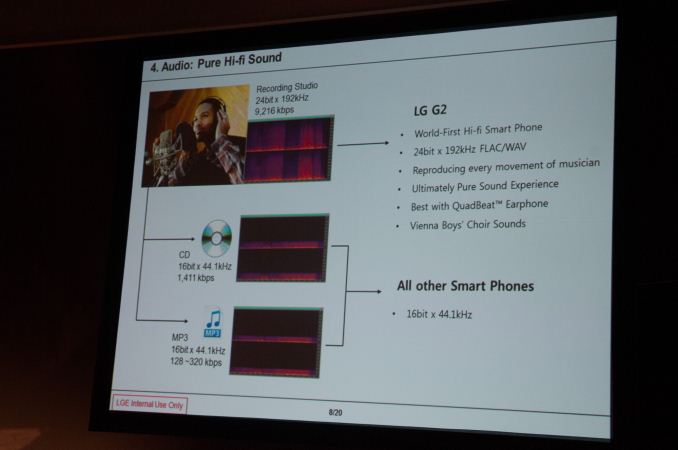 The G2 is based on Qualcomm's latest and greatest Snapdragon 800 SoC, MSM8974 at 2.3 GHz (the higher bin - Qualcomm is launching MSM8974 in two binned flavors at different costs, 2.2 and 2.3 GHz). This is of course the latest SoC built on TSMC's 28nm HPm process with 4 Krait 400 CPUs inside, and Adreno 330 GPU. Alongside that the G2 includes 2 GB of LPDDR3 RAM. LG wasn't ready for us to run benchmarks yet, as the prototypes we played with were not running stable release software with final tuning yet, but UI performance felt very speedy just in playing around on the device. Of course along with Snapdragon 800 comes LTE-A with carrier aggregation support – the banding for this international version I played with included LTE on bands 1, 3, 7, 8, and 20, and HSPA+ on 1, 2, 5, and 8, alongside Quad band EDGE.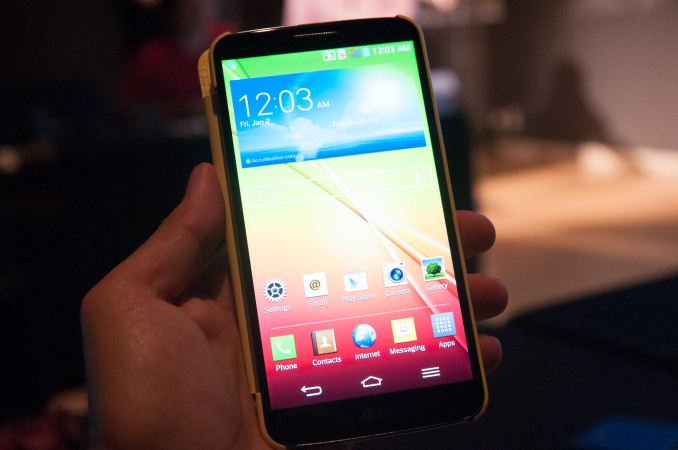 The software platform is Android 4.2.2, and atop that is LG's skin. LG has added a bunch of new features to its skinned Android experience, although its visual themeing remains essentially unchanged. Double tap to turn on and off uses the built in accelerometer to wake the phone up or turn it off – you just double tap quickly on the device when it's in an off state to turn it on, and double tap quickly on a blank part of the display or status bar to turn it off. I don't have a problem getting my index finger to the raised power button, but this is obviously an accommodation just in case that's difficult.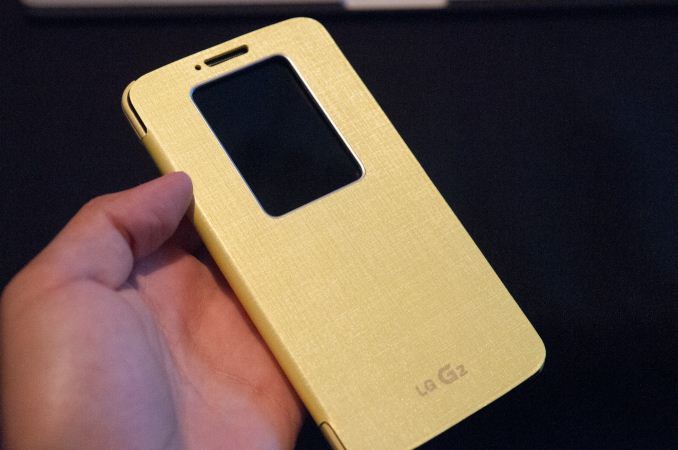 LG also is including 8 different colors of Quick Window cases with the G2, which offer a small window for getting glanceable information like the time or notifications. LG was quick to point out that it debuted this feature with the LG Spectrum 2.
The LG G2 looks like a big step forwards from the original Optimus G and includes an impressive list of new features, and may just be the place we see Snapdragon 800 first. The LG G2 will arrive internationally and on the four major carriers in the USA with the appropriate network band support. More on availability is coming soon, but I would suspect mid September for at least the international model.