I've been playing around with and trying to review the GoPro Hero 3 Black since the holidays, a small sports-oriented portable camera which can record up to 4K15 video or 1080p60 video with impressive quality. Inside the GoPro Hero 3 Black is an Ambarella A7 camera system on chip, while the Hero 3 White and Silver contain the previous generation Ambarella A5S. Both the A5S and A7 are built on Samsung's 45nm CMOS process.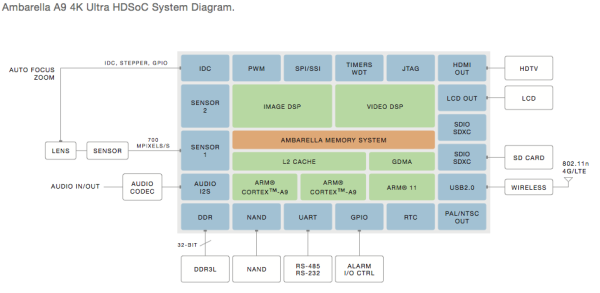 During CES Ambarella announced their successor to the A7, the A9 (neither of which is to be confused with ARM's Cortex A7 or A9 CPU). This new camera SoC moves to Samsung's 32nm HK-MG process and brings both lower power consumption for the same workloads and the ability to record 4K30 video as well as 1080p120 or 720p240, double the framerate of the previous generation thanks to higher performance. The A9 is the direct successor to the A7 and enables 4K video capture with enough framerate (30FPS) for playback without judder, the previous generation's 4K 15 FPS capture pretty much limited it to use for recording high resolution timelapses or other similar scenes that would be played back at increased speed.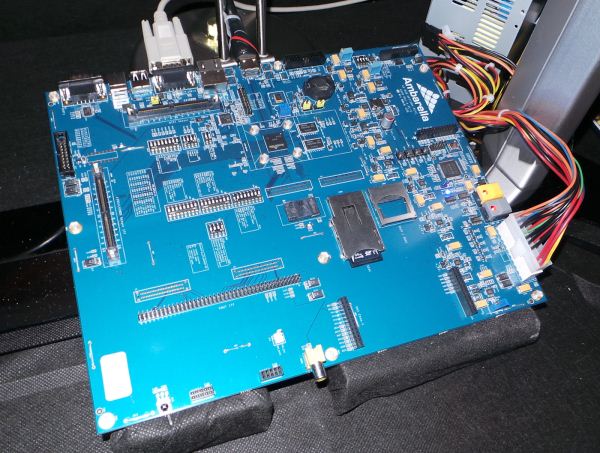 The A9 SoC also includes two ARM Cortex A9s onboard at up to 1.0 GHz, up from the single ARM11 at 528 MHz from the previous generation. Ambarella claims under 1 watt of power consumption for encoding a 1080p60 video on the A9 and under 2 watts for 4K30 capture. The A9 also has built-in support for HDR video capture by combining two frames - thus 1080p120 becomes 1080p60 with HDR enabled. I got a chance to take a look at both HDR video capture on the A9 as well as 4K30 video encoded on a development board and decoded using the same board on a Sony 4K TV. I came away very impressed with the resulting video quality, clearly the age of 4K/UHD is upon us with the availability of inexpensive encoders like these that will make their way into small form factor cameras.
I wouldn't be surprised to see a GoPro Hero 3 Black successor with the A9 SoC inside and those higher framerate capture modes fully enabled at some point in the very near future since the A9 SoC is now available to customers.
Source: Ambarella