If we'd never heard the name Sandy, we'd have featured two live blogs today, and had a few hours to spend with the latest members of the Nexus family. Sadly, Google's event was canceled and so we're left with press images and specifications. But that doesn't mean there isn't plenty to discuss, so let's get started.
The Nexus 4
The Nexus program has always had three components: a platform, an OEM and new software. The platform is the SoC and other internal hardware components that define the performance characteristics Google would like to see all manufacturers pursue. The OEM partner works with Google in design and features, and, of course, manufacturing and packaging. At times the platform and OEM have fit hand in glove, with the platform and design hewn from an existing product. We saw this in the Nexus One, which mirrored the hardware HTC was offering in the Droid Incredible and several other models. We saw this again with the Nexus S, which was strikingly similar to Samsung's Galaxy S, within and without. The Galaxy Nexus was a strange departure, owing its internals to a platform preferred by Motorola, but with a design that foretold Samsung's next iteration of the Galaxy S family. And now, there's the Nexus 4, which could have easily been called the Optimus Nexus or the Nexus G, were it not for Google finding a nomenclature they liked.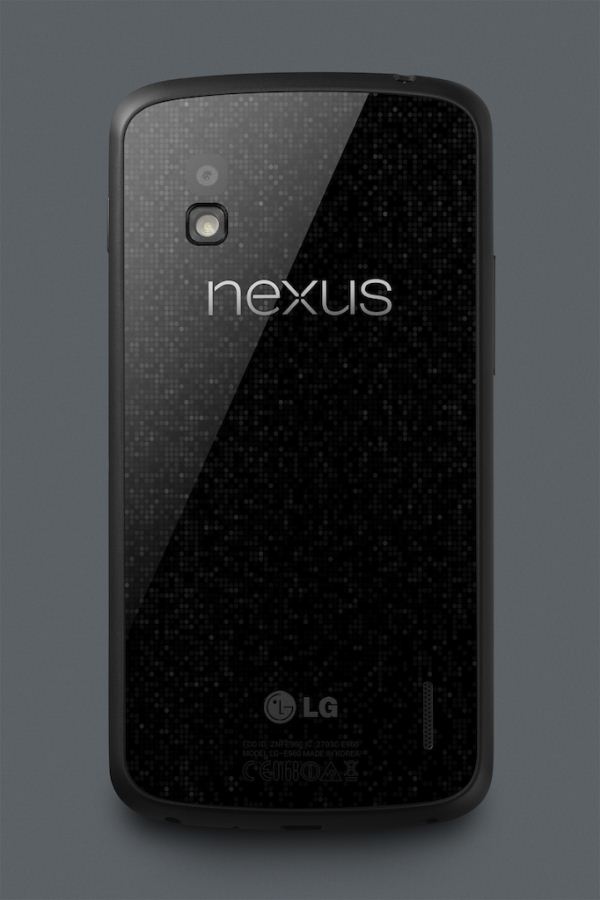 Looking at the LG Optimus G's spec sheet alongside that of the Nexus 4 could leave one a bit bemused at how little has really changed. The same SoC, RAM, display, connectivity and battery configuration are shared by both devices. The Nexus 4 adds wireless charging, and wireless display courtesy of the Miracast standard. The design is familiar, but distinct; taking the hard lines of the rather square Optimus and softening them to form the Nexus. But much of the distinction comes in two key areas: price and software.
Nexus 4 and LG Optimus G Comparison
Device
Nexus 4
LG Optimus G
SoC
1.5 GHz Qualcomm Snapdragon S4 Pro
(APQ8064: 4 x Krait + Adreno 320)
1.5 GHz Qualcomm Snapdragon S4 Pro
(APQ8064: 4 x Krait + Adreno 320)
RAM/NAND/Expansion
2 GB LPDDR2, 8/16 GB NAND, no microSD
2 GB LPDDR2, 16 GB NAND, 16 GB microSD
Display
4.7" WXGA TrueHD IPS Plus (1280x768) with In-Cell Touch
4.7" WXGA TrueHD IPS Plus (1280x768) with In-Cell Touch
Network
Pentaband 2G / 3G (Uncertain baseband)
2G / 3G / 4G LTE (Qualcomm MDM9615 UE Category 3 LTE)
Dimensions
133.9mm x 68.7mm x 9.1mm, 139 grams
131.9mm x 68.9mm x 8.45mm, 145 grams
Camera
8.0 MP Rear Facing, 1.3 MP Front Facing
13.0 MP or 8.0 MP Rear Facing, 1.3 MP Front Facing
Battery
2100 mAh 3.8V (7.98 Whr)
2100 mAh 3.8V (7.98 Whr)
OS
Android 4.2
Android 4.0.x
Connectivity
802.11b/g/n + BT 4.0, USB2.0, GPS/GNSS, MHL, DLNA, NFC, Miracast wireless display
802.11b/g/n + BT 4.0, USB2.0, GPS/GNSS, MHL, DLNA, NFC
In lieu of a drastic overhaul of Jelly Bean, this point advance refines various features we've already seen. Photo Sphere expands the panorama function to generate a composite that includes frames in multiple axes, resulting in an image similar to those you find in Google's Street View. A new text input option comes with Gesture Typing, which mimics Swype's mechanism of having the user glide their finger between target letters. Miracast is enabled with the update, which serves as an answer to Apple's AirPlay, though the ubiquity of Apple TV trumps that of Miracast-enabled displays. Quick Actions for Notifications and Google Now have been expanded and the Google Search results are now graced by their Knowledge Graph. LG will certainly work to have Android 4.2 ready for their Optimus G, before too long, but the Nexus 4's present exclusivity, and promise of future updates gives it an edge.
Then there's price. The Nexus One premiered with impressive specs for the time and was a shot across the bow by Google against the US carriers. By tying us to lengthy contracts, US carriers maintain all of the agency for device selection, pricing and software bloat. By offering a halo phone from their own store, and selling it unlocked, Google offered an alternative. There were a few problems, though, with the price chief among them. At $529 off-contract, the Nexus One was priced similarly to other off-contract devices, but was far in excess of what consumers typically spend on even high-end devices. So, the experiment was a bit of a failure, with most off-contract buyers being enthusiasts and technophiles.
The LG Optimus G is available through AT&T off-contract for an oddly familiar $549, while the Nexus 4 sheds $250 from the price along with 8 GB of NAND and the microSD slot. We'll refrain from making a to-do about the storage limitations, and focus on the unprecedented value that this device offers. And this makes it the shot across the bow for which the Nexus One was intended. But there's a different cost: LTE.
The GSM/HSPA networks that dominate internationally, and are featured here with AT&T and T-Mobile, offer interoperability across certain limited bands. The result is that a pentaband device can operate on nearly any GSM/HSPA network in the world. LTE interoperability is a rat's nest that may never be solved. Many more bands can be utilized and for those carrier's with legacy CDMA networks there remains a certification process that must be undergone by new hardware and software. The result is that no one device would operate on the panoply of networks in the US alone, and couldn't operate on several of them at all without direct involvement by the carriers. So, in order to maintain independence from the carrier taint, Google omits LTE and foregoes CDMA2000 networks like Verizon or Sprint.
Does lacking the most modern air interface make this a lame duck? That's for you to decide. This remains the highest bang for your buck we've seen in an off-contract phone. At least on paper. We'll see how things look for sure in the review.
The Nexus 10
Samsung's involvement in the second Nexus tablet comes at an interesting time in the Android tablet market. The iPad's success persists like a runaway freight train; updated hardware and a new form factor seem almost superfluous to the knowledge that the iPad will sell millions of units before the holidays. Despite previously flagging sales and market enthusiasm, the Nexus 7 and Kindle Fire demonstrated that there's life in the Android tablet market. So, with portability and affordability seemingly of paramount concern to tablet buyers, what's the place of a high-end, 10" tablet?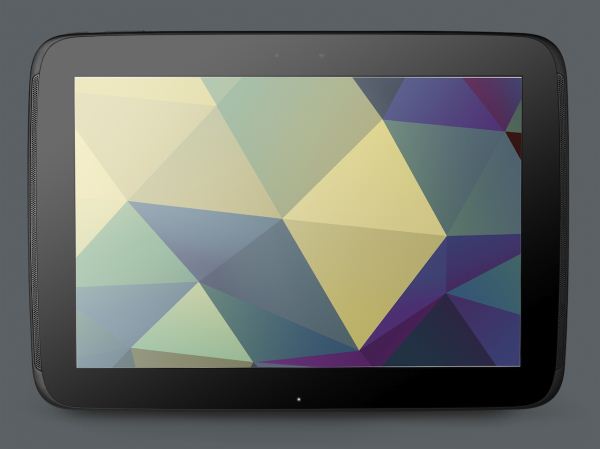 The Nexus 10 marries the highest resolution display found on any tablet, with the latest CPU and GPU from ARM's design works. The SoC is the long awaited Exynos 5 Dual, the first with ARM's Cortex-A15 cores, and Mali-T604 GPU. Anand's been chugging away at the review for the most recent Chromebook, the first device to feature the Exynos 5 Dual, and will dig deep into the performance of the hardware, so we'll save plenty for that. I will mention again, though, that one of the key features of the SoC is the enormous memory bandwidth.
When Apple introduced the Retina display on the iPad (early 2012) we explored the importance of memory bandwidth to be able to generate all those pixels at a high frame rate. For Apple the solution in the A5X was to develop a configuration of four 32-bit channels connected to LP-DDR2 memory with a 400 MHz clock. The resulting bandwidth was an impressive 12.8 GB/s. The Exynos 5 Dual matches that figure, but does so with half the channels at twice the clocks while utilizing low-voltage DDR3 memory (2x32bit @800 MHz).
Where the Nexus 10 matches the iPad for memory bandwidth, it exceeds it in resolution. There was a time not so long ago that resolutions of 2560x1600 (WQXGA) were the stuff of 27" and 30" monitors, intended for workstations and gaming enthusiasts. As of November 13th, though, you'll find it in a 10" tablet weighing in at under two-thirds of a kilogram. We're sticklers for waiting till we've dissected things before we sing their praises, but historically, Samsung's done good things with these PLS devices in their tablets.
Android 4.2 is on board, with a few tweaks for the tablet set. A new multi-user option will allow multiple people to share a tablet with each user given their own configuration and data. It will be interesting to see the way this is implemented, how resources and storage are shared amongst users, how apps common to multiple users are handled.
With so much performance and so many pixels on hand, the Nexus 10 is a clear grab for iPad sales. Whether it sees success similar to the Nexus 7 may depend in part on pricing. At $399 for the 16 GB model, and $499 for the 32 GB model, the Nexus 10 undercuts the iPad by $100 across the board. Does that price make the Nexus 10 a clear recommendation of the recently updated iPad? We'll have to wait and see.