Introducing the Cougar Challenger
It's fun to review the big enthusiast-class cases like the NZXT Phantom 820 and the Mini-ITX and Micro-ATX custom marvels like the BitFenix Prodigy and SilverStone SG09, but the fact is that cases like those aren't doing the grunt work on the market. That job is usually handled by standard ATX cases in the sub-$100 bracket, where bang for the buck matters most. Hovering around the $80 price point there are often good deals to be had, and that appears to be true again with the Cougar Challenger we have on hand today.
Selling for $86 on NewEgg, the Cougar Challenger is capable of offering a pretty healthy performance profile along with a couple of added perks like the hotswap SATA tray on the top of the case. But what was sacrificed to reach the sub-$100 price point, and might you still be better off spending up a bit on a different mainstream enclosure?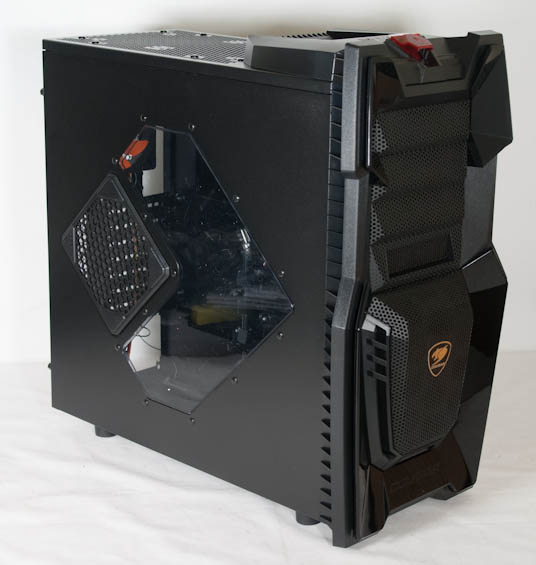 Cougar got in touch with us to see if we'd be interested in reviewing the Challenger; they're a fairly young company based out of Germany, and I have a very soft spot for underdogs and startups. I championed BitFenix pretty hardcore and still do, because these smaller companies are often very hungry for your business and are typically willing to take risks. The result is that oftentimes you can find diamonds in the rough and bring to light a product that people might otherwise miss.
Cougar Challenger Specifications
Motherboard Form Factor
Micro ATX, ATX
Drive Bays
External
3x 5.25", 1x 3.5"
Internal
7x 2.5"/3.5"
Cooling
Front
1x 200mm intake fan; supports 2x 120mm/140mm
Rear
1x 120mm exhaust fan
Top
2x 120mm/140mm fan mounts (or 1x 180mm/200mm)
Side
1x 120mm/140mm fan mount
Bottom
1x 120mm/140mm fan mount
Expansion Slots
7
I/O Port
2x USB 3.0, 1x Headphone, 1x Mic, SATA hotswap bay
Power Supply Size
Standard ATX
Clearances
HSF
170mm
PSU
220mm
GPU
16" / 410mm
Dimensions
10.6" x 20.2" x 20.6"
268mm x 514mm x 523mm
Special Features
USB 3.0 connectivity via internal headers
Toolless 5.25" drive bays and 3.5" drive sleds
Integrated SATA hotswap tray
Removable drive cage
Price
$86
Feature-wise the Cougar Challenger is fairly strong, particularly thanks to the SATA tray. Stock cooling is also healthy, with a 200mm red LED intake fan and a 120mm exhaust fan, allowing for a basic positive pressure design. For all intents and purposes, this is a modern ATX enclosure. So why am I feeling kind of underwhelmed by it?