The ASUS event was exemplary when it came to tech events in one very key matter: lots of hands-on time. Plenty of devices were available, and the showcase was open for a while, so we got to get a bit intimate with some of the new gear they announced today. So let's have a look.
VivoBook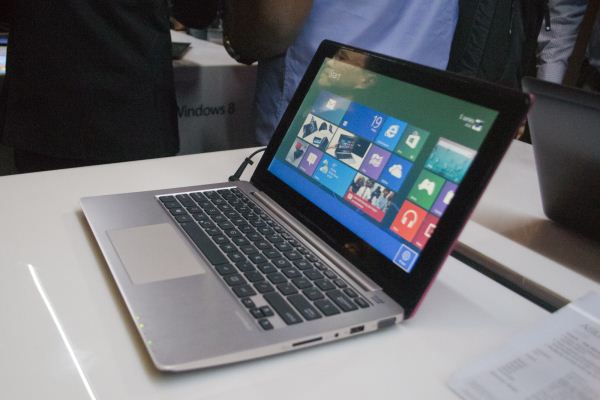 We'll start with the VivoBook, the most mainstream product that was announced today. The emphasis on affordability is notable, but the design doesn't suffer in the looks department. SKUs will start around $499 and while there was a clear lag in opening apps, owing in large part to the mechanical storage, the interface was easy to navigate and scrolling around images and websites was a breeze. Plenty of color options will be available, and that S400 SKU should bring a vast performance improvement, for not much more scratch.
Transformer Book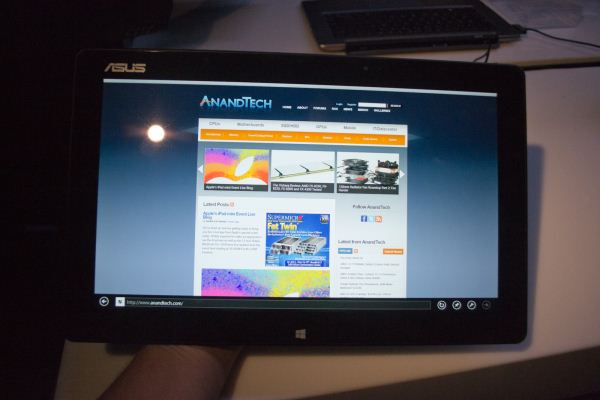 I touched on this in the announcement post, but the Transformer Book is really something strange to behold. I've never considered my 13" notebook something I'd want to hold in one hand, but despite the comic proportions, the 13" Transformer Book has a good in the hand feel. The 16:9 aspect ratio of the 1080p screen makes it awkward in one-handed landscape use, but there's a certain strange appeal. I don't see this as a tablet to take on the road, but rather a notebook, whose screen can be untethered from the base. If nothing else, it's the fastest tablet device I've played with, running Sunspider at a scorching 145 ms. No surprise, though; a dual-core Core i7 processor will best anything ARM based.
There's another aspect to the Transformer Book that I hadn't touched on: software. Though Windows 8 is the OS, ASUS has provided their own hub, called Asus Home. It's unclear what plans ASUS has to expend this hub, for now it mostly serves as a resource for modifying various device settings. A chief concern for Windows 8 and RT is the changes to configuration menus, and so it's not surprising for OEMs to try to simplify that with hardware specific apps. ASUS solution is innocuous enough, we just hope that OEMs don't feel the need to add too much to these layers.
Once docked, the Transformer Book doesn't look so different from the Zenbook line, the keyboard is comfortably wide, with well spaced keys and a broad touchpad. Docking the screen allows it to leverage the included USB 3 ports, mechanical storage and two additional speakers. If you're torn between a small notebook and a large tablet, you might have met your match.
Zenbook
We've met the Zenbook line before, and come way pleased. The form factor remains the same: attractive, sleek and slim. Tapering at all of the edges gives the illusion of an even thinner body, though even at its thickest it's not close to portly. The main addition to the Zenbook line is the optional touch screen on the UX31A and UX500VZ. I wasn't sure how I'd feel about a touchscreen notebook, but it was amazing how quickly I adapted to the paradigm, forgetting so completely about the touchpad that I neglected to test multitouch gestures on it. Unsurprisingly, the touchscreen outperformed the touchpad.
VivoTab RT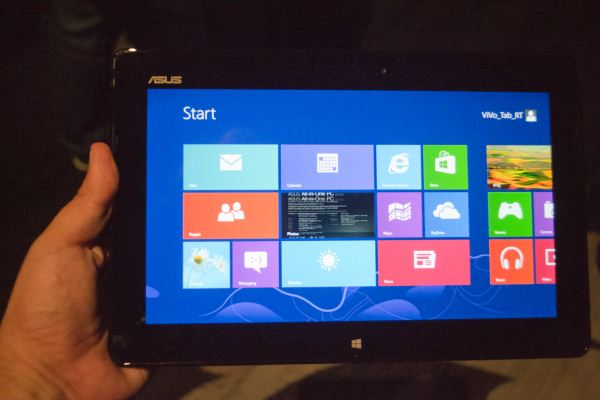 There's way more detail in Vivek's review, but in short, the VivoTab RT is the mainstream Windows RT tablet we'll see everyone release. The ASUS variant hits all the specs you'd expect: 10.1" display, Tegra 3 processor, 2GB RAM, a slim, lightweight body. Where it breaks new ground is in the inclusion of the Icera LTE baseband. They didn't have any Icera packing units on hand, but we'll hopefully see those before the holidays.
VivoTab Smart
As the Clovertrail entrant into the Windows 8 Tablet space, the VivoTab Smart carries the burden of Atom. Anand has covered this many times, the Atom core is generations old, and due for a refresh in a big way. Despite this, it has always held an IPC lead over its ARM-based competition, and their efforts have been to bring its power envelope as low as possible. The result, though, is that it felt a hair slower than some of the other hardware on hand. Final software and a trip through the bench may prove me wrong, but for now, I was most dissatisfied with this device, today. The deficit was most evident when switching between apps or opening the app drawer; any long-time Android user will recognize that long pause after hitting the button and actually seeing the drawer open.
ASUS ET2300 All-In-One
The days of the big beige box are long past us. No one misses those days, but are touchscreen all-in-one PC's the future? ASUS thinks so, and has a stable of models that stretch from 21.5" to 27" and spruces them up with some software flourishes. Touchscreens aren't new to PC's, but their adoption hasn't been rapid, and so software that takes advantage of them is lacking. With Windows 8's very touch-focused UI, the impetus to incorporate these panels is high, and hopefully so will the impetus to create software for them. For now, in addition to the OS experience, ASUS is featuring a music creation app, more an exhibition than say GarageBand. More software from ASUS should follow, and all Windows 8 Metro apps should work well with the panel. Where questions remain is productivity use cases; when we work on PC's we use keyboards and mice/trackpads, will that change?
Time will tell on that, but this all-in-one is well appointed, though disappointingly doesn't come with an SSD. The ET2300 has a 23" 1080p display, and Intel Core i7 processors. The inclusion of Thunderbolt, Intel WiDi 2.0, HDMI input and USB 3.0 give the ET2300 a satisfying degree of future proofing. And while we'd like to see a more impressive discrete GPU, we're glad to at least see a 2GB video RAM option. The chassis boasts more versatility than pure aesthetics. The dual-hinged design does make manipulating the screen easy, and the chunky display and base leave plenty of room for the aforementioned ports and optical drive.