Testing Methodology
If you've been keeping up with our case reviews, our testing methodology for the fans here is going to seem relatively similar in some ways. Our test system may seem a bit unusual in more than a few ways, but stick with me and I'll explain why I put it together and tested it the way I did.
The processor, with its healthy voltage boost and overclock, throws a pretty substantial amount of heat at our cooling system. Testing with an i7-2700K at stock speeds would defeat the purpose; Intel's own stock cooler can handle that, we want to "separate the men from the boys" so to speak.
So why use a closed enclosure, and a Mini-ITX one no doubt? As it turns out, my experience in testing Origin's Chronos LAN box suggested that this might actually be ideal. Removing the middle drive cage allows for a straight shot between the Prodigy's intake and the radiator fan, allowing us the opportunity to test how quietly and efficiently the fans can run in a closed system with no real acoustic baffling, while the 200mm Spectre Pro attenuated to 5V runs both quietly enough to not significantly impact results while providing enough airflow to ensure the radiator fans can do their job. Using a larger enclosure felt like it might complicate things with too many variables; the small and wonderfully efficient BitFenix Prodigy felt perfect for the job.
Since a dedicated GPU wasn't needed, one wasn't used. This prevents a graphics card from generating additional heat or noise or deflecting airflow.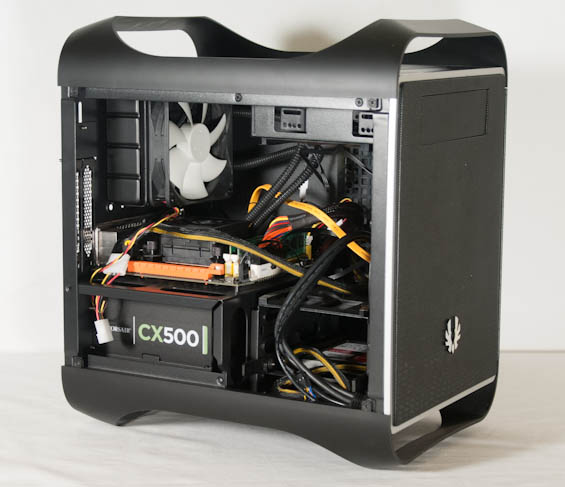 Finally, for the closed-loop cooler we used Corsair's H80. Our own testing proved this was a solid performer and fairly representative of 120mm closed-loop units. The H80 includes a thick, beefy 120mm radiator as well as having dual fan headers built into the waterblock that run non-PWM fans at a constant 12V. I elected against testing in a push-pull configuration, though, to isolate individual fan performance; test results are in a push configuration only.
Thermal and acoustic test cycles were done the same way as our case reviews. First, the system is left powered and idle for fifteen minutes. At this point the sound level is tested, room ambient temperature is recorded, and idle temperatures are recorded. Then eight threads of small FFTs in Prime95 are run for fifteen minutes, and load temperatures are recorded; since the block runs the fans at a constant 12V, the only fan that changes speed (and thus noise) is the stock H80 fan, so the noise level for that fan is recorded again during the Prime95 run.
Thank You!
Before moving on, we'd like to thank the following vendors for providing us with the hardware used in our roundup.