The ASUS Transformer line of tablets have consistently been among the strongest contenders in the Android tablet world, so when it was announced that they would be one of the launch partners for Microsoft's Windows-on-ARM push, big things were expected. And so we have the ASUS VivoTab RT. The VivoTab name comes from the Latin verb "to live", while the RT part is of course an indication of Windows RT, the official name for the ARM version of Windows. Windows RT-based tablets are Microsoft's first real competitors built for the modern tablet market, so this is a hugely important launch for Microsoft as well as its hardware partners. Obviously the elephant in the room here is Surface and how Microsoft entering the hardware market changes the Windows 8/RT launch, but we'll get to that part in time.
The division of Windows 8 (x86) and Windows RT (ARM) has resulted in a whole host of tablets with names ending in RT, and very similarly named examples running the x86-based Windows 8, so it's worth keeping track of. For example, the VivoTab is x86-based, with Windows 8, Clover Trail, and an 11.6" display, a completely different product than the VivoTab RT that we have in front of us today. The RT is very important in making the distinction between ARM and x86 hardware platforms.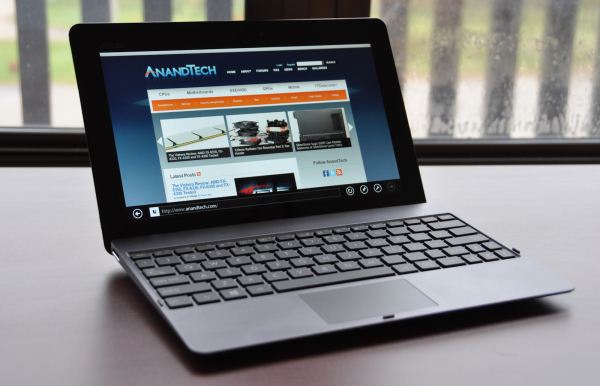 At first glance, the VivoTab RT looks pretty similar to what we're used to seeing from the Transformer line, with a 10.1" IPS 768p display housed in a slim aluminum chassis and Nvidia's Tegra 3 silicon underhood. The specsheet is actually pretty similar to the original Transformer Prime from last December, sharing identical width and thickness dimensions in addition to the obvious hardware-level similarities. The Transformer tablets have all been either 1280x800 or 1920x1200, so the switch to a 16:9 screen has allowed ASUS to make the VivoTab RT a bit shorter, as well as 60g lighter, than the Transformer Prime. At 1.15lbs, the VivoTab RT is quite the featherweight, helped along in this by the nano molding technology that injects liquid plastic to fuse the aluminum frame with the plastic components.
Tablet Specification Comparison
ASUS VivoTab RT
Microsoft Surface for Windows RT
ASUS Eee Pad Transformer Prime
ASUS Transformer Pad Infinity
Dimensions
263mm x 171mm x 8.3mm
275 x 172 x 9.4mm
263 x 180.8 x 8.3mm
263 x 180.6 x 8.4mm
Chassis
Aluminum + Plastic
Magnesium
Aluminum
Aluminum + Plastic
Display
10.1-inch 1366 x 768 Super IPS+
10.6-inch 1366 x 768
10.1-inch 1280 x 800 Super IPS+
10.1-inch 1920 x 1200 Super IPS+
Weight
525g
680g
586g
594g
Processor
1.3GHz NVIDIA Tegra 3 (T30 - 4 x Cortex A9

1.3GHz NVIDIA Tegra 3 (T30 - 4 x Cortex A9

1.3GHz NVIDIA Tegra 3 (T30 - 4 x Cortex A9)

1.6GHz NVIDIA Tegra 3 (T33 - 4 x Cortex A9)

Memory
2GB
2GB
1GB
1GB DDR3-1600
Storage
32/64GB + microSD slot
32/64GB + microSD slot
32GB/64GB + microSD slot
32/64GB + microSD slot
Battery
24.4Whr
31.5Whr
25Whr
25Whr
Pricing
$599/699 (includes dock)
$499/599
$499/$599
$499/$599
The heart of the VivoTab RT is a 1.3GHz T30, the same chip as the Transformer Prime and international HTC One X, amongst other devices. It's paired with 2GB of DDR3L memory, 32GB of NAND storage, 2.4GHz 802.11n, Bluetooth 4.0, cameras front (2MP) and back (8MP with an LED flash and 1080p video), a 10.1" 1366x768 Super IPS+ panel, and a 25Wh battery. In addition, it has a microSD card slot, a micro-HDMI port, and the proprietary charging/dock connector. The port itself is different from the ones on the Transformers, the VivoTab RT uses a smaller and lower-profile connector. Included in the box is a USB 2.0 dongle that connects up to the dock connector. It's a bit unwieldy, but it's better than not having any options for USB support.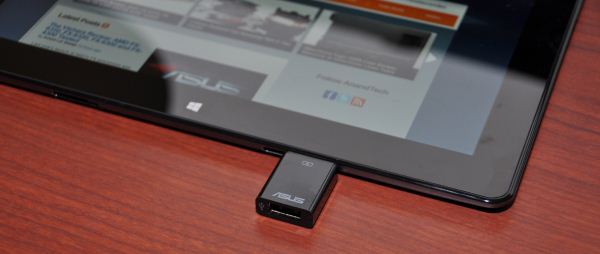 When the VivoTab RT went up for preorder, it was priced at $599/699 for the 32GB and 64GB versions, respectively, with various online retailers offering a pre-order bundle with the 32GB VivoTab RT and the laptop dock together for $749. Shortly before this review went live, however, I received an email from ASUS saying that final pricing would be $599 for the 32GB model including the docking station, with most of the focus being on selling the bundle rather than the individual pieces. This was likely a response to the more aggressive pricing of the Surface RT, which offers similar hardware for $499 (32GB), or $599 when bundled with the Touch Cover keyboard case. It's good to see ASUS adjust to Microsoft's pricing this quickly, but I'm not sure there was much of a choice there if they wanted to be competitive. The laptop dock is more functional than Microsoft's keyboard covers and throws in a near-doubling of battery capacity for good measure, so the new pricing quickly turns the VivoTab RT into a good value.