Samung's still midstride in their IFA presentation, but they've already gone live with their announcements, and if they wanted to move the conversation along from the current news cycle this is it. In the coming months we'll be seeing Samsung release a Note successor and a new line-up of Windows 8/RT and Windows Phone 8 devices. There's a lot to dig through, so let's jump in.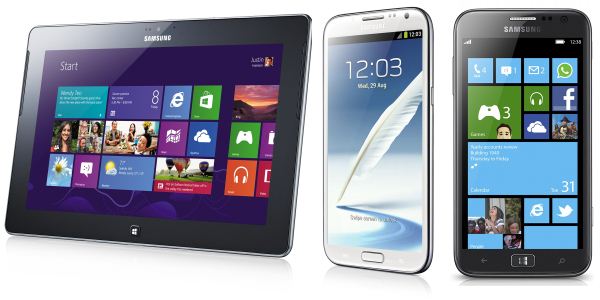 Samsung ATIV S: Windows Phone 8's First Champion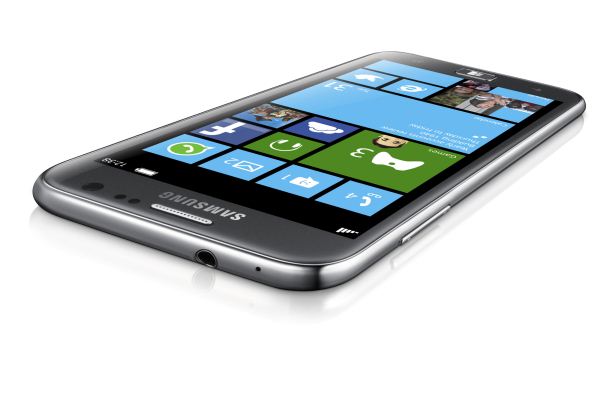 We've seen the software a few times, but this is our first look at what an actual Windows Phone 8 device will look like. The ATIV line will cover all mobile centric Windows 8/RT devices from Samsung, and the ATIV S is be their halo Windows Phone 8 device. Inside is a 1.5 GHz dual-core SoC, alongside 1GB of RAM, 16 or 32 GB of NAND (supplemented by microSD) and fronted by a 4.8" HD Super AMOLED display. Connectivity maxes out at 42 Mbps DC-HSPA+, and battery life should be stellar with a 2300 mAh removable battery. We've gotten confirmation that the handset is running Qualcomm's Snapdragon S4 processor, most likely the MSM8260A given the lack of LTE connectivity in the specs. It's possible that LTE connectivity could be included in later iterations, in which case the ever ubiquitous MSM8960 would be packaged in. Either way, we're looking at two Krait cores running at 1.5 GHz with Adreno 225. This is relevant for another reason, too; this means Qualcomm remains the SoC of choice for Windows Phone devices. The look of the handset is reminiscent of the Galaxy S II, with a blocky home button up front and a top-centered 8MP shooter around back.
Samsung ATIV Tab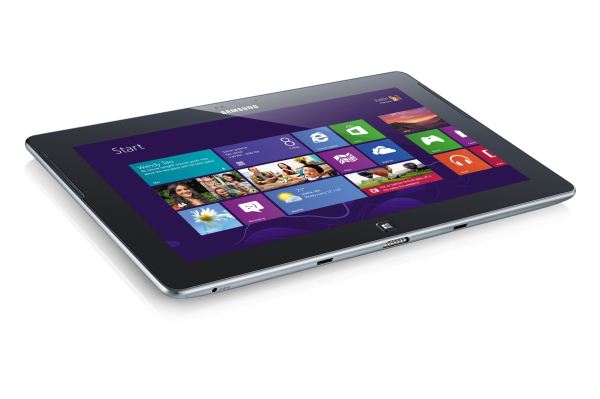 With the announcement of Microsoft's own entrant into the Windows RT tablet space, Surface, we wondered if other OEMs would be shy about going up against Redmond. Clearly, Samsung wasn't in any doubt. The ATIV Tab has similar internals as the ATIV S handset, now in a 10.1" form factor with a 1366x768 display. Available in 32 and 64GB SKUs, with the 1.5 GHz dual-core Snapdragon S4 SoC (APQ8060A) and 2GB of RAM, the slate can be mated to a keyboard dock for a more laptop like experience. There's an enormous 8200 mAh battery behind the screen, and though a bit hefty at 1.2 lbs, the 8.9 mm thick body should be easy to handle. Connectivity includes miniHDMI, microSD and microUSB. There's a lot riding on these slates, and it'll be interesting to see just what kind of headway this category makes this holiday season. We'll see how they stack up against the best from Apple and Google in the coming months. There will also be significant competiton amongst the various SoC makers, with TI, NVIDIA and Qualcomm all playing in this space. Notably, Exynos is so far left out of the running.
Samsung ATIV Smart PC and Smart PC Pro


Samsung ATIV Smart PC (left) and PC Pro (right)
Samsung isn't quite betting the farm on ARM, though. The ATIV line includes two x86 based tablets, and they mirror the delta between the Surface and Surface Pro closely. The form factor is stretched to 11.6" and the Pro brings a full 1080p panel, where as the lesser SKU sports another 1366x768 panel. That's not the only difference between the two slates. The Pro will have an Intel Core i5 processor, while the non-Pro model will make do with an Intel Atom SoC (Clover Trail) and just 2GB of RAM to the Pro's 4GB. Detailed specs will be laid out below. The design for each will be rather smilar and they will be paired with their own keyboard docks.
Samsung ATIV Smart PC Tablet Specification Comparison
ASUS Transformer Pad Infinity
Samsung ATIV Smart PC
Samsung ATIV Smart PC Pro
Samsung ATIV Tab
Dimensions
263 x 180.6 x 8.4mm
304.0 x 180.4 x 9.9mm
304.0 x 180.4 x 11.89mm
265.8 x 168.1 x 8.9mm
Chassis
Aluminum + Plastic RF Strip
Plastic?
Plastic?
Plastic
Display
10.1-inch 1920 x 1200 Super IPS+
11.6-inch 1366 x 768 TFT-LCD
11.6-inch 1920 x 1080 TFT-LCD
10.1 1366 x 768 TFT-LCD
Weight
594g
750g
884g
570g
Processor

1.6GHz NVIDIA Tegra 3 (T33 - 4 x Cortex A9)

Intel Atom (Clover Trail) Dual-core

Intel Core i5
1.5 GHz Dual-Core Snapdragon S4 (APQ8060A)
Memory
1GB DDR3-1600
2GB
4GB
1 GB
Storage
32/64GB + microSD slot
128GB eMMC
up to 256 GB SSD
32/64GB + microSD slot
Battery
25Whr
31Whr
47Whr
31Whr
Pricing
$499/$599
???
???
???
While Microsoft has clearly taken a fairly locked down approach with Windows RT and Windows Phone 8, there seems to be more flexibility in software with Windows 8. To that end, each of these tablets will feature Samsung's S Pen hardware and complimentary S Note software. The functionality will mirror that of the Galaxy Note 10.1 and Note II, more on that later. We'll see whether any Note variants of Windows RT or Windows Phone 8 make it to market.
Samsung Series 9 Notebooks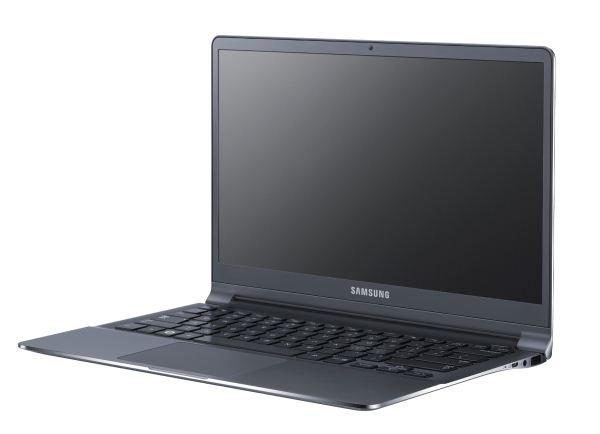 And lest you think that Samsung was abandoning the traditional notebook space, we have confirmation that the Samsung Series 9 notebook line will be upgraded to Windows 8. Interestingly, no touchscreen options will be available, rather they're touting their multitouch touchpad as the ideal way to interact combine the desktop environment with the Live Tile experience. There's obviously a long way to go before Microsoft has us all convinced that this tablet-centric UI can be shoehorned into a satisfying laptop experience. No other changes have been made to design, nor Samsung's claims at having the thinnest, fastest notebooks around. Certainly, the Series 9 are attractive and lightweight. Hopefully that touchpad will live up to the dreams, and not be another disappointment.
There's no way to know for sure when to expect availability for these new devices. If Microsoft's Surface announcement is any indication, the ATIV S and Tab will come first, possibly alongside the ATIV Smart PC, with the PC Pro to follow a few months later. The Series 9 Notebooks should be ready for Windows 8's launch, which is epected around October. We'll bring you more from IFA as the week rolls on.