In another quick shift in the hyper-competitive performance video card market, AMD sends word this afternoon that they are enacting some price cuts that will be taking effect later this week. This latest round of price cuts comes hot on the heels of last week's launch of the GeForce GTX 660 Ti, which saw NVIDIA introduce their first 28nm performance video card at $299.
The bulk of the cuts here will be for the 7800 series, where the 7870 in particular is finding itself somewhat displaced after the launch of the GTX 660 Ti. The $299 660 Ti isn't necessarily in direct competition with the already-cheaper 7870 – which had a street price of around $279 last week – and since AMD had already quietly shuffled prices around ahead of the GTX 660 Ti launch, we weren't expecting any further changes here. But it would appear that the gap between the 7870 and GTX 660 Ti is closer than AMD would like.
As a result the 7870 will be getting a slight price cut to push prices towards $249. This would make the card a full $50 cheaper than the GTX 660 Ti, which is apparently the kind of leverage AMD wants right now.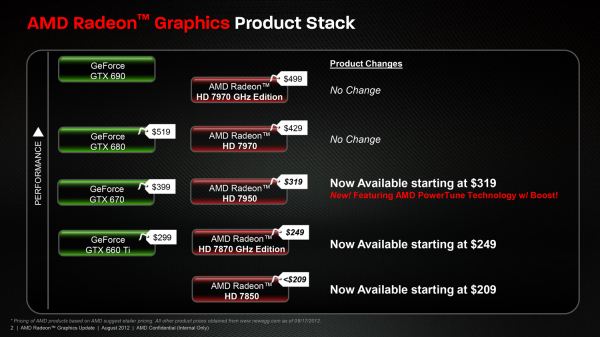 Meanwhile because the 7870 is getting a price cut, so is the 7850. AMD is expecting the street prices on the 2GB 7850 to fall to around $209 after the price cuts take effect, putting it $40 below the newly repriced 7870. The 2GB 7850 has been averaging $239 in the past week, so this would represent a price cut of around $30. Meanwhile the extremely rare 1GB version of the card would end up below $200, though given how few of those cards exist it's hard to say if it will hit AMD's $189 price target.
Alongside those price cuts the 7800 series will be receiving a new game bundle promotion in a few weeks. The AMD Gaming Evolved title Sleeping Dogs will be AMD's latest bundle, replacing the outgoing DiRT Showdown bundle. This will sit opposite NVIDIA's existing Borderlands 2 promotion, which went live last week. As with past bundles this is being done at a retailer level, so it's primarily geared towards online retailers (e.g. Newegg) that can quickly bundle vouchers with new cards.
Meanwhile, along with the 7800 series the 7950 is also technically getting a price cut. We say "technically" because AMD seems to be rubber stamping price cuts that have already happened. The 7950 has been readily available below its $349 MSRP for quite some time now, and AMD's new MSRP of $319 reflects the price of cards that are already available.
Finally, it should be noted that despite AMD's official announcement we wouldn't be all that surprised if only a few cards ended up reaching these new MSRPs. AMD lists their MSRPs as "starting at", which means that AMD is listing the price of the cheapest card. This is largely how the previous round of price cuts played out, so pickings right at these new MSRPs may be slim.