So far Thunderbolt accessory offerings have been fairly limited and conventional. There are several external storage solutions with Thunderbolt support but the only advantage they provide over USB 3.0 or eSATA solutions is higher bandwidth. What's more, to achieve such bandwidth you either need a multi-bay enclosure with several hard drives in RAID mode or an SSD based setup. Apple's Thunderbolt Display (ATD) is certainly one of the more unique Thunderbolt peripherals as it functions as a dock as well, but at $999 it's quite expensive unless you're already looking for a gorgeous 27" 2560x1440 display. There has not been a simple dock-like product with the most frequently used ports--basically like the ATD but without the display. We have some good news in this regard because Belkin and Matrox have both announced Thunderbolt docks. Without further delay, let's take a look at the specifications, shall we?
Belkin Thunderbolt Express Dock

Belkin actually already announced the Thunderbolt Express Dock at CES 2012 but it won't be shipping until September. However, Belkin has now revised the specifications to include a couple of very welcome interfaces: USB 3.0 and eSATA. The original Thunderbolt Express Dock was set to feature three USB 2.0 ports and no eSATA at all, but apparently Belkin has changed their mind and added these two interfaces. Below is a full list of specifications:
Belkin Thunderbolt Express Dock Specifications
Ports
2x Thunderbolt (daisy-chaining supported)
3x USB 3.0
1x FireWire 800
1x eSATA
1x Gigabit Ethernet
3.5mm audio in and out
Price
$399
Availability
September 2012
Despite the upgrades, Belkin is still aiming for a September launch. The specifications are not the only thing that changed because the dock was originally set to retail for $299, but Belkin has now upped the price to $399. Belkin has also announced their own Thunderbolt cable. Belkin's cable measures in at one meter, which is exactly half the length of Apple's Thunderbolt cable. The cable will be available in July with a suggested retail price of $45.
Matrox DS-1 Docking Station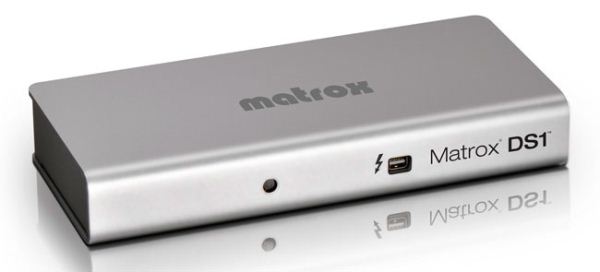 Belkin won't be alone in the Thunderbolt dock market as Matrox has announced their own Thunderbolt dock as well:
Matrox DS-1 Docking Station Specifications
Ports
1x Thunderbolt (daisy-chaining not supported)
1x USB 3.0
2x USB 2.0
1x Gigabit Ethernet
1x DVI (output)
3.5mm audio in and out<
Price
$249
Availability
September 2012
Matrox's dock does not feature as many interfaces as Belkin's does, but it's priced more reasonably at $249. The biggest losses are daisy-chaining support, eSATA, and FireWire 800 but you gain DVI in exchange. There is only a single USB 3.0 port as well while the remaining two are USB 2.0. You could always use a USB 3.0 hub with the device to add more USB 3.0 ports, but the maximum bandwidth would not change.
Our Thoughts
While it's always positive to see more Thunderbolt devices, especially innovative ones, the pricing is still steep. Unless you are a MacBook Air owner, the only thing you will gain from these docks is USB 3.0 support (depending on your laptop). The Belkin dock also adds eSATA but given the speed of USB 3.0, there is less and less use for eSATA nowadays. For the record, you can get a laptop with USB 3.0 for around $400 (e.g. ASUS X54C-NS92), so at least personally I find paying $249/$399 for USB 3.0 connectivity to be a heist.
MacBook Air users may be able to justify spending $249/$399 on a Thunderbolt dock because their connectivity is limited to two USB 2.0 ports and Thunderbolt, and a dock would add ports such as FireWire 800 and Gigabit Ethernet. However, it's good to keep in mind that Ivy Bridge and UM77 chipset will bring native USB 3.0 support to MacBook Air as well, hence it may be more affordable to sell your current MacBook Air and buy a new one than to keep the old one and buy a Thunderbolt dock.
There's another potential use case, particularly once we start seeing more laptops with Thunderbolt ports. Something like the Matrox DS-1 can basically function as a single-cable dock for your laptop. Instead of connecting an external display, audio, Ethernet, mouse, and keyboard you would just plug in the Thunderbolt cable (and presumably AC power). You're basically paying for convenience at that point, but that can be a draw for a certain class of user.
There is hope that we will see more price competition now that PCs are getting Thunderbolt as well. That would be extremely welcome because at current prices, most Thunderbolt accessories are out of reach for average consumers.