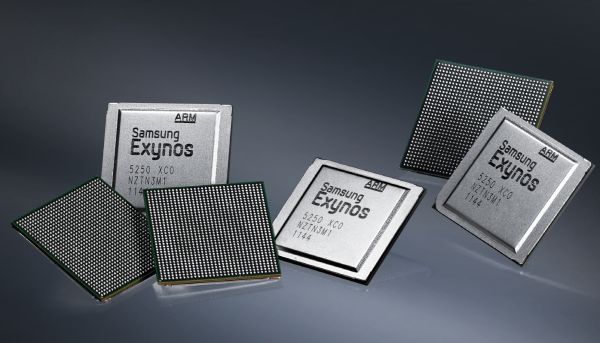 All our favorite mobile System-on-Chip manufacturers have been hard at work on their Cortex-A15 designs, and Samsung is no different. Today, in Korea, Samsung announced their first Cortex-A15 SoC, the Exynos 5250. Clocked at 2 GHz and produced with a 32 nm process, the chip should offer competitive per core performance as the Qualcomm and TI designs that will be rolling out in 2012; unlike Tegra 3, though, it appears the first shipping product will be dual-core.
Compute performance is expected to double over their 1.5 GHz Cortex-A9 based Exynos processors, and memory bandwidth is quoted as 12.8 GB/s, a huge jump over their prior bandwidth. Unfortunately the release didn't clarify the origin of the bandwidth leap. It also didn't discuss the on package GPU. Graphics performance will reportedly quadruple over their earlier Exynos models, which could eclipse the current graphics king, Apple's A5 SoC.
New power-saving tech involves a low-power frame buffer for static screens, potentially allowing the GPU to be fully powered down when displaying just a home screen or other static image. The GPU will have to be pretty beefy to push the WQXGA (2560x1600) resolution targeted for next generation tablet displays. Hummingbird used PowerVR, Exynos used Mali, and though Samsung has access to other ARM-Mali designs they haven't used yet, they also recently licensed PowerVR's latest GPU designs. We're reaching out to our sources for more information and will update as necessary.
Source: Samsung (Korea)