I had a chance to quickly go through the Lian Li booth today, and scope out what new products are on the horizon for the well respected computer case manufacturer. Even at first glance, I thought the TU-200 was a good idea: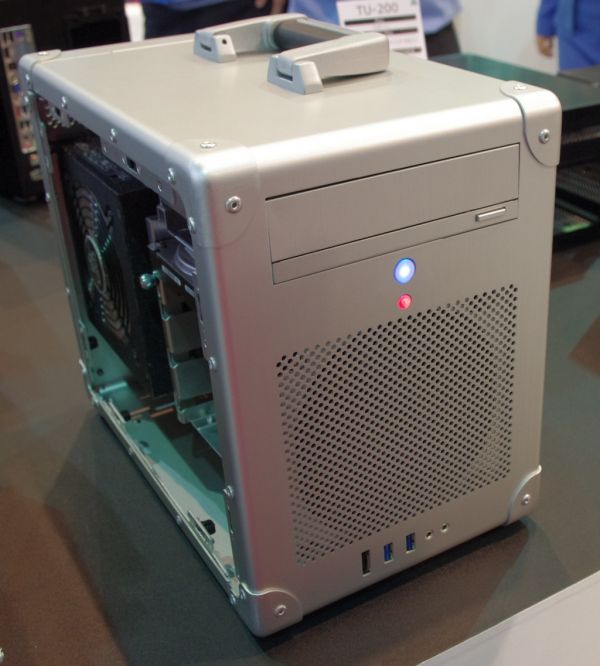 This is essentially the same inside as the PC-Q08 case we have recommended in our small form factor buyer guides, but built with a sturdier outer shell and a handle for easy movement. The most obvious application for this product is for LAN gamers who often move their machines about. The TU-200 is a mini-ITX with space for a full length dual slot graphics card and 4 SATA drives, like the PC-Q08, or space for 6 SATA drives if a small card is used. Expect to see the TU-200 in markets soon, though unfortunately no word on pricing, nor how much weight the handle can take – Lian Li tell me this is still to be tested.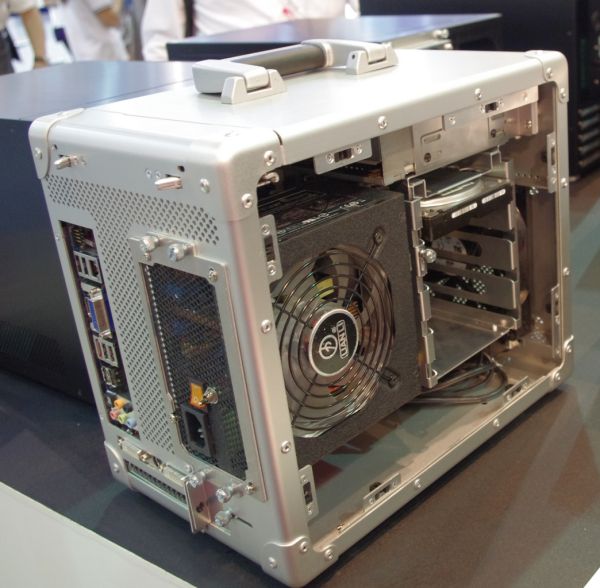 The other main new Lian Li case on show, this time in a large size form factor sufficient for XL-ATX size motherboards, was the PC-100: a new design concept on how a case should be built. Lian-Li have decided to change the position of the motherboard mounting such that the IO panes are at the front of the case, thus having all the USB ports available for immediate use.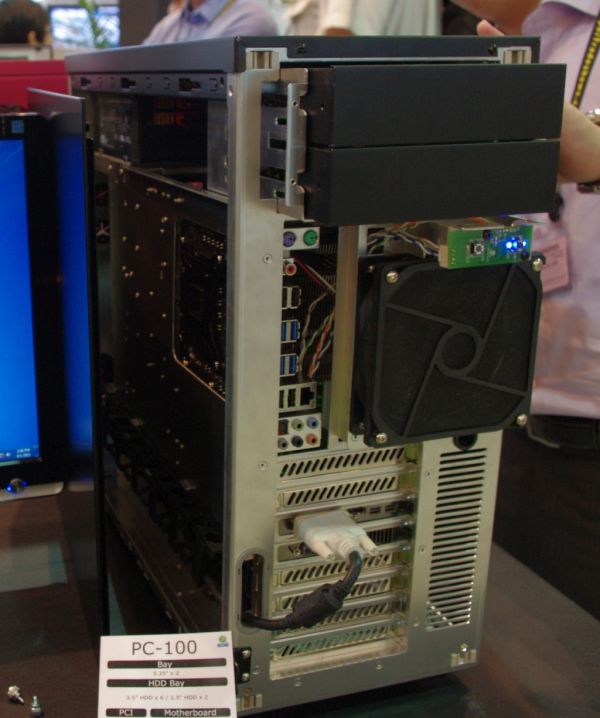 This raises a few questions, namely how the airflow is arranged in the case. I pointed out that as the case still has an intake at the front, the warm air from the GPU would rise into the front fan and blow warm air over the CPU. A quick chat with one of Lian Li's engineers and I found out that this hadn't been thought of – ultimately the PC-100 is still in the engineering phase – they're expecting to put a door on the front of the case for easy access to the I/O panel, and as I pointed out the heat issue, they may place the board on the other side of the case so the GPU is at the top – and thus the motherboard is upside down. However, there are still concerns with what to do with Ethernet, audio and everything else to do with the I/O panel – but it's interesting to see a different design perspective from a case manufacturer.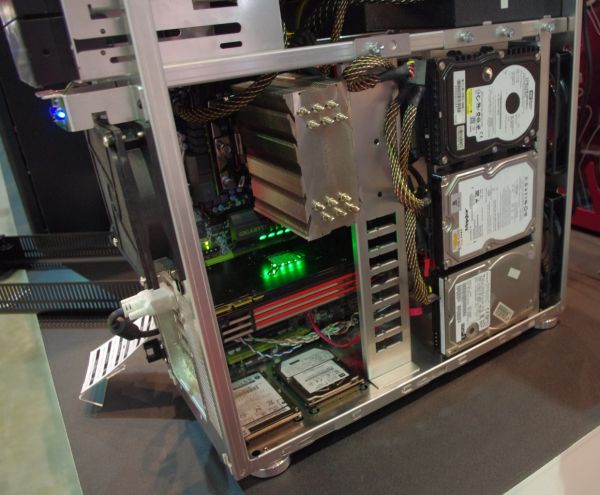 One other point of note is the HDD bay design. I'd never seen this before on a full size case before today, but on both the PC-90/100 (as well as an Enermax case at Computex) the mounting of 3.5 inch drives has been taken towards the vertical, against the case, to free up some space in terms of case length for high end graphics cards. This could result in more case manufacturers following suit, and less cases only being as long as the high end GPUs.