Cables and Connectors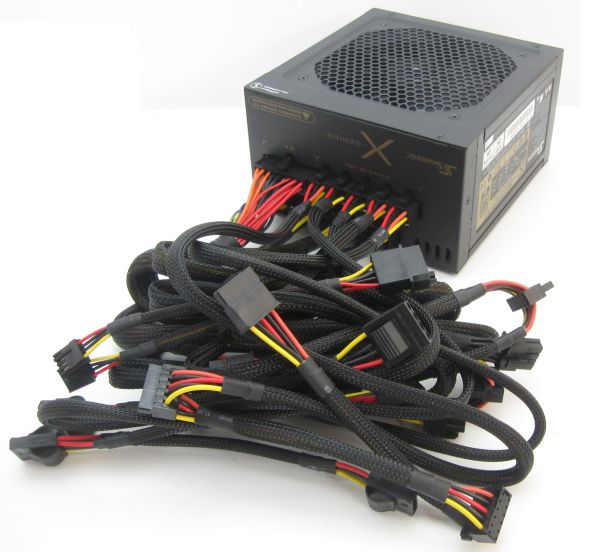 Here we have the already mentioned connector panel. Seasonic is using good-looking sleeving for all the cables. As with other X-series models, the 24-pin cable is split into two plugs. All peripheral cables are on the upper row; all 12V connectors (CPU, GPU) can be found on the lower row.
Cables and Connectors
Modular
Main
24-pin 60cm
ATX12V/EPS12V
4+4-pin 65cm
PCIe
2x 6/8-pin 60cm
Peripheral
3x SATA 55-85cm / 3x SATA 55-85cm / 2x SATA 35-50cm
3x Molex 55-85cm / 3x Molex 35-50 / Molex to 2x Floppy adapter 15cm
It is nice to see that the CPU cable is very long, which is important for cases with a bottom-mounted PSU. Two PCIe connectors are a common configuration for 450-600W. Seasonic again uses reasonably long cables here. The shorter SATA and HDD cables can be used in HTPCs; the longer ones are perfect for larger cases. If you still need FDD connectors there's an adapter included; if not, set it aside. We like the way Seasonic offers different solutions for different PCs.