Seasonic X-Series 560W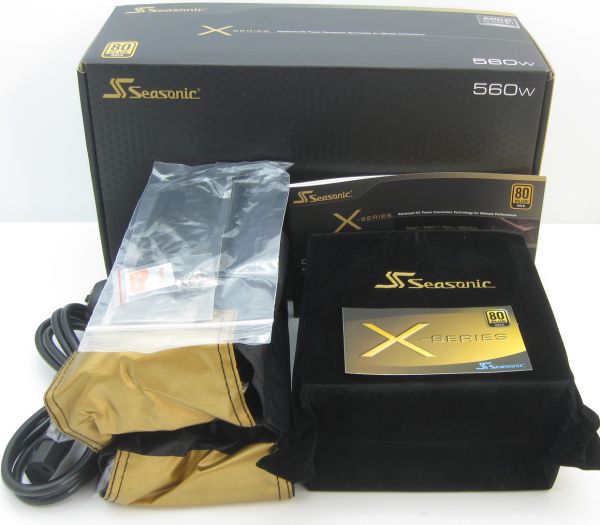 Our latest candidate for PSU torture testing is the Seasonic X-560. Seasonic first garnered praise with the X-Series by offering a range of 80 Plus Gold PSUs from low wattage up through high wattage units, along with two passively cooled versions. Other reasons for their popularity are the 5-year warranty and outstanding internal design. Even most of the S12II and M12II models (which they don't generally offer as review samples) are getting awards all over the world for providing high quality in a mainstream market segment. At a price of $120 USD the X-560 is definetly not the cheapest ~550W power supply, but we're here to find out if buyers get more for their money.
As you can see in the picture Seasonic delivers a bag for modular connectors—the X-560 has fully removable cables. Also included in the packed are a power cord, four screws, a user's guide, and many cable ties. In short, Seasonic provides plenty of extras to keep the customers satisfied.
A note on the PSU informs users that this PSU works passively below 20% load. Features include "tight voltage regulation", "gold plated terminals", and a mainboard with many SMDs (surface mounted devices). High-class solid caps are part of the ouput filtering. And for the gamers among us, this PSU supports multi-GPU technologies, all with a reasonable rating of 560W.