ASRock started introducing small form factor (SFF) HTPCs last year. Their first play in the market was an ION based Atom nettop, and it could best be termed as an entry-level machine. While being a good fit as a secondary HTPC, it failed to satisfy the power users. Absence of HD audio bitstreaming and lack of processing power for many common HTPC tasks were important reasons. In an effort towards alleviating these concerns, ASRock introduced a mainstream SFF HTPC a couple of months back, namely, the Core 100. With a Core i3 mobile processor combined with the integrated Arrandale IGP, things started to look good for the SFF HTPC space. We had unreserved praise for the Core 100, but the Intel HD Graphics did have some shortcomings for the purists in terms of support for the latest Blu-Ray features and potential for gaming.

The Vision 3D was announced at the 2010 Computex show in the first week of June. The aim of this product was to make a foray into the high end HTPC space by offering cutting edge technology such as 3D movie playback and 3D gaming to the consumers. The initial plan was to use a GeForce 3xxM or 4xxM as the GPU inside the Vision 3D. Had ASRock rushed the release of the HTPC and gone with the 3xxM card, the unit would have been DOA due to the lack of HD audio bitstreaming. Instead of rushing to the market with a half-baked product, ASRock wisely decided to wait for nVidia to get its HTPC game straight. What we have on our hands now is a HTPC very similar to the Core 100, with the additional power of the GeForce 425M replacing the Intel IGP for the graphics duties.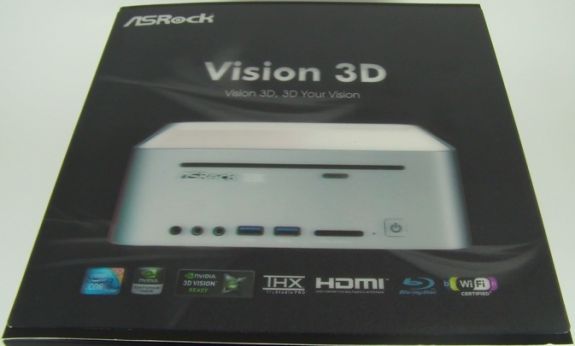 What makes the Vision 3D a high end unit? For starters, it is the first pre-built HTPC to support HD audio passthrough as well as Blu-Ray 3D playback with HDMI 1.4a support. It is evident that this HTPC will remain future proof for quite some time to come. 3D technology is yet to become mainstream, with displays still being priced out of reach of the average consumer. ATI and Intel are yet to bring HDMI 1.4a support in their GPUs. These facts combine to make ASRock a pioneer of sorts in the SFF HTPC field. The closest competition to the ASRock Vision 3D comes in the form of the Dell Zino HD. However, even the highest end configuration of the Zino HD doesn't support 3D Blu-Ray playback. Based plainly on the specs, it looks like all the bases are covered for the consumer on the leading edge who doesn't want to mess around with building his own HTPC. Does the Vision 3D deliver on its promise? That is what we are set to find out in the course of this review.