HP EliteBook 8440w—Gaming and Workstation Performance
With the FX 380M inside, we didn't expect the 8440w to fare particularly well in our gaming tests. However, given the hardware, it acquitted itself about as well as could be expected. It was basically on par with the U30Jc and U33Jc, which have the GeForce G 310M. This also puts it around the same level as the Quadro NVS 3100 (which has the same GT 218 graphics core as the G 210/310M and the FX 380M), a bit ahead of the now-aging ATI HD 4330, and well behind the more mainstream performance GT 325M and 335M chips.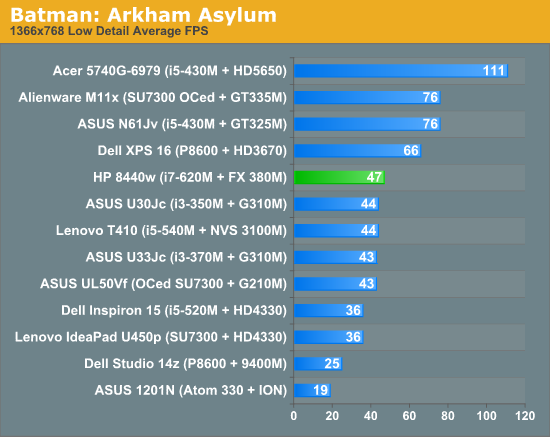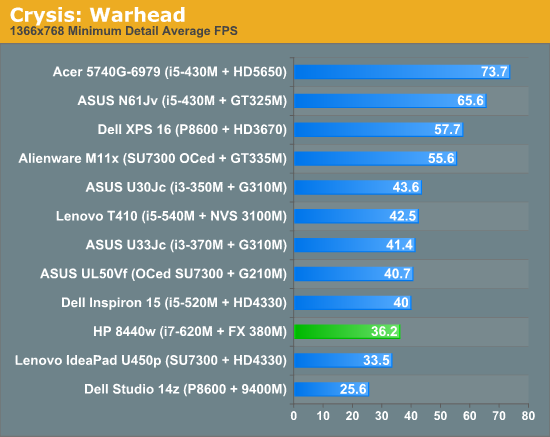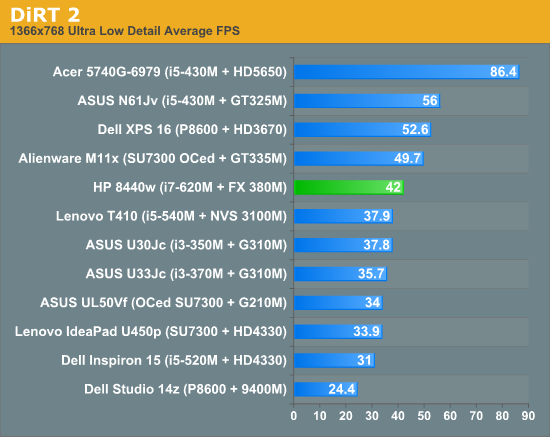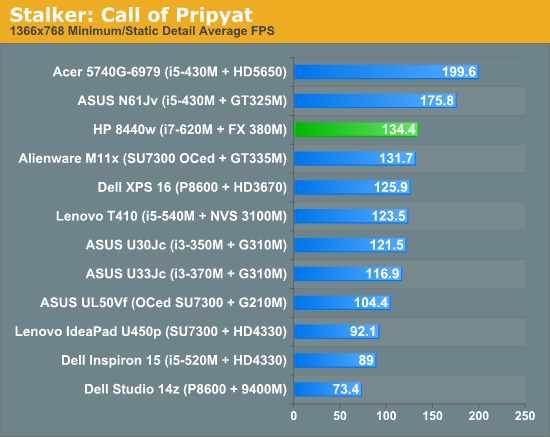 But the real test is in workstation performance, and that is where compared to the G 310M, the Quadro really shines. Looking at the SPECViewperf benchmark, the 8440w really murders the U33Jc. It's more of a comparison between the two GPUs than the two laptops, since there isn't as much of a load on the CPU as there is on the GPU. The hardware acceleration features enabled in the Quadro really help it compared to the standard GeForce chip.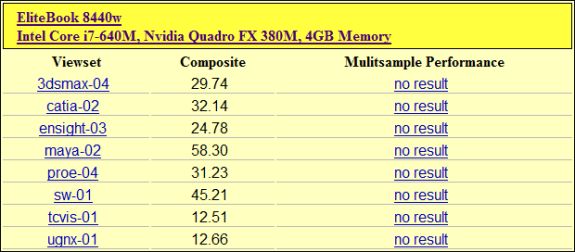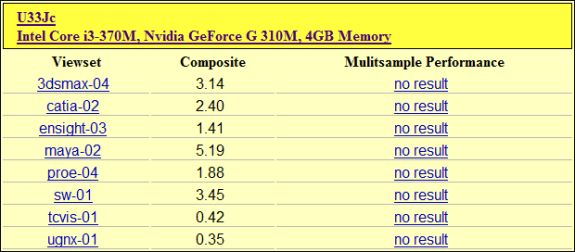 But as a workstation, a consumer-level thin and light like the U33Jc is not what we should be comparing with a serious workstation machine like the 8440w. How about the 8440w's most natural competitor—the esteemed Lenovo ThinkPad W510? Let's give you a bit of background on the W510.
The latest in the workstation ThinkPad line, the W510 starts at $1599 and comes with a quad-core Core i7-720QM, Quadro FX 880M (based on the GT 330M), a 15.6" screen, 2GB memory, and a 9-cell battery. And that's where the 8440w starts losing it's lustre. For roughly the same price, the W510 packs in a quad-core processor and a far faster graphics card, so workstation performance should be significantly improved, whether you're a developer compiling OS builds, a CAD junkie like me, or into engineering simulation. So while I can say, having run SolidWorks and done some CAD on the 8440w, that it's adequate for such things, at the same time it's difficult to say great things about the performance when some similarly priced workstations are specced so much better.