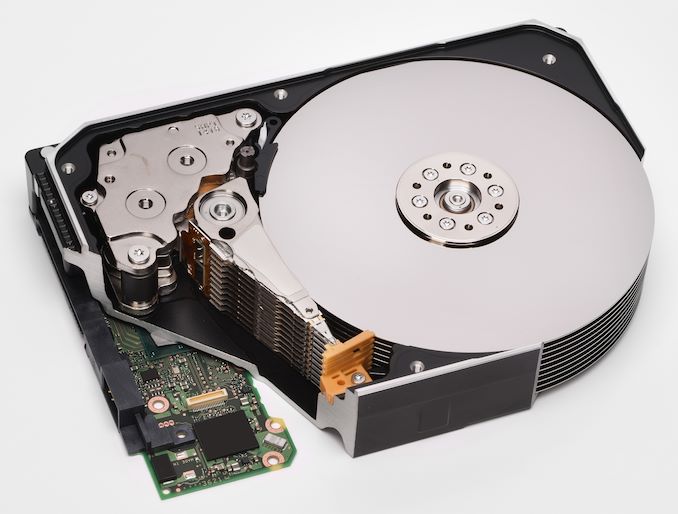 Western Digital is gearing up to start sampling of its 28 TB nearline hard drive for hyperscalers. The new HDD will use the company's energy-assisted perpendicular magnetic recording (ePMR) technology with UltraSMR track layouts. Since both technologies are now familiar to hyperscalers, the validation and qualification of this hard drive should be relatively straightforward.
"We are about to begin product sampling of our 28 TB UltraSMR drive," said David Goeckeler, chief executive of Western Digital, at the company's most recent earnings call. "This cutting-edge product is built upon the success of our ePMR and UltraSMR technologies with features and reliability trusted by our customers worldwide. We are staging this product for quick qualification and ramp as demand improves."
Right now, Western Digital is shipping its 26 TB UltraSMR hard drives introduced over a year ago to select customers among operators of large cloud datacenters. Since these drives rely on UltraSMR it took hyperscalers quite a while to qualify them before deployment. But now that Western Digital's customers know how to use UltraSMR and what to expect from it in terms of performance and behavior, deployment of 28 TB HDDs will likely go smoother.
Based on their release timeline, Western Digital's 28 TB hard drives are expected to compete against Seagate's 32 TB HDDs based on heat-assisted magnetic recording (HAMR) technology starting early 2024. Western Digital offering will be familiar to its clients who already use shingled magnetic recording HDDs in general and UltraSMR drives in particular. Meanwhile, Seagate's product will deliver higher capacity, predictable performance (and considerably higher performance when it comes to write operations), but will probably need slightly longer qualification.
Western Digital's UltraSMR set of technologies promises to add around 20% of extra capacity to CMR (conventional magnetic recording) platters. To make UltraSMR possible, Western Digital not only had to increase the number number of shingled bands and reduce the number of CMR bands, but employ all of its leading-edge HDD technologies. This includes triple stage actuators with two-dimensional (TDMR) read heads, ePMR write heads, OptiNAND technology, Distributed Sector (DSEC) technology and a proprietary error correcting code (ECC) technology with large block encoding to ensure that increased adjacent tracks interference (ATI) does not harm data integrity. In fact, the sophisticated ECC capability supported by an HDD controller may be crucial SMR hard drives in the coming years as well as for CMR drives in the longer-term future.
One interesting thing about Western Digital's 28 TB HDD is that it will likely use the company's 2nd generation ePMR since it is based on a 24 TB CMR drive and the latter is meant to rely on the ePMR 2 technology with advanced head structures, according to Western Digital's roadmap.
Source: SeekingAlpha