Visual Inspection
The GIGABYTE Z590 Aorus Tachyon is designed primarily for overclockers looking to push Rocket Lake processors on extreme cooling methods such as liquid nitrogen (LN2) and dry ice (DICE). This includes a clutter-free LGA1200 socket for easy mounting of LN2 pots, with a very simplistic all-black design which includes a single strip of customizable RGB LEDs on the chipset heatsink. The rear panel cover doubles up as a power delivery heatsink, while GIGABYTE is using diagonal lines which resemble the letter S across the M.2 heatsinks, across the chipset heatsink, and includes the fins on the power delivery heatsink.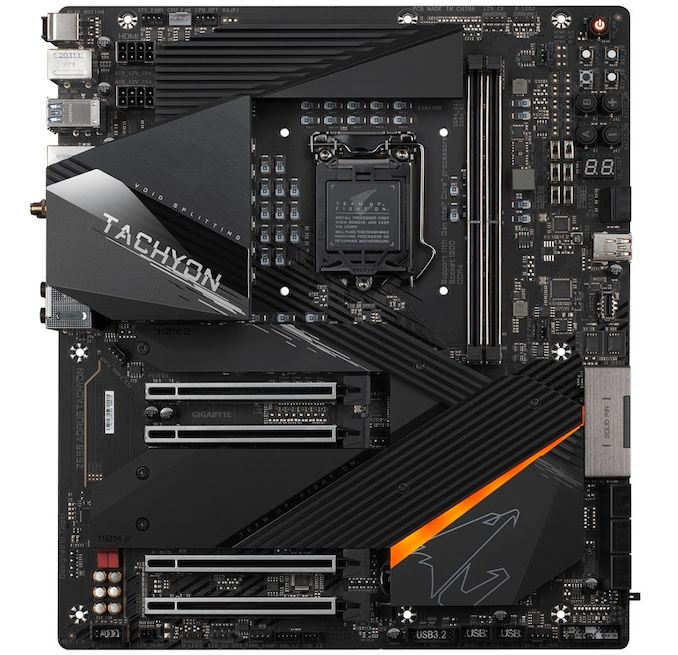 The Tachyon has four full-length PCIe slots set in two banks of two. This type of array is designed for extreme overclockers looking to push graphics cards, with single slot spacing for video card benchmarking in extreme cooling situations such as LN2 and DICE. The top two full-length PCIe slots operate at PCIe 4.0 x16 and PCIe 4.0 x8/x8, while the bottom two slots are electronically locked to PCIe 3.0 x4 and x1, respectively. Located above the PCIe 4.0 slots is one PCIe 4.0 x4 M.2 slot, which two PCIe 3.0 x4/SATA M.2 slots located in the center of the PCIe slot area.
Looking at onboard connectivity across various areas of the Tachyon, there are a USB 3.2 G2 Type-C header, one USB 3.2 G2 Type-A port, one USB 3.2 G1 Type-A header (two ports), and two USB 2.0 headers (four ports). For cooling, there's a total of eight 4-pin headers, including one CPU fan header, one water cooling pump header, four designated for chassis fans, and two for either chassis fans or water pumps.

Other storage options include eight SATA ports, six of which are driven by the chipset and include support for RAID 0, 1, 5, and 10 arrays. The six chipset-driven SATA ports are located in the bottom right-hand corner of the board with right-angled connectors. In comparison, the other two SATA ports are located further up and are powered by an ASMedia ASM1061 SATA controller. Designed to make cable management easier, GIGABYTE uses a right-angled 24-pin 12 V ATX motherboard power connector.

Focusing on memory support, the Z590 Aorus Tachyon has just two memory slots, despite being a larger E-ATX board. GIGABYTE has done this intentionally with a lot of design choices implemented designed to improve overall memory performance. The Tachyon officially supports up to DDR4-5333, but this is likely to be pushed much higher with highly overclockable memory, as such as GIGABYTE's in-house extreme overclocker Hicookie has achieved by pushing DDR4-6624 under liquid nitrogen cooling. Some of the design implementations include closer memory slots to the CPU socket, which should reduce memory latency and shielded memory routing to prevent external electrical interference.

GIGABYTE includes an extensive toolkit designed for extreme cooling situations, with plenty of dip switches and buttons for overclockers to use. Included are a power button, a reset button, a cold reset button, a clear CMOS button, a LIMP mode switch, and an OC trigger switch. There's also a pair of buttons that allow users to adjust the CPU frequency ratio in real-time. The dip switches provide various functionality, all of which are designed for LN2 cooling, and includes an SB switch, a BIOS switch to allow users to switch between the dual BIOS chips on the board, an enhanced LN2 mode switch, an LN2 mode switch, and an OC profile switch. One of the switches is marked as reserved, with the possibility that a new OC function may be enabled by GIGABYTE at a further time. GIGABYTE also includes voltage measurement points, including VCCCST, CPU VCore, VCCVTT, and VPLL_OC voltages.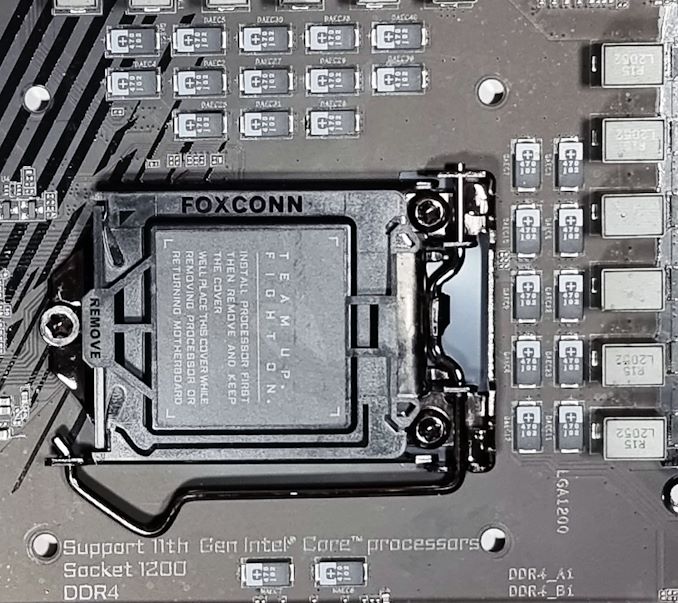 Flanking the LGA1200 CPU socket, GIGABYTE uses a Tantalum Polymer Capacitor Matrix. This allows extreme overclockers better access to mount a liquid nitrogen pot due to the flat design of the capacitors. These types of designs also make CPU socket insulation easier as there are fewer gaps to fill with materials such as eraser putty, nail varnish, and vaseline.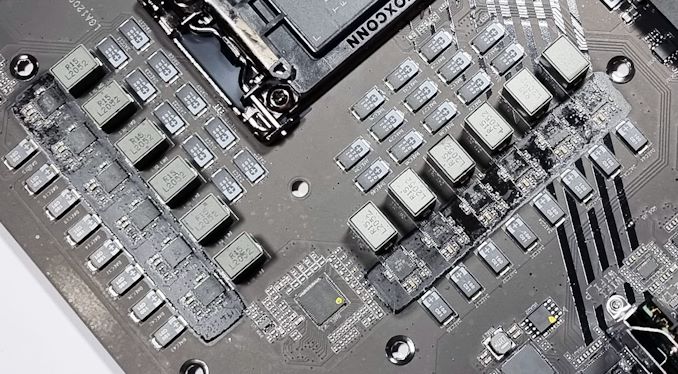 The GIGABYTE Z590 Aorus Tachyon uses a direct 11-phase power delivery for the CPU, which is controlled by an Intersil ISL69269 PWM controller operating at 11+0. GIGABYTE uses highly premium componentry, which includes eleven Vishay SiC840 100A DrMOS power stages, with a maximum power output of 1100 A for the CPU. Each power stage includes a single Ferrite Choke, with routing through the Tantalum Polymer capacitor array for a better transient response and better power efficiency. For the SoC element, GIGABYTE uses a second PWM controller, notable the Renesas RAA229001, which controls a single Vishay SiC840 100 A power stage. Providing power to the power delivery is a pair of 12 V ATX CPU power inputs.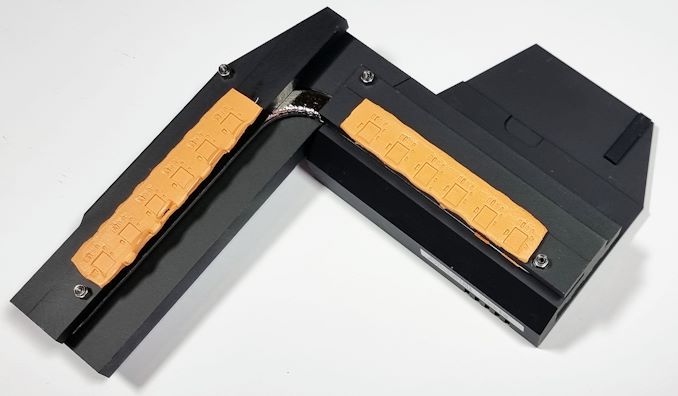 Cooling the power delivery is a large two-part heatsink that forms a solid connection between the heatsink elements. A large and single heat pipe runs through the large and weighty heatsink, while the top section of the heatsink includes large and channeled fins to promote airflow for better heat dissipation. As the above image shows, the imprint on the thermal pads is deep, which shows a solid and snug connection between the heatsink and the power delivery.

Looking at the onboard audio solution, GIGABYTE is using a Realtek ALC1220-VB HD audio codec. This is assisted by six gold Nichicon Japanese audio capacitors, with an array of four premium WIMA red audio capacitors. There is a front panel HD audio header, while the audio PCB is separate from the rest of the board's componentry by a thin line of PCB separation.

On the rear panel is one USB 3.2 G2x2 Type-C, three USB 3.2 G2 Type-A, and four USB 3.2 G1 Type-A ports. At the far left are two buttons, one OC Ignition and one Q-Flash Plus button, with separate PS/2 ports for legacy keyboard and mice. There's an Intel I225-V 2.5 GbE controller on the networking front, with Intel's AX210 Wi-Fi 6E CNVi providing both wireless and BT 5.2 connectivity. For users looking to utilize Intel's UHD integrated graphics, GIGABYTE includes a single HDMI 2.0 video output. Finishing off the rear panel are five 3.5 mm audio jacks and a single S/PDIF optical output powered by a Realtek ALC1220-VB HD audio codec, which also includes support for DTS:X Ultra high definition audio.
What's in The Box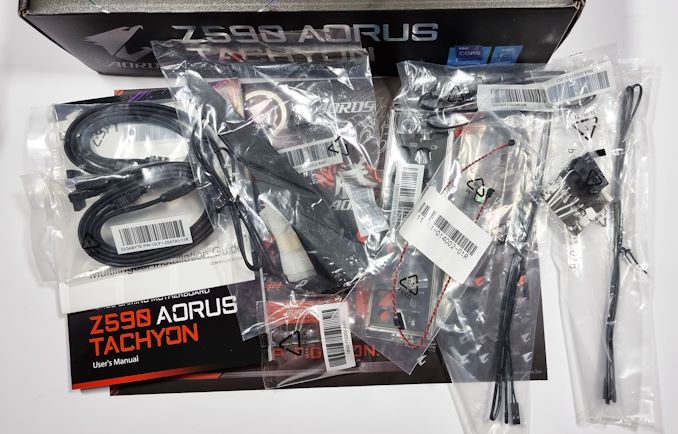 The most notable accessories bundled with the Z590 Aorus Tachyon include four premium braided SATA cables, a user manual, a G-Connector, a rear I/O shield, an Intel AX210 Wi-Fi 6E antenna, and three M.2 installation screws. For extreme overclockers, GIGABYTE also includes two thermistor cables and a 2-pin speaker cable.
User manual
Installation guide
Aorus sticker sheet
4 x Black braided SATA cables
G-Connector
Intel AX210 Wi-Fi 6E Antenna
Rear I/O shield
3 x M.2 installation screws
2 x Thermistor cables
RGB extension cable
2-pin Speaker cable