Visual Inspection
If you were to compare the previous Aorus Master with the latest version we have here, you would be hard-pressed to find any real notable differences in regards to aesthetics. The GIGABYTE Z590 Aorus Master keeps the same black and silver aesthetic that has worked for the vendor for the last year or so. The Master has a typical Aorus design with a large rear panel cover including integrated RGB LEDs, PCIe slot armor, three M.2 heatsinks, and a large chipset heatsink which all mold into the overall design theme of the board.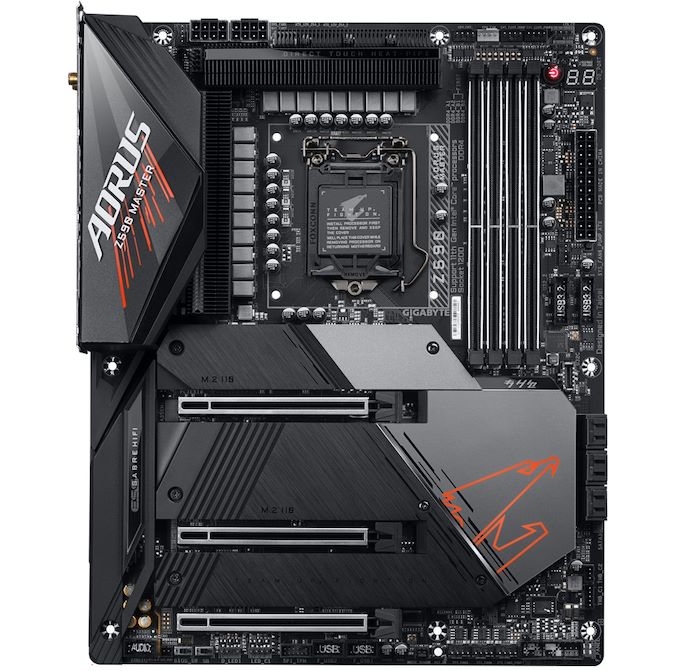 Focusing on the lower portion of the board and protected by PCIe slot armor and metal reinforcement are three full-length PCIe slots. The top two slots feature support for PCIe 4.0 x16 and x8/x8, while the third slot is electronically locked down to PCIe 3.0 x4. Located above the top full-length PCIe 4.0 x16 slot is one PCIe 4.0 x4 M.2 slot, with one PCIe 3.0 x4/SATA slot located in the middle of the full-length slots, and another PCIe 3.0 x4/SATA M.2 slot located in between the bottom two full-length slots. This brings the total to three M.2 slots, with six SATA ports offering support for devices such as SATA-based HDDs and SSDs, as well as optical drives. The SATA ports also support RAID 0, 1, 5, and 10 arrays. None of the M.2 slots and the SATA ports share any bandwidth, which means all of the slots can be populated with SATA drives with no restrictions.
The GIGABYTE Z590 Aorus Master has plenty of integrated connectivity and front panel headers. Along the bottom is a pair of BIOS switches as the board features dual BIOS chips. In the top right-hand corner is a power and reset button pairing, as well as a two-digit LED debugger. Located around the edge of the board are eight 4-pin cooling headers, including one for a CPU fan, one for an optional CPU fan/water cooling fan, four for chassis fans, and a further four designed for system fans and water pumps. There is also a single USB 3.2 G2 Type-C header, two USB 3.2 G1 headers with support for an extra four Type-A ports, and two USB 2.0 headers which can also support four ports.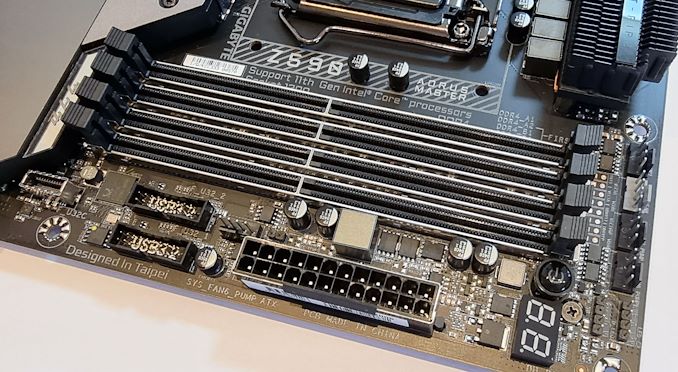 Located in the top-right hand corner of the board are a total of four memory slots. These slots can support DDR4-5400 memory, which is one of the highest speeds we've seen from a vendor's QVL lists for Z590 so far. It should be noted this level of memory frequency support relates to users planning to use Intel's 11th generation Rocket Lake processors. The four memory slots can accommodate up to 128 GB of capacity.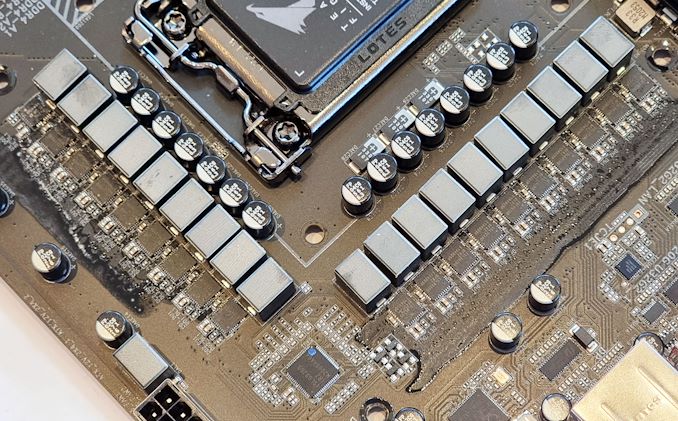 Looking at the power delivery, and the Z590 Aorus Master has a combined 19-phase power delivery which is configured into a (9*2)+1 design. The CPU section includes eighteen Intersil ISL99390 90 A power stages, which are doubled up by nine Intersil ISL6617A doublers, with a single Vishay SIC651 50 A power stage powering the board's SoC. This is an impressive power delivery for enthusiasts and overclockers alike, as the CPU section can deliver a maximum output of 1620 A to the processor. Controlling the power delivery is an Intersil ISL69269 PWM controller and is operating in a 9+1 (18+1) configuration.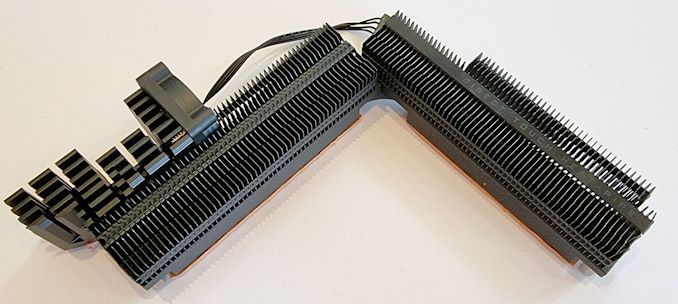 Keeping the power delivery cool is a large two-section heatsink connected by a single heat pipe. This heatsink pairing uses multiple aluminum cooling fins to catch and direct airflow within a chassis, with plenty of mass in the main area of the heatsink. Attached to the end of the heatsink, which sits under the rear panel cover, is a small cooling fan that is designed to cool the Aquantia AQC107 10 GbE controller. Unfortunately, the way this is designed doesn't add any cooling properties to the power delivery itself.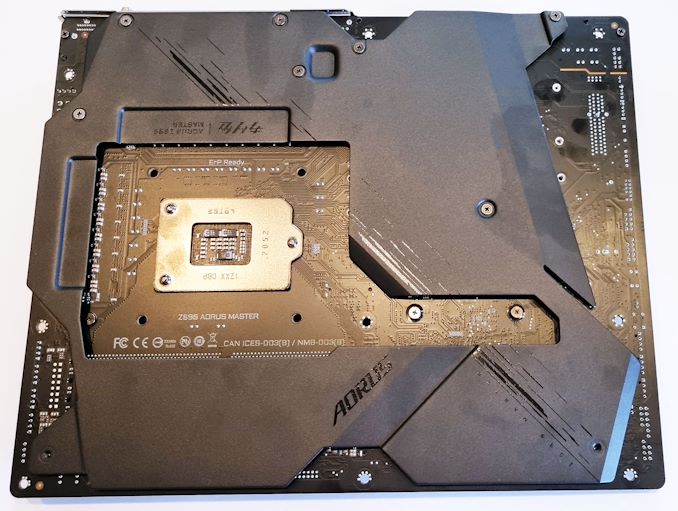 On the rear of the board is a large metal backplate, which adds rigidity to the board and adds some cooling properties to the rear of the power delivery through the use of thermal pads. It stretches from the top of the board to the bottom, with cut-outs in the bottom and in the center around the socket area, to allow sufficient passive airflow to prevent choking the componentry out.

For on-board audio, the solution is driven by a Realtek ALC1220-VB HD audio codec, with an additional ESS Sabre ESS9118 DAC, which assisting the codec. This solution includes support for DTS:X Ultra, which is surround sound virtualization and is direct competition in both specification and quality to Dolby's solutions. Located on the audio section of the PCB are five Japanese Gold Nichicon audio capacitors, with four red WIMA audio capacitors, and the audio area includes PCB separation for less interference from the rest of the board's componentry. It is covered by a plastic cover for aesthetic purposes, although the HD audio codec doesn't include EMI shielding.

On the rear panel is plenty of connectivity, which is spearheaded by one USB 3.2 G2x2 Type-C, five USB 3.2 G2 Type-A, and four USB 3.2 G1 Type-A offering a lot of premium connectivity for the price. For networking, there's an Aquantia AQC107 10 GbE controller, with Intel's latest AX210 Wi-Fi 6E CNVi, which offers both 6 GHz band access and support for BT 5.2 devices. A single DisplayPort 1.2 video output allows users to use Intel's integrated UHD graphics, while five 3.5 mm audio jacks and S/PDIF optical output is powered by a Realtek ALC1220-VB HD audio codec and ESS Sabre ESS9118 DAC pairing. Finishing off the rear panel is a Q-Flash BIOS Flashback button and a Clear CMOS button.
What's in The Box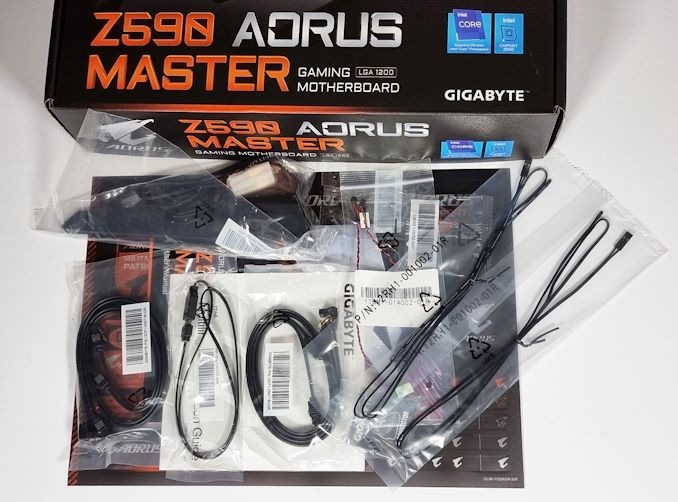 The accessories bundle includes four black SATA cables, an Intel AX210 Wi-Fi 6E antenna, a G-Connector, a large Aorus branded sticker sheet, a user manual, and a driver installation disc. GIGABYTE also includes a pair of thermistor cables for allowing users to monitor temperatures externally, which is typically a feature associated with enthusiast models.
User manual
Driver/Software installation disk
Aorus sticker sheet
Aorus case badge
4 x SATA cables
2 x Thermistor cables
G-Connector
RGB extension cable
Intel AX210 Antenna
Noise-detection cable