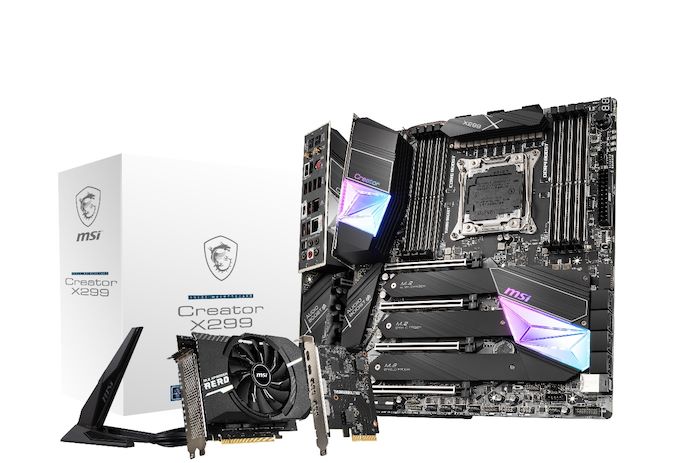 On the back of Intel's upcoming launch of its HEDT Cascade Lake-X processors in November, MSI has unveiled three new X299 motherboards for content creators, and professional users. The MSI Creator X299, MSI X299 Pro 10G, and the MSI X299 Pro (non-10G) all feature dual Ethernet ports on the rear panel, Realtek ALC1220 HD audio codecs, eight memory slots that support quad-channel DDR4 memory, and also includes USB 3.2 G2 connectivity with ASMedia's ASM3242 USB controller.
MSI Creator X299
The E-ATX sized MSI Creator X299 model will include plenty of premium features such as an Aquantia AQC107 10 GbE port which is assisted by an Intel I219-V Gigabit NIC providing dual Ethernet ports on the rear, with an Intel AX200 802.11ax wireless interface offering users both Wi-Fi and BT 5.0 connectivity. Focused on content creators and professional users, the Creator X299 allows users the ability to install up to seven PCIe 3.0 x4 M.2 devices; three PCIe 3.0 x4 M.2 slots on the PCB and four with the included MSI M.2 Xpander-Aero add-on card. Other storage options include eight SATA ports and a single PCIe 3.0 x4 U.2 slot for NVMe based storage devices.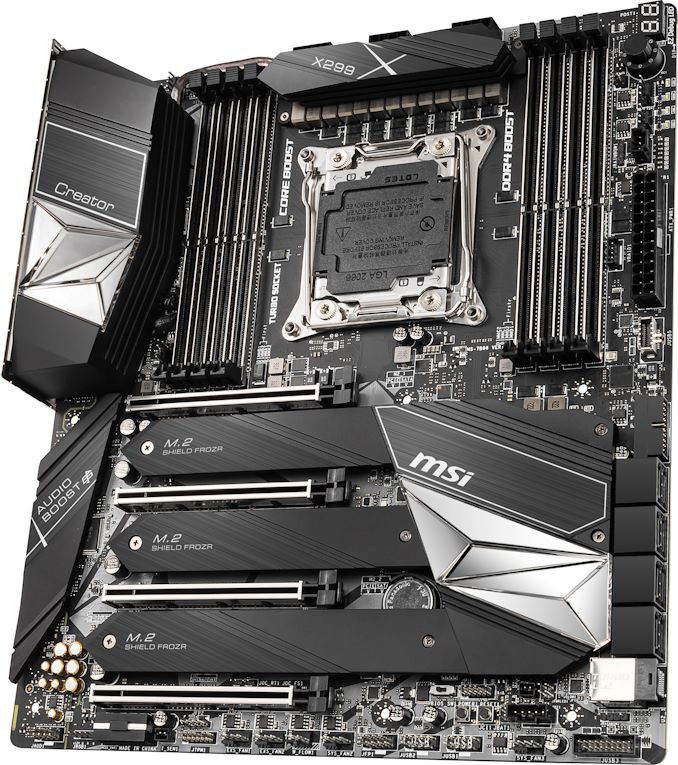 A total of eight memory slots with the ability to use DDR4-4266 and install up to 256 GB is present, as well as four full-length PCIe 3.0 slots operating at x16/x8/x8/x8 when used with a 48-lane processor further enhances the board's capabilities. Included in the accessories bundle is a Thunderbolt M3 add-on card which adds dual Type-C and dual DisplayPort 1.4 inputs which further bolsters the appeal of the Creator X299 to content creators and professionals.
MSI X299 Pro 10G and non-10G
The MSI X299 Pro shifts more onto regular markets with a smaller ATX frame and has a similar networking layout to the Creator X299, but with the 10G coming through a bundled Aquantia AQC107 10 GbE add-on card. This model retains dual Ethernet on the rear panel with one slot controlled by an Intel I1219-V, and the other powered by a Realtek RTL8125-CG 2.5 GbE controller. The X299 Pro 10G has two onboard PCIe 3.0 x4 M.2 slots with room for an additional pair with MSI including an M.2 Xpander-Z dual M.2 slot add-on card in the accessories bundle. This is in addition to six SATA ports which have support for RAID 0, 1, 5, and 10 arrays.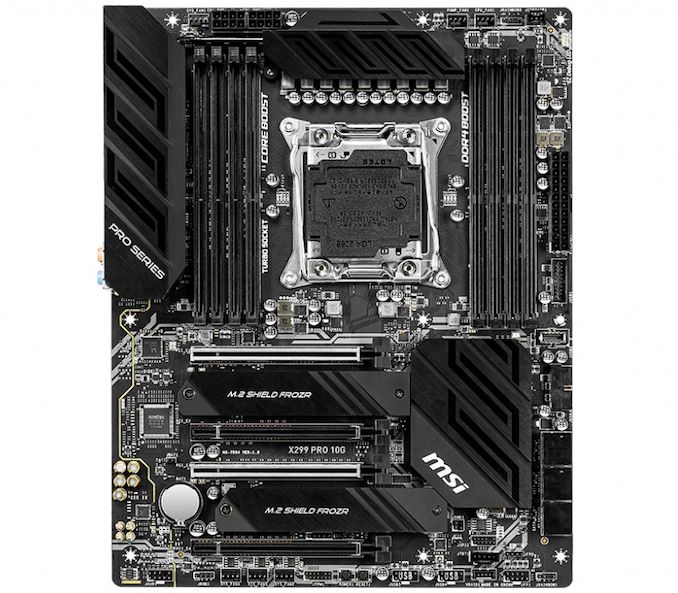 The MSI X299 Pro has support for DDR4-4200 with scope for up to 256 GB across eight available slots and has support for up to quad-channel memory. There are four full-length PCIe 3.0 slots with the second and third slot having just a slot of space between them; an obvious space limitation of its ATX sized frame. The full-length slots operate at x16/x8/x16/x8 when a processor supporting 48-lanes is installed with a clear focus for users to add a Cascade Lake-X processor for maximum support.
MSI hasn't unveiled specifications on the MSI X299 Pro at present, but it's likely to be similar to the X299 Pro 10G but without the 10G add in card. Availability and pricing information is scarce, but a source indicated that the MSI Creator X299 is set to cost £495 in the UK which represents fantastic value for money with the included Thunderbolt 3 AIC, support for up to seven PCIe 3.0 x4 M.2 slots, and 10 gigabit Ethernet as well. Availability on all three models isn't known, but it is likely that all three models will be available to coincide with the launch of Intel's Cascade Lake-X processors in November.
Related Reading
Source: MSI