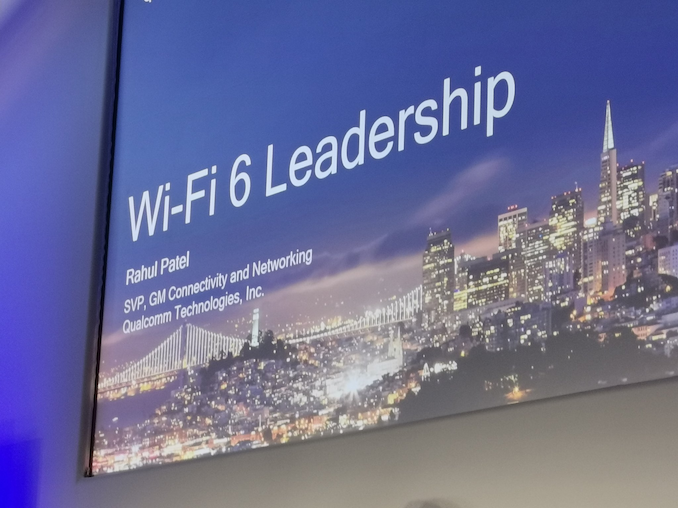 Qualcomm is announcing an update to its Wi-Fi 6 portfolio today with a host of new access point solutions under the Networking Pro Series moniker. The client side solutions are seeing a re-brand - instead of the staid QCA-prefix, the solutions now carry a FastConnect tag.
Qualcomm was one of the first vendors to announce 802.11ax (Wi-Fi 6) solutions back in February 2017. Both Broadcom and Intel announced their Wi-Fi 6 product portfolio later that year. Qualcomm's access point solution stood out in the crowd for being a 12-stream solution, enabling it to get traction in the enterprise space. However, the high cost relegated them to the high-end consumer space. Given that the lack of clients had been hampering the adoption of Wi-Fi 6 over the last couple of years, this was a tiny niche to play in. Meanwhile, Broadcom and Intel had plays in the low-end and mid-range segments with solutions supporting between 2 and 8 streams, with routers already shipping to consumers. The Networking Pro Series being launched by Qualcomm today finally gets Qualcomm into the picture across all the segments of the access points / wireless routers market.
The Networking Pro Series has four members, with support for up to 4, 6, 8, and 12 spatial streams. The 600 and higher products in the stack also support Wi-Fi SON, Qualcomm's mesh networking feature set. One of the interesting features here is the ability to split up the spatial streams in different ways depending on the end application. For example, a mesh networking product could use the Networking Pro 1200, and split up the 12 streams as two 4x4 for the client devices, and one 4x4 for the backhaul. For a traditional wireless router, it could be configured as 8x8 + 4x4.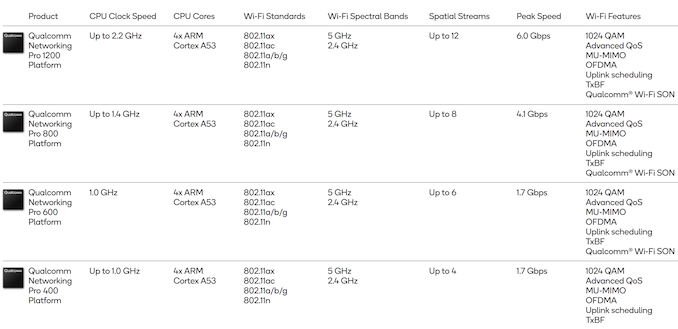 Qualcomm is also finally enabling uplink OFDMA in the new products - this was one of the features supported by both Broadcom and Intel in their first-generation portfolio, but not by the Qualcomm IPQ8074 launched in 2017. Qualcomm's press release for the Networking Pro Series includes quotes from the usual suspects - Netgear, Belkin (Linksys), Ruckus Wireless, and Aruba, a Hewlett-Packard Enterprise company. Netgear's quote also included the upcoming Orbi Wi-Fi 6 mesh networking solution as one of the products utilizing the new product line.

On the client side, we are starting to see some high-end notebooks rolling out with Intel's Wi-Fi 6 solution. The Samsung Galaxy S10 used Broadcom's chipset for Wi-Fi 6 support. Most of the currently shipping Snapdragon 855 phones have only 802.11ac support. Qualcomm is re-branding their product stack in this space - the currently shipping solution is getting the FastConnect 6200 branding, while the QCA6390 (announced at MWC 2019) will be marketed as FastConnect 6800. It is highly likely that FastConnect 6800 will feature in many of the upcoming high-end mobile handsets.
Related Reading
Title Image from Anshel Sag