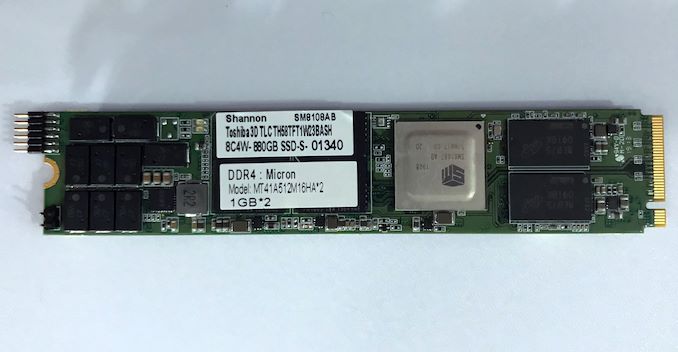 Having secured strong positions on the market for consumer SSDs, Silicon Motion is now after the enterprise SSD market. At Computex, the company demonstrated a prototype of an SSD based on its next-generation controller for enterprise applications, the SM8108. The key features of the controller include support for two DRAM interfaces for higher bandwidth and improved QoS, as well as support for the latest memory types, including 3D TLC and 3D QLC.
The Silicon Motion SM8108 controller features a PCIe 3.0 x4 interface and supports the NVMe 1.3 protocol. The controller has eight NAND channels, which have a peak transfer rate of 800 MT/sec, and overall the controller can support up to 16 TB of 3D TLC and 3D QLC NAND flash. Being aimed at enterprise applications, the SM8108 sports a dual DRAM interface to allow for more DRAM buffer bandwidth as well as isolation for improved QoS (i.e., more predictable performance under loads by several virtual machines), end-to-end data path protection with ECC for SRAM and DRAM, as well as NandXtend technology featuring LDPC ECC and RAID.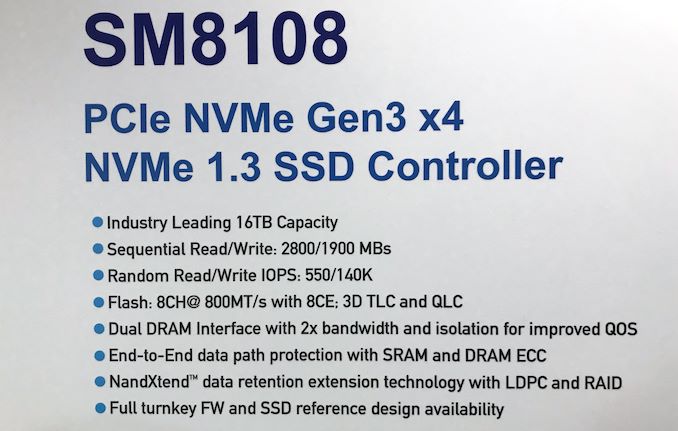 When it comes to performance, Silicon Motion promises sequential read speeds up to 2800 MB/s as well as sequential write speeds up to 1900 MB/s. As for random performance, SMI is quoting 550K/140K read/write IOPS. Since we are dealing with a controller for enterprise-grade SSDs, the chip company has focused on sustained performance numbers, as these are going to be the most important figures for enterprise customers.

At Computex, SMI demonstrated an SSD based on the SM8108 controller that is intended for its subsidiary Shannon Systems. The M.2 drive features power loss protection and carries 880 GB usable capacity of 3D TLC NAND memory from Toshiba as well as 2 GB of DDR4 DRAM from Micron. The SM8108 chip used for the SSD was produced on the 8th week of 2019 (mid to late February).
Silicon Motion says that a reference design for SSDs based on the SM8108 are available, as well as turnkey firmware for the controller. Keeping in mind that we are talking about drives for servers, we expect that it will take quite some time before SSDs based on the new controller reach the market; both SSD manufacturers and server markers will need to validate them the drives before anything can ship in volume.
Related Reading:
Want to keep up to date with all of our Computex 2019 Coverage?

Laptops

Hardware

Chips
Follow AnandTech's breaking news here!