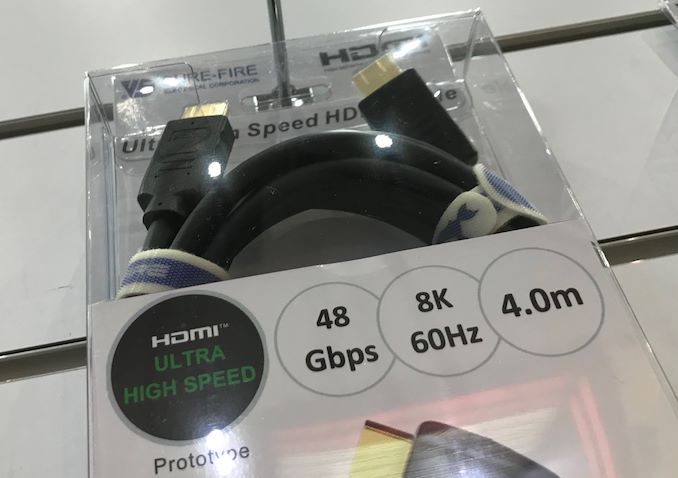 While the first HDMI 2.1 48G-branded cables were announced back in late 2018, they were not formally certified by the HDMI Forum for one reason: the certification program for HDMI 2.1 was not ready then and it is still not ready now. Yet, numerous developers of cables are already demonstrating prototypes of their HDMI 48G products that are marked as Ultra High Speed HDMI. Furthermore, makers of televisions are prepping the first Ultra-HD TVs that use HDMI 2.1.
UHS HDMI Certification Program
HDMI 2.1 48G cables use four data lanes operating at 12 Gbps each for an aggregate bandwidth of 48 Gbps, up from 18 Gbps today, yet retaining backwards compatibility with existing equipment. The additional bandwidth HDMI 2.1 offers enables it to support new Ultra-HD resolutions and refresh rates including, including 4Kp120, 8Kp100/120, 10Kp100/120, and upcoming color spaces, such as BT.2020 (Rec. 2020) with 10, 12, or even more advanced with 16 bits per color component. Actually, high resolutions and bit depths eat up 48 Gbps of bandwidth quickly, so for anything higher than 8Kp60 with 4:2:0 chroma sub sampling and 10-bit color, VESA's DSC 1.2a link compression technology is used.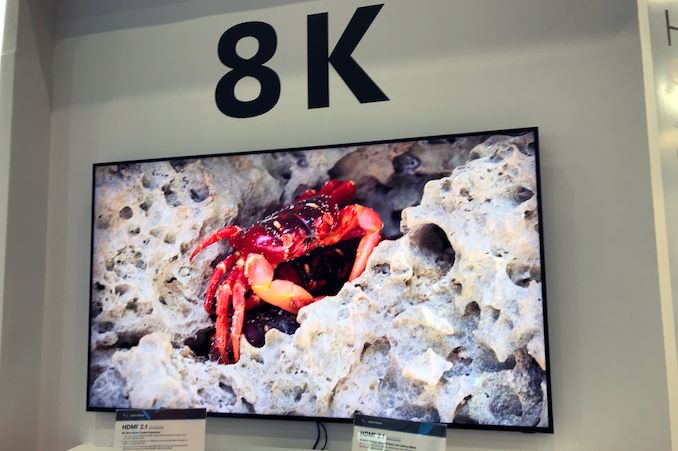 Since HDMI 2.1 48G cables as well as sources and sinks are physically different from existing HDMI 1.4/2.0 cables, makers of appropriate products have to adopt new manufacturing methods, whereas HDMI Forum has to introduce a new certification program that includes various compliance tests that ensure that interconnections work fine at high data rates and support all the features. Makers of cables are typically experienced enough to build HDMI 2.1 48G products, HDMI Forum admits. Since however there is no HDMI 2.1 48G certification program, they are not advised to sell products marked as Ultra High Speed HDMI Cables.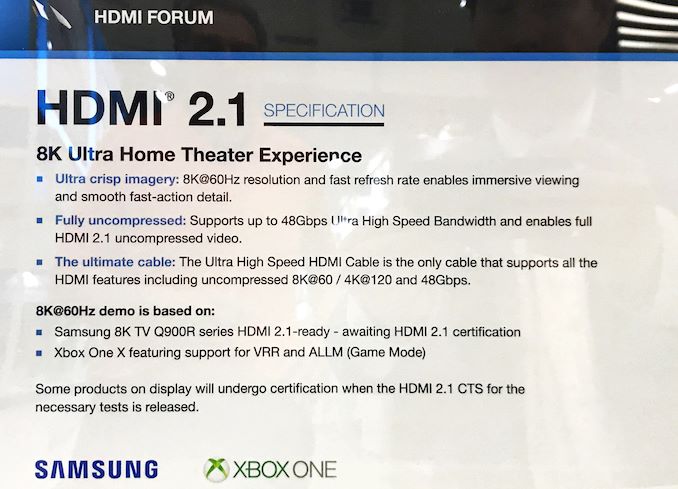 The HDMI Forum plans to make its UHS HDMI interconnection certification program available in the next several months, so expect 'official' HDMI 48G copper and optical cables to become available in the foreseeable future. Furthermore, once compliance tests are ready, makers of TVs will be able to mark their TVs as HDMI 2.1 compatible.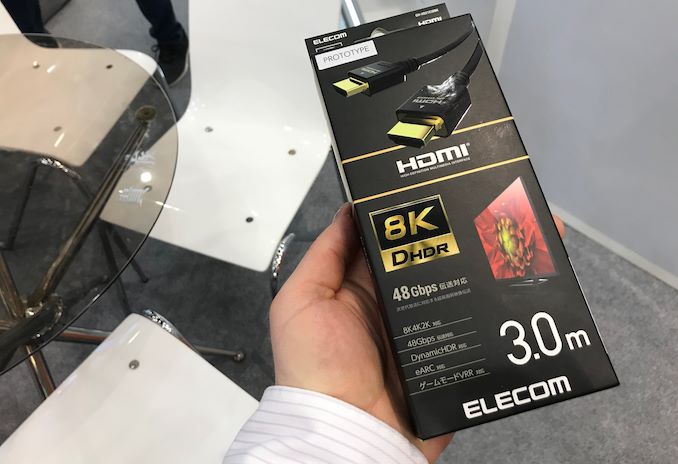 In addition to new resolutions, refresh rates, and HDR bit depths, HDMI 2.1 offers numerous new features, including Variable Refresh Rate (VRR), Quick Media Switching (QMS), Quick Frame Transport (QFT), and eARC. These capabilities do not need 48G cables for content with up to 4Kp60 resolution and 4:4:4 chroma subsampling. But, a combination of 4Kp120/4:4:4 and VRR will require UHS HDMI cables. Meanwhile, once the new cables are available, the industry is going to need 4Kp120 or 8Kp60 sources and content.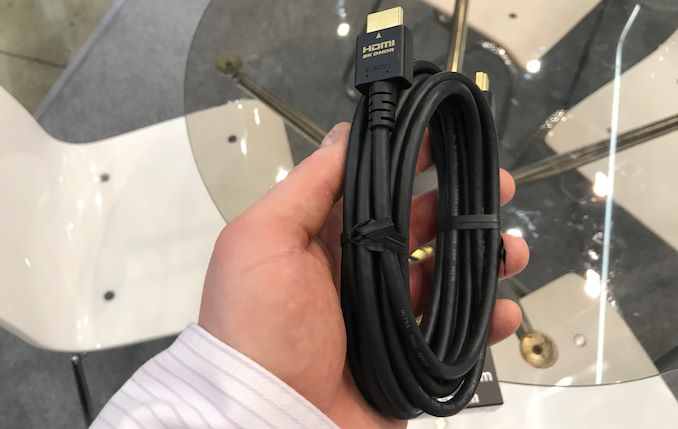 2020 Summer Olympics & China to Drive 8K Adoption
By now, numerous leading makers of televisions have introduced their Ultra-HD TVs with an 8K resolution. Meanwhile, since 8K content is barely available, such devices are hardly popular among the end user. This is going to change next year when Tokyo 2020 summer Olympics will be filmed and broadcast in this resolution. Furthermore, as China has a government plan to transit to 4K and 8K broadcasting in the next few years, Ultra-HD content will get another boost.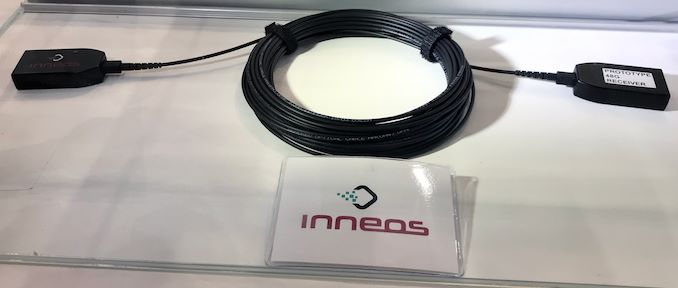 Sports fans will naturally appreciate Tokyo 2020 and Beijing 2022 Olympics filmed in 8K, people from the HDMI Forum believe, which will boost adoption of the latest televisions not only in Japan and China, but everywhere across the world. Another major driver for Ultra-HD adoption will be the plan of China's Ministry of Industry and Information Technology, National Radio and Television Administration, and the China Media Group (CMG) to develop Ultra-HD industry in 2019 – 2022. The plan looks very complex as it includes everything from content creation to broadcasting to production of equipment for creators and users.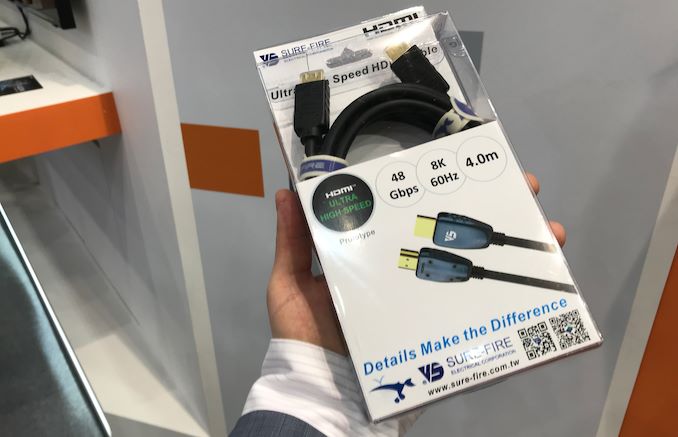 Related Reading:
Want to keep up to date with all of our Computex 2019 Coverage?

Laptops

Hardware

Chips
Follow AnandTech's breaking news here!