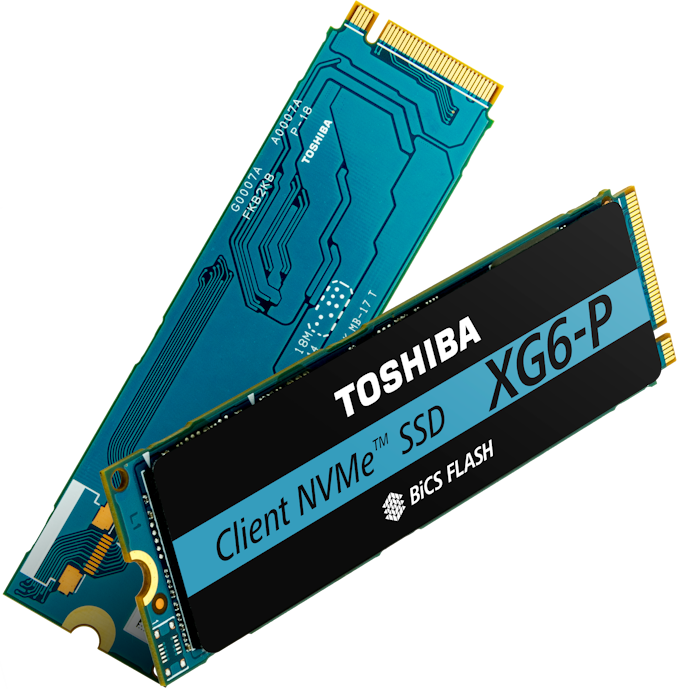 Toshiba has announced a new variant of their XG6 client NVMe SSD: the XG6-P that adds a 2TB option to the family. The previous XG5 generation of SSDs followed the same pattern, with the initial version offering mainstream capacities up to 1TB, and the later -P version offering just higher capacities with tuned firmware for better performance on heavier workloads. When the XG6 launched, its performance was enough to render the 1TB XG5-P obsolete, but the 2TB XG5-P didn't have a proper successor until now.
The XG6-P doesn't bring any improvement to the top-line performance numbers compared to the original XG6. While the XG6 and XG6-P are both quite modern in their use of 96-layer 3D NAND, they are still using the same controller as the XG5 family, and there doesn't seem to be much room to squeeze more performance out of that chip. However, like the XG5-P, the XG6-P can be expected to offer some improvements for use cases that aren't quantified on the spec sheet, such as write performance after the SLC cache is filled.
Toshiba Client OEM NVMe SSD Comparison
Model
XG6-P
XG6
XG5
XG5-P
Capacities
up to 2TB
256GB, 512GB, 1024GB
1TB, 2TB
Form Factor
M.2 2280
Host Interface
PCIe 3.1 x4
Protocol
NVMe 1.3a
NVMe 1.2.1
NAND Flash
Toshiba 96L BiCS4 3D TLC
Toshiba 64L BiCS3 3D TLC
Sequential Read
3180 MB/s
3180 MB/s
3000 MB/s
3000 MB/s
Sequential Write
2920 MB/s
2960 MB/s
2100 MB/s
2200 MB/s
Random Read
355k IOPS
355k IOPS
320k IOPS
Random Write
365k IOPS
365k IOPS
265k IOPS
Power
Read
< 5 W
4.2 W
4.5 W
4.9 W
Write
4.7 W
3.4 W
Idle
3 mW
3 mW
3 mW
3 mW
TCG Opal Encryption
Optional
Announced
May 2019
July 2018
November 2017
May 2017
Toshiba's XG family of SSDs are OEM-only products intended for high-end client and entry-level datacenter usage (eg. server boot and logging), while their BG series covers more mainstream segments and was significantly updated earlier this year with the BG4. Toshiba has not released a retail counterpart to an XG series since the XG3 was adapted into the Toshiba OCZ RD400 in 2016. The XG5-P will start sampling next month, so it should start showing up in notebooks this fall.
Want to keep up to date with all of our Computex 2019 Coverage?

Laptops

Hardware

Chips
Follow AnandTech's breaking news here!
Source: Toshiba