AnandTech Storage Bench - Heavy
Our Heavy storage benchmark is proportionally more write-heavy than The Destroyer, but much shorter overall. The total writes in the Heavy test aren't enough to fill the drive, so performance never drops down to steady state. This test is far more representative of a power user's day to day usage, and is heavily influenced by the drive's peak performance. The Heavy workload test details can be found here. This test is run twice, once on a freshly erased drive and once after filling the drive with sequential writes.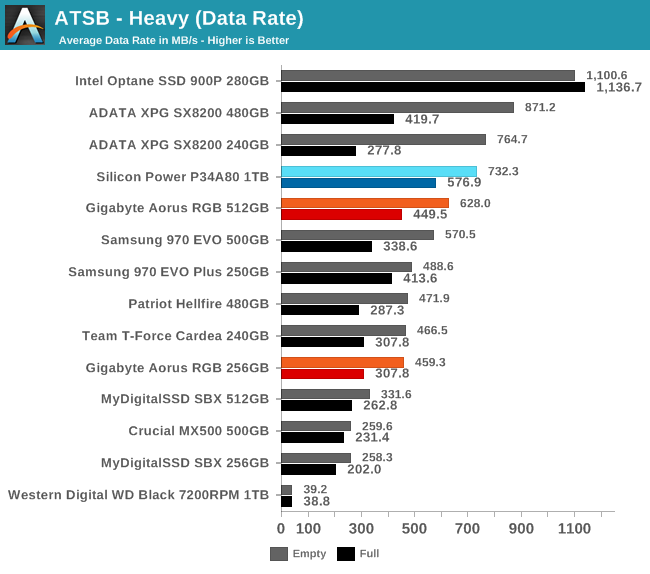 The GIGABYTE Aorus RGB SSDs face tougher competition on the Heavy test than they did on The Destroyer, since the ADATA SX8200 doesn't suffer so badly on this shorter test and instead takes the lead with the highest average data rates. The Aorus is still slightly ahead of the SX8200 and most other competitors when the Heavy test is run on a full drive.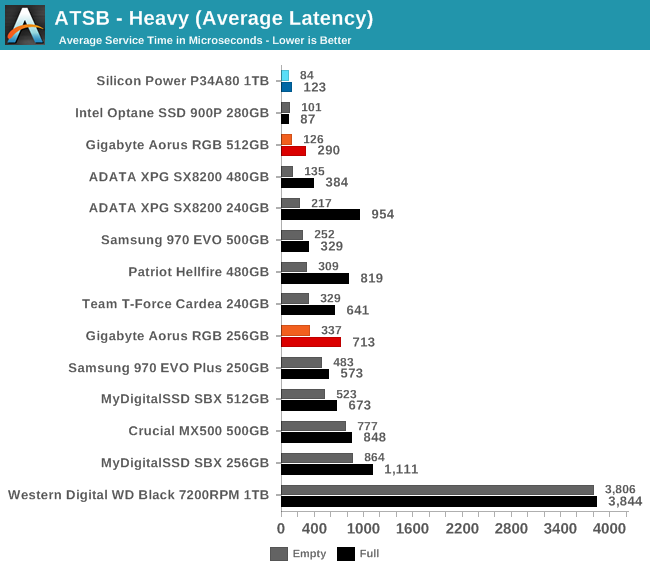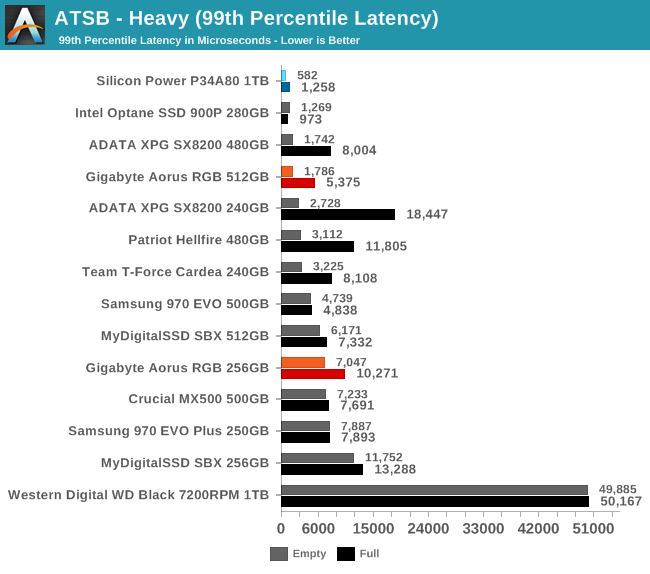 The average and 99th percentile latency scores for the Aorus SSDs are very good for their respective capacity classes, but also make it quite clear that 1TB drives can offer significantly higher and more consistent performance than the smaller models.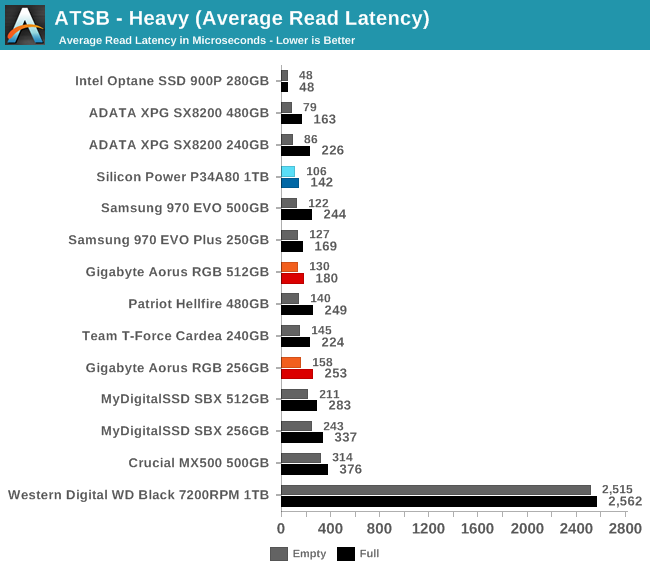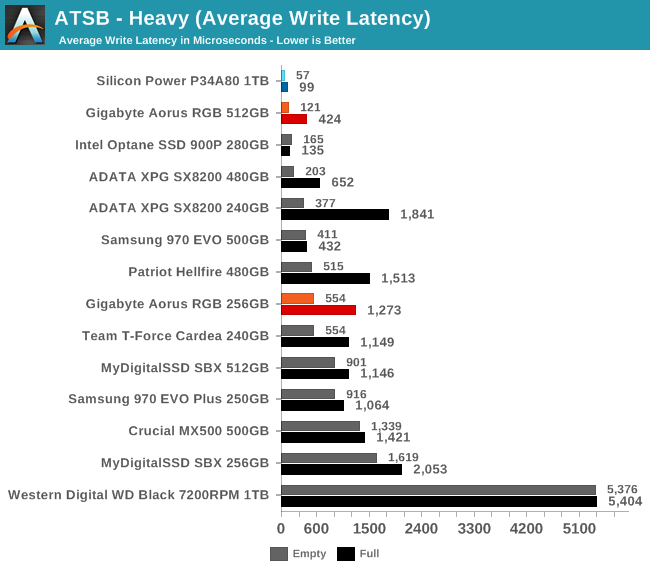 The ADATA SX8200 drives offer the best average read latency on the Heavy test, followed by the Samsung drives, but the Aorus SSDs are not far behind. The Aorus SSDs also have better full-drive performance than some of the drives that perform better on the easier empty-drive test runs. For average write latency, the 512GB Aorus ranks just below the 1TB Phison E12 drive from Silicon Power, but there's a pretty big gap between those capacity classes. The smaller 256GB Aorus is not quite a class-leading performer, since the SX8200 has lower write latency for the empty drive test run, and the Samsung 970 EVO Plus has better full-drive performance.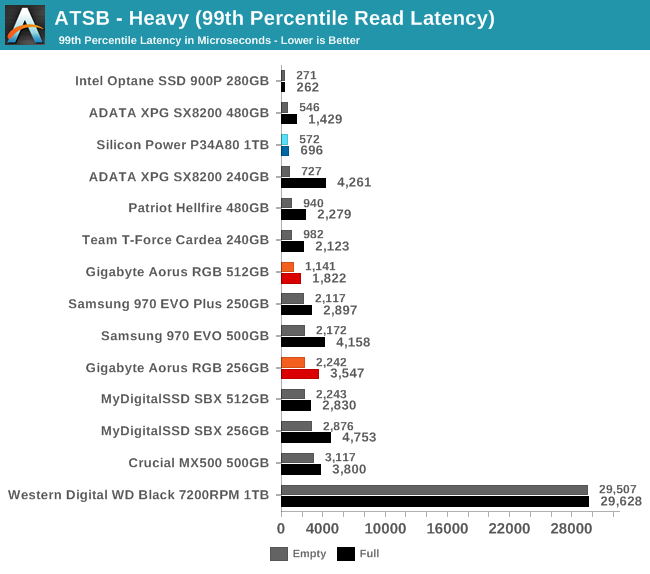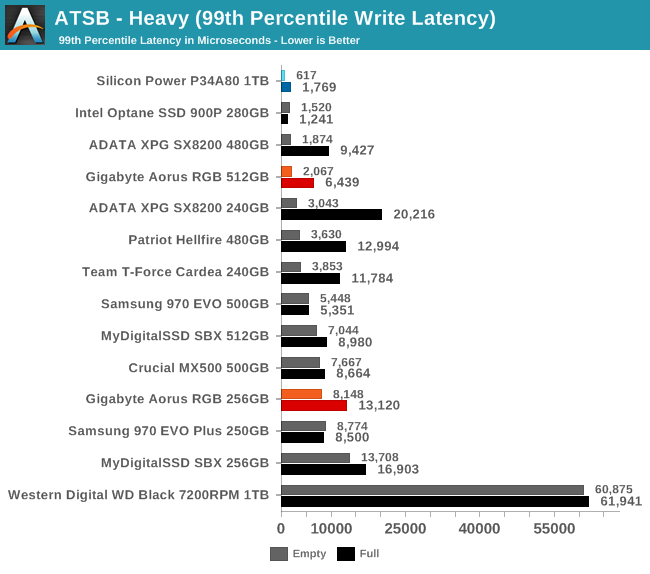 The 99the percentile read and write scores for the Aorus SSDs are overshadowed by the performance of the ADATA SX8200, though the scores from the full-drive test runs put the Aorus ahead.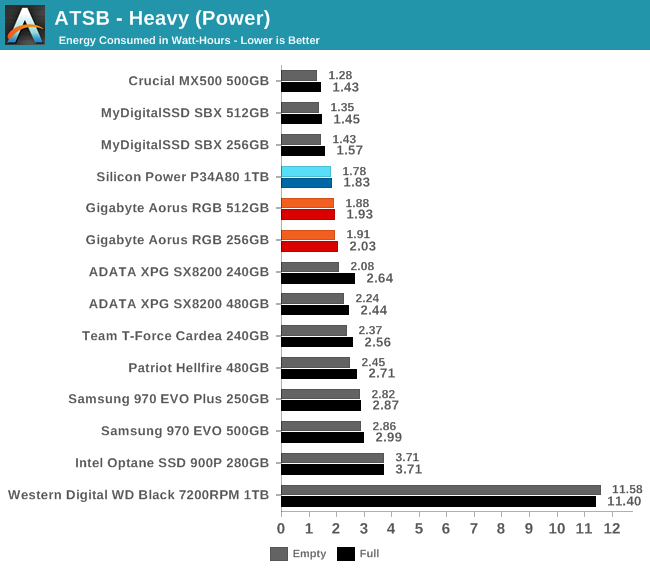 The energy usage of the Aorus SSDs on the Heavy test again ranks as relatively low among NVMe SSDs (especially the high-end segment), but the ADATA SX8200 and other competitors aren't far behind this time.