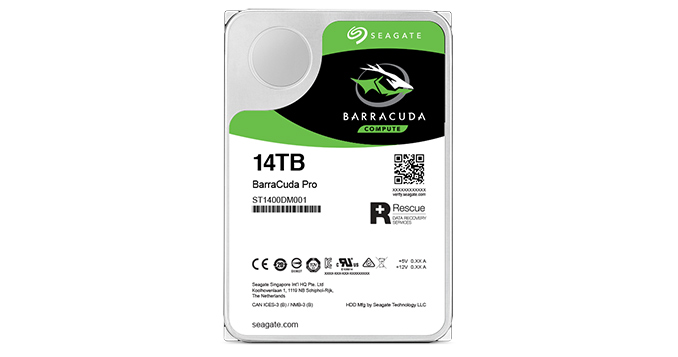 Seagate on Monday introduced a portfolio of consumer-oriented 14 TB hard drives. The new HDDs belong to the BarraCuda Pro, SkyHawk, IronWolf Pro, and IronWolf series, and rely on the same helium-filled platform that powers the datacenter-oriented Exos 14 TB HDD introduced earlier this year.
As our review of the BarraCuda Pro 14 TB published earlier this week describes, all the new drives are based on Seagate's helium-filled platform featuring eight 1.75-TB PMR platters with a 1077 Gb/in2 areal density coupled with two-dimensional magnetic recording (TDMR) heads. The HDDs also feature a 7200 RPM spindle speed as well as 256 MB of multi-segmented cache. Despite increase of areal density, the new desktop hard drives offer exactly the same sequential data transfer rate (250 MB/s) as their 12 TB predecessors. Meanwhile, like all helium-filled hard drives, the new 14 TB HDDs are very energy-efficient and consume just 6.9 W in operating mode, which is in line with previous-gen 12 TB drives.
While the new BarraCuda Pro, SkyHawk, IronWolf Pro, and IronWolf hard drives featuring 14 TB capacity use the same platters, heads and other components, they are still very different products aimed at different applications.
The BarraCuda Pro HDDs are designed for desktops, which is why they are rated for a 300 TB/year workload, but do not feature extensive protection against vibrations (unlike server-grade HDDs), yet they come with Seagate's Rescue data recovery services.
By contrast, the Skyhawk drives are aimed at surveillance systems that usually employ multiple HDDs, which is why the HDDs feature advance protection again vibration. As such, these drives are optimized to work for 24/7 and can record data from up to 64 HD cameras. Seagate rates Skyhawk HDDs for 180 TB/year workloads.
Moving on to IronWolf 14 TB and IronWolf Pro 14 TB hard drives for NAS. Both models are outfitted with rotational vibration sensors and feature the IronWolf health management technology. Meanwhile the IronWolf Pro version aimed at enterprise NAS, also has top-and-bottom attached motor, and comes with a five-year warranty. Besides, the IronWolf Pro is also considerably faster than the IronWolf when it comes to maximum sustained transfer rate (250 MB/s vs 210 MB/s).
Brief Specifications of Seagate's 14 TB HDDs
BarraCuda Pro
SkyHawk
IronWolf Pro
IronWolf
P/N
ST14000DM001
ST14000NE0008
ST14000VN0008
Platters
8
Heads
16
Recording Technology
Perpendicular Magnetic Recording (PMR) / Conventional
RPM
7200 RPM
Interface
SATA 6 Gbps
Multi-Segmented Cache
256 MB
Helium-Filling
Yes
Sequential Data Transfer Rate (host to/from drive)
250 MB/s
210 MB/s
MTBF
?
1 million hours
1.2 million hours
1 million hours
Rated Annual Workload
300 TB
180 TB
300 TB
180 TB
RV Sensor
No
Yes
Rotational Vibration @ 10-1500 Hz (rad/s2)
?
?
12.5
?
Dual-Plane Balance
?
?
Yes
Error Recovery Control
?
?
Yes
Hot Plug Support
No
Yes
No
Application
Desktops
NAS with 8+ Bays
NAS with 24 Bays
NAS with 8 Bays
Acoustics (Seek)
unknown
2.8 bels
Power Consumption
Operating
6.9 W
7.9 W
Idle
4.9 W
5.3 W
Warranty
5 Years
3 years
5 years
3 Years
Seagate plans to start shipping the new hard drives today. The desktop-graded BarraCuda Pro 14 TB is priced at $580. The IronWolf and IronWolf Pro 14 TB for NAS cost $530 and $600 respectively. Meanwhile, the SkyHawk 14 TB carries an MSRP of $510. In addition, Seagate disclosed pricing of its datacenter Exos X14 drive, which is $615 when purchased at retail.
Related Reading: