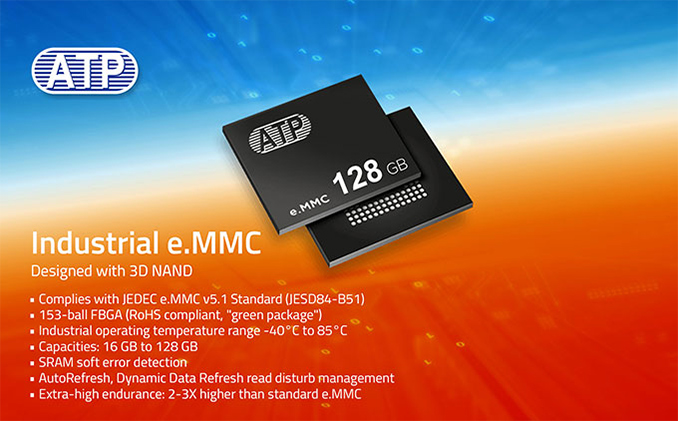 ATP recently introduced its new eMMC storage solutions designed for industrial applications and rough environments. The storage devices are based on 3D NAND memory and can work in SLC and MLC modes, depending on the model.
ATP's E700p and E600i eMMC 5.1 storage solutions feature capacities ranging from 8 GB to 128 GB. The devices use an HS400 interface and support up to 300 MB/s sequential read speed as well as up to 220 MB/s write speed. The E700p (3D SLC) and E600i (3D MLC) eMMC storage devices feature an LDPC ECC engine and support AutoRefresh and Dynamic Data Refresh functions.
The new eMMC 5.1 products have an industrial operating temperature rating between -40°C and 85°C, which means that they can survive in the most extreme environments. The manufacturer claims that the E700p and E600i have maximum TBW ratings of up to 651 TB and 372 TB, respectively.
The storage products come in 153-ball FBGA package and are backwards compatible with existing eMMC-based devices.
ATP's eMMC 5.1 Storage Devices
E700p
Premium
E600i
Superior
JEDEC Specification
v5.1, HS400
Flash Type
3D SLC
3D MLC
Density
8 GB to 6 GB
16 GB to 128 GB
Bus Speed Modes
x1/x4/x8
Sequential Read/Write

300/220 MB/s

Random Read/Write
15K / 30K
Operating Temperature
-40°C to 85°C
TBW
651 TB
372 TB
VCC (Typical RMS in Read/Write)
130 / 215
VCCQ (Typical RMS in Read/Write)
115 / 105
Package
153-ball FBGA (11.5 × 13.0 × 1.3 mm)
Related Reading:
Source: ATP (via TechPowerUp)