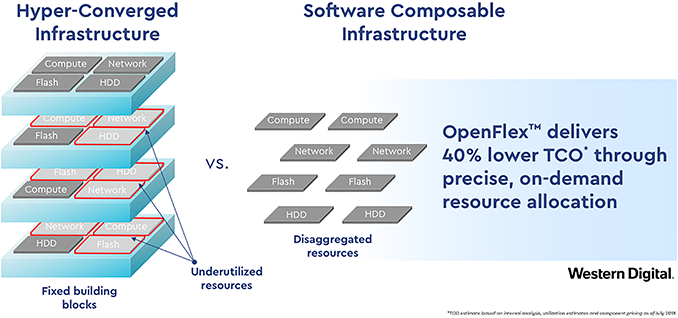 Western Digital on Tuesday introduced its new OpenFlex storage architecture and the first family of products supporting it. The OpenFlex architecture promises to enable operators of datacenters to independently scale compute, storage and network resources by using software composable infrastructure (SCI). Meanwhile Western Digital will share the mechanical specifications of OpenFlex products as well as publicly release its Kingfish API for managing SCI to make OpenFlex an open industry standard.
The OpenFlex architecture relies on storage devices featuring SSDs and HDDs that use an NVMe-over-Fabric (NVMeoF) interface, and can be used to create independently scalable pools of storage connected to computing resources using standard technologies (such as Ethernet, InfiniBand, etc.). Western Digital says that independently scalable pools of various resources will allow customers to better utilize their installed hardware and software, therefore reducing the initial infrastructure investment and the total cost of ownership by eliminating problems like "stranded storage."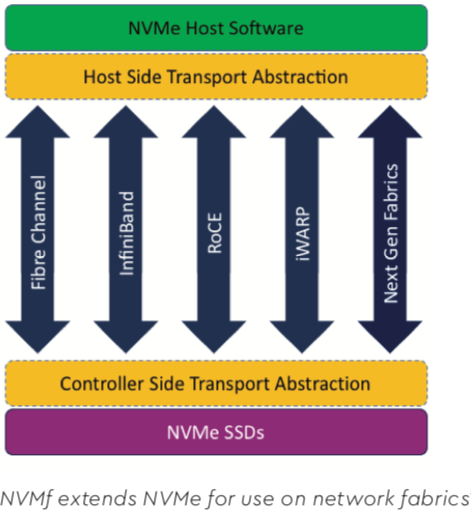 In addition to its hardware OpenFlex architecture, Western Digital is also introducing its Kingfish API, which enables pools of devices to be presented as SCI and arranged into logical application servers. Western Digital says that since said storage pools are directly connected to other resources, logical application servers will not compete for resources and therefore will have more predictable performance. The latter claim looks rather promising, but certainly needs an independent verification. Furthermore, to take advantage of this capability, the Kingfish API has to be supported by popular datacenter software.
So far Western Digital's OpenFlex has gained support from various datacenter hardware and software products as well as from companies, including Apache Hadoop, Apache Spark, Apache Kafka, Apache Cassandra, Apache Mesos, Broadcom, Ceph, DriveScale, Hewlett Packard Enterprise (HPE), Inspur, Kaminario, Kubernetes, Marvell Technology Group, Mellanox Technologies, Microsoft SQL Server, Percona, and Super Micro Computer. Technically, all of the aforementioned should support the Kingfish API as well.
Obviously, Western Digital will be the first to offer products based on the OpenFlex architecture. Initially, there will be three devices:
The OpenFlex F3000 high-performance hot-swappable solid-state storage device with two 50 GbE ports and capacities ranging from 12.8 TB to 61.4 TB.
The OpenFlex E3000 3U enclosure that that accommodates up to 10 F3000 devices with 128 TB – 614 TB capacity.
The OpenFlex D3000 1U enclosure with two 25 GbE ports that houses several hard drives featuring up to 168 TB capacity.
The solid-state OpenFlex storage products will be available in Q4 2018, whereas the HDD-based D3000 1U box will launch in 2019. Though do note that Western Digital has yet to public prices for the new hardware.

Related Reading:
Source: Western Digital