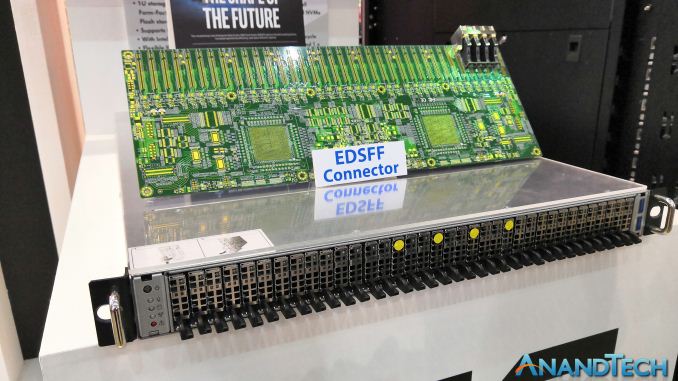 In the consumer space, we get SATA drives, mSATA drives, M.2 drives, and for the high end, U.2 drives. By contrast, the enterprise space is expanding: U.2 is a lot more prevalent than M.2, Samsung's NF1 drives are now coming into the market, but also Intel has been discussing its new 'ruler' form factor to put more storage into a single server. At Computex, AIC and Intel showcased the new 'Grays Peak' FB128-LX platform designed for high-density flash storage using this new ruler SSD.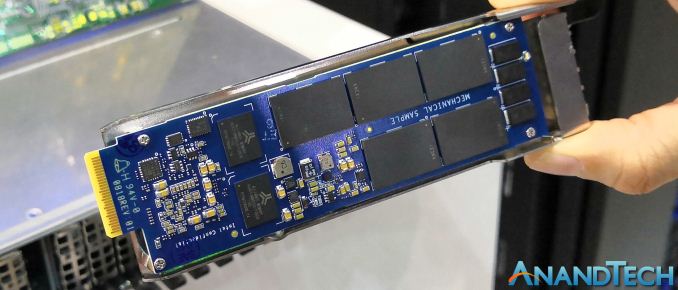 The ruler specification is based on Intel's new 'Enterprise and Datacenter SSD Form Factor', known as EDSFF, which can enable each drive to have a PCIe 3.0 x4 or a PCIe 3.0 x8 connection to the system. The Grays Peak server in this instance uses a dual-socket Xeon combined with 36 of the new ruler SSDs, with the top variants aiming to provide 1 PB of storage into a 1U chassis by taking advantage of increased SSD length and optimal thermal environments. Current capacity puts 576 TB into 1U, giving 16 TB per drive.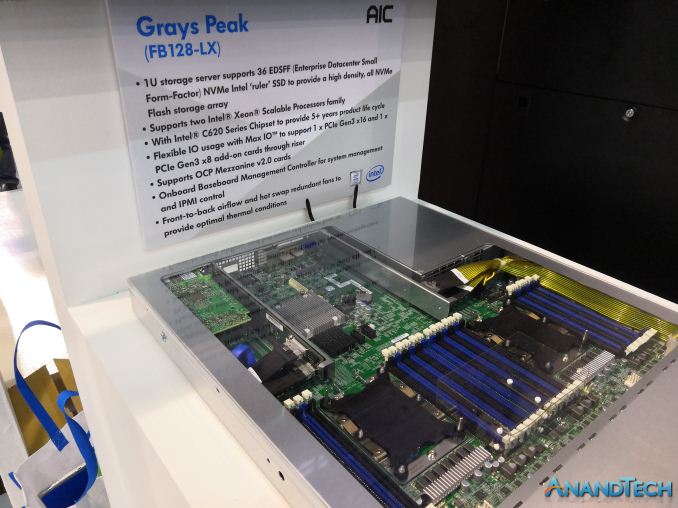 Obviously having 36 drives, even with a x4 connection (such as the mechanical sample on display), equates to 36x4 = 144 PCIe lanes, more than a dual socket server can handle, so managing in the middle are a pair of PLX 8000-series PCIe switches. The demo PCB above shows the bump layouts for them and we confirmed that the system is using 8000-series and not the newer 9000-series. The number of PCIe lanes from each CPU will be even more important in the future as the drives move up to x8 connection speeds. AIC also states that the drives are hot-swappable.
We expect that Intel will pair with other OEMs for other Grays Peak type platforms in the near future as it attempts to expand its new form factor in enterprise systems.
Want to keep up to date with all of our Computex 2018 Coverage?

Laptops

Hardware

Chips
Follow AnandTech's breaking news here!