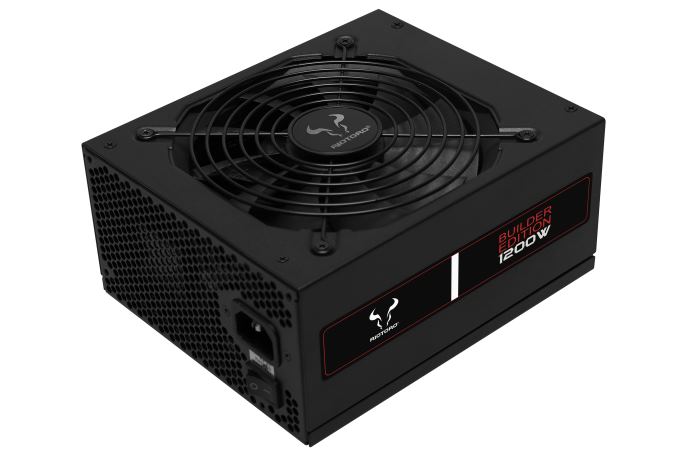 Riotoro announced a large capacity high-efficiency PSU at Computex named the Builder Edition 1200W. Riotoro pegs the power supply as being ideal for cryptocurrency mining, data servers, or extreme gaming PCs. The PSU is fully modular uses a long-life 135mm dual ball bearing fan and 100% Japanese capacitors. Just as all Riotoro PSU have, the Builder Edition 1200W features full voltage, current, power, and short-circuit protection with the device backed by a 5-year warranty.
Other features include a single 12V rail to power connected devices. The power supply comes with eight GPU PCIe power connectors and twelve SATA power connections assuring the device has plenty of power leads for power-hungry systems. The fully-modular device uses flat cables said to reduce clutter, easier to install and provide improved airflow.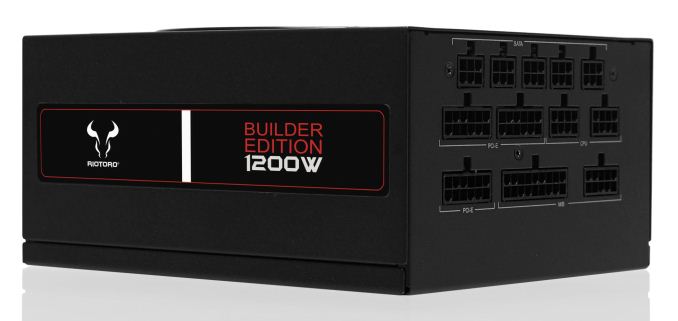 Specifications for the Riotoro Builder Edition 1200W power supply is listed below.
Power Specifications of the Riotoro Builder Edition 1200W
(Rated @ Unknown °C)
AC INPUT
100 - 240 VAC, 50 - 60 Hz
RAIL
+3.3V
+5V
+12V
+5Vsb
-12V
MAX OUTPUT
25A
25A
100A
3A
0.3A
130W
1200W
15W
3.6W
TOTAL
1200W
The Riotoro Builder Edition 1200W is available now with an MSRP of $219.99 which is comparable to many 1200W Gold units on the market. We are not sure if the Builder's Edition will see additional lower power units in the future. See more coverage of Computex 2018 below.
Want to keep up to date with all of our Computex 2018 Coverage?

Laptops

Hardware

Chips
Follow AnandTech's breaking news here!
Related Reading: