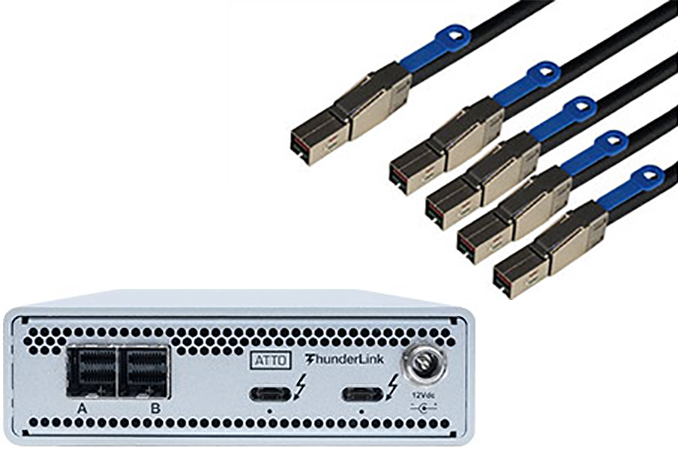 Thunderbolt 3-enabled computers continue to gain compatibility with various exotic and special-purpose devices. ATTO this week released its ThunderLink 3128 SATA/SAS Thunderbolt 3 adapter, which can allow a Thunderbolt 3 host to connect to up to eight SAS 12 Gbps/SATA 6 Gbps drives. The device is aimed primarily at enterprise users who have equally high-grade storage devices, such as SAS HDDs/SSDs or even tape drives, used for archival purposes.
ATTO's ThunderLink 3128 (TLSH-3128-D00) features two Thunderbolt 3 ports (for daisy chaining) as well as two SF-8644 miniSAS external headers, which in total can connect up to eight SAS/SATA storage devices using SAS SF-8644 fanout cables (and appropriate adapters for SATA drives). When expanders and port multipliers are used, the adapter can plug up to 3,500 HDDs/SSDs or even LTO-8 tape drives to a single computer, thought this is obviously an extreme use case. As for power, the ThunderLink 3128 requires an external power brick.
The manufacturer claims that the Thunderbolt 3 to SAS adapter has been certified for both Apple MacOS- and Microsoft Windows-based PCs as well as for various "popular media and entertainment applications." For example, LTO-8 tape drives allow to store 12 - 30 TB of data (uncompressed - compressed) on a single cartridge with up to 900 MB/s sequential read/write speed. Such a cartridge costs ~$165, which is significantly cheaper than high-capacity HDDs or SSDs. Those who need to archive large amounts of data generated on their iMac Pro/MacBook Pro or other workstations can take advantage of the ThunderLink 3128 and tape drives. Alternatively, they can use enterprise-class SSDs or HDDs.
ATTO's ThunderLink 3128 adapter is now available directly from the company for $895. Since we are dealing with an accessory for enterprise-class storage devices, the price does not look excessive.
Related Reading:
Source: ATTO