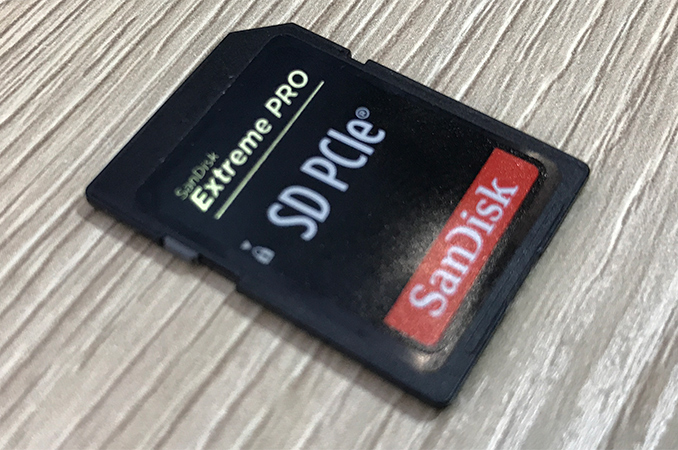 BARCELONA, ESP — Western Digital demonstrated an experimental SD card featuring a PCIe Gen 3 x1 interface at Mobile World Congress. Meanwhile, the SD Card Association is calling upon the industry to adopt PCIe as a standard interface and to support the development of a complete SD PCIe standard.
Western Digital is demonstrating a system featuring an M.2-to-SD adapter with an SD card that offers 880 MB/s sequential read speeds as well as up to 430 MB/s sequential write speeds, according to the CrystalDiskMark benchmark. The drive uses the existing UHS-II/III pins to construct a PCIe 3.0 x1 interface with the system (via a mechanical adapter) and probably standard PCIe voltage with a converter. The company is not disclosing the type of memory or the controller that power the SD PCIe card, but it is clear that we are dealing with a custom solution. Meanwhile, Western Digital claims that the implementation costs of a PCIe interface is not high as one might expect, as a PCIe x1 PHY is not all that large.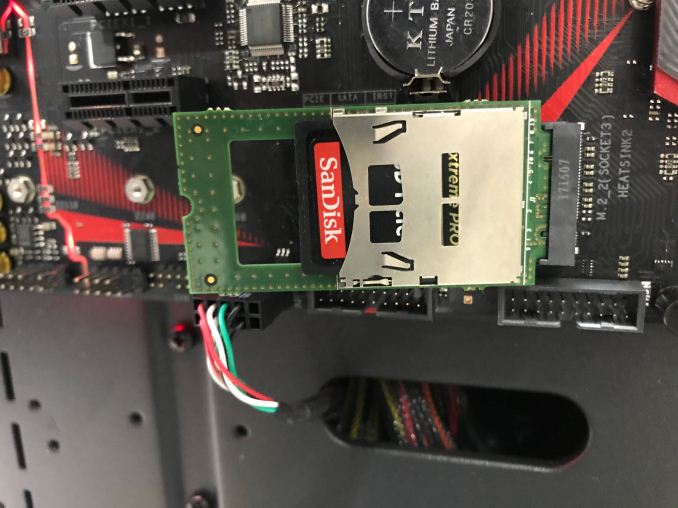 Western Digital further notes that the SD card with a PCIe interface is not standard and will not hit the market any time soon, but is showing off the concept anyhow as they have seen interest from certain parties for this kind of removable storage solutions. For example, makers of industrial or special-purpose PCs could benefit from flexibility provided by removable industry-grade SD cards with PCIe 3.0 x1 performance (i.e., they are faster than SATA, easier to install than eMMC/UFS/BGA SSD).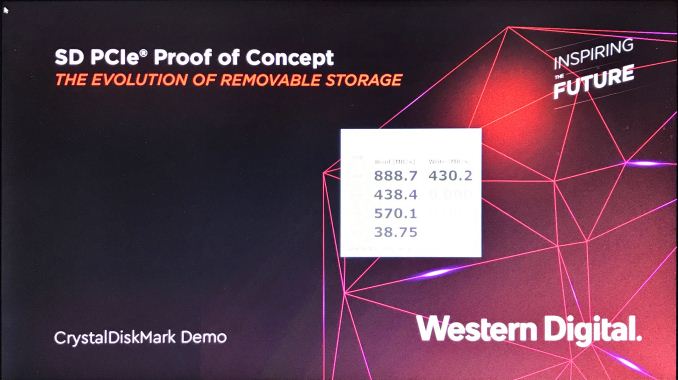 The company believes that once the SD standard moves to PCIe, its evolutionary path will be pretty straightforward: after PCIe 3.0/3.1 come PCIe 4.0 and PCIe 5.0 that increase performance per lane from 8 GT/s to 16 GT/s and 32 GT/s, respectively.
In the meantime, the SD Card Association is calling for interested parties to participate in the creation of a proper PCIe SD/microSD card standard. The organization outlines key features of the upcoming standard on a banner in its booth:
Existing form-factors.
PCIe interface, NVMe protocol.
Support of legacy SD interface for backward compatibility (since the existing SD/PCIe card uses UHS-II/III pins, it is logical to expect the upcoming standard to support appropriate signaling too).
The Secure Digital interface has evolved greatly over the time of its existence in terms of performance: from 54 – 104 MB/s supported by the UHS-I all the way to 624 MB/s (full duplex) supported by the UHS-III. PCIe 3.0/3.1 can increase performance further to around 985 MB/s, beating the UHS-III.
One of the key problems that the SD Card Association and its member face is support for UHS-II/UHS-III in host devices. Smartphone makers are reluctant to support the latest UHS standards and PC makers rarely incorporate fast card readers into their products as the only devices that use the UHS-II are higher-end DSLR cameras, so mainsteam users barely use/need UHS-II slots. When the SD standard adopts PCIe, manufacturers of various special-purpose PCs/servers will benefit, but producers of consumer electronics may (again) be unwilling to incorporate new controllers into their products due to lack of immediate benefits and power consumption concerns. Nonetheless, since there are applications that can benefit from fast SD/microSD cards, the standard will be developed several years down the road.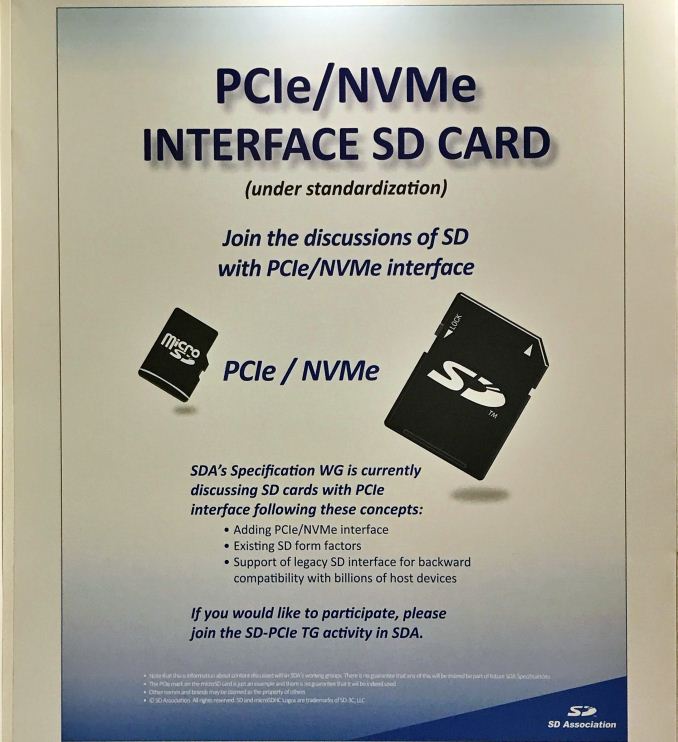 Related Reading: