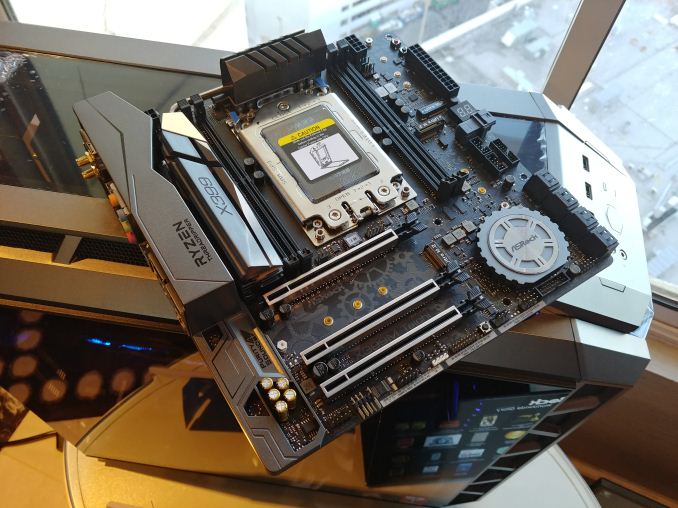 LAS VEGAS, NV – While smaller motherboards are fun to look at, and an engineering challenge, they still represent a small part of the market. The main benefit for a motherboard manufacturer to push out one of the smaller form factor motherboards is if they are the only ones (or one of the only ones) with a product in that segment. Thus ASRock is first to market with a micro-ATX motherboard for AMD's Ryzen Threadripper processors. It is a big socket on a tiny motherboard.
We reported on ASRock announcing this board earlier during CES, but we met with ASRock at their suite and got some hands on. If there is one thing easy to spot on this motherboard, it is the socket – it does not leave a lot of room for anything else. Even though ASRock is known for its esoteric designs such as the X299-ITX/ac, ASRock categorically stated that with a socket this big, mini-ITX is impossible without some major compromises such as two DRAM slots.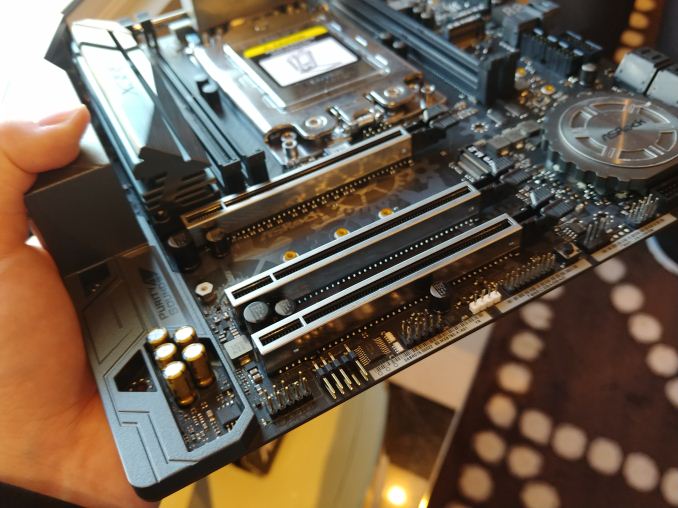 For the X399M Taichi, it lives up to the Taichi name and comes well equipped with the basics without going overboard. The motherboard itself is fairly hefty, if only for the socket and heatsink arrangement, but ASRock feel they have had a good swing at the functionality. With 64 PCIe lanes from the processor to play with, it made sense to offer three x16 PCIe slots, even though in most cases only one or two would be used (or perhaps a GPU and two of those quad M.2 cards!) and still leave 16 PCIe lanes left over for other things. This gives a U.2 port, three M.2 slots, 802.11ac Wi-Fi, more USB 3.0 ports, USB 3.1, Purity Sound audio, and plenty of action besides.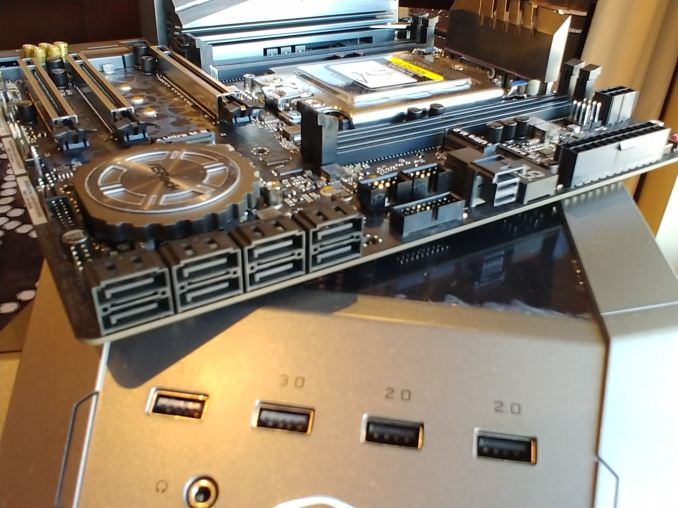 The key differentiation features, aside from the size of the board, come in a number of areas. First, two of the M.2 slots are found on the top right hand side of the board. ASRock felt that users would prefer three M.2 drives in total and only four memory slots rather than one M.2 drive and eight memory slots. Another change is the secondary EPS 8-pin connector, which appears on the top right of the board in an odd location. ASRock felt it necessary on a board like this to also include eight SATA ports, making the X399M Taichi a potential catch all for any storage requirements. Ultimately the only thing missing here is 5GbE or 10GbE Ethernet from Aquantia, but instead ASRock uses dual Intel controllers instead. Not to be left out, there are some RGB LEDs on the board as well.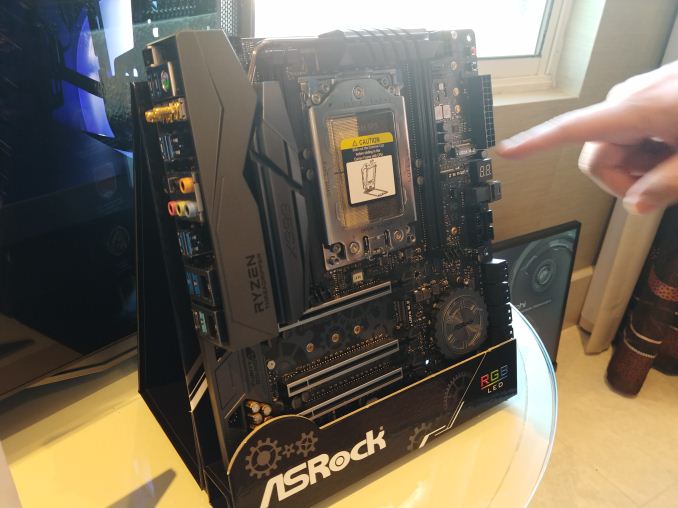 ASRock intends to ship the X399M Taichi sometime in Q1, with the price still to be determined.
Related Reading