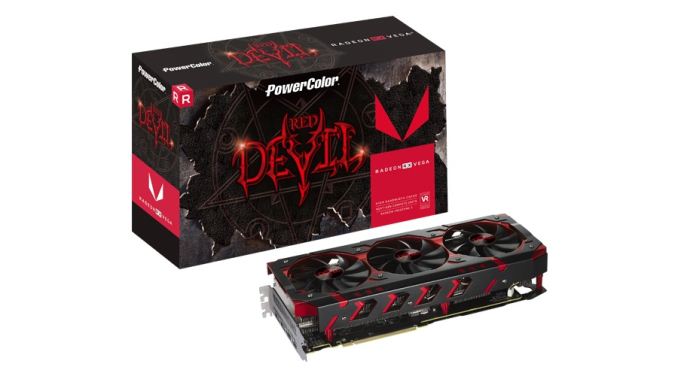 Last week, PowerColor announced two custom Radeon RX Vega graphics cards: the Red Devil RX Vega 64 and Red Devil RX Vega 56. With triple-fan coolers and 2.5-slot wide designs, both cards come factory-overclocked and encased a black-with-red shroud with metal backplate, very much typical of PowerColor's high-end Red Devil series. The Red Devil RX Vega 64, earlier listed on Overclockers UK, is now listed on Newegg but out-of-stock, with the OCUK listing providing an estimated shipping date of December 8.
Almost four months since the launch of the reference Radeon RX Vega 64, custom RX Vega cards have been slow to trickle out. For consumers, the Red Devil RX Vega cards have much of the elements expected of custom boards: expansive cooling solution, zero fanspeed idle (branded "Mute Fan"), and the inevitable LED. Both Red Devil RX Vega 64 and 56 essentially share the same design, but only the RX Vega 64's full clockspeeds were detailed; PowerColor is stating a 1417MHz base and 1607MHz boost, putting it in the realm of the reference Liquid Cooled edition of 1406/1677MHz. The boost clock of the Red Devil RX Vega 56 was reported elsewhere to be 1526MHz, but otherwise has the reference 800MHz HBM2 clockspeed.
Specifications of Selected Radeon RX Vega Cards
PowerColor Red Devil Radeon RX Vega 64

PowerColor Red Devil Radeon RX Vega 56
AMD
Radeon RX Vega 64
AMD
Radeon RX Vega 56
Base Clock
1417MHz
TBA
1406MHz (Liquid)
1156MHz
1247MHz (Air)
Boost Clock
1607MHz
1526MHz
1677MHz (Liquid)
1471MHz
1546MHz (Air)
VRAM
Clock / Type
1.89Gbps HBM2
1.6Gbps HBM2
1.89Gbps HBM2
1.6Gbps HBM2
Capacity
8GB
Bus Width
2048-bit
Board Power
TBA
345W (Liquid)
295W (Air)
210W
Dimensions
316 x 150 x 55mm
272 x 112 x 40mm
Power Connectors
2 x 8pin
Outputs
2 x HDMI 2.0
2 x DP 1.4
1 x HDMI 2.0
3 x DP 1.4
Process
GlobalFoundries 14nm
Launch Price
TBA
$699 (Liquid Pack)
$499 (Air)
$399
Coming in at a little over 12.4 inches (316mm) in length, the cards' shrouds and heatsinks extend beyond the PCBs slightly. Nevertheless, the heatsink features two 8mm and four 6mm heatpipes, and the 1.5mm metal backplate comes equipped with an additional cross bracket supporting the HBM. The boards feature a 12 phase power design with what PowerColor calls Platinum PowerKIT VRMs. While TDP was not disclosed, the cards are listed with a 750W system power requirement, and feature dual 8pin PCIe power connectors like the reference designs.
In terms of multi-BIOS, the Red Devil RX Vega cards feature three BIOS modes: Silent, Standard, and OC. What each mode exactly entails isn't clear, but PowerColor does describe Silent as utilizing Mute Fan that kicks in when temperatures are below 60 degrees; elsewhere it was detailed as straightforward thermal profile and power limit adjustments. Display output wise, PowerColor have opted to go for a 2x HDMI configuration in the interest of compatibility with VR setups, which can include an HDMI headset and HDMI TV display.

Lastly – and to some, leastly – the Red Devil cards do feature token LED functionality, although perhaps thankfully limited to the toggleable "Red Devil" lighting inset at the top of the cooling shroud.
As mentioned earlier, the PowerColor Radeon RX Vega 64 is listed on Newegg at $620 with a $50 rebate, out-of-stock at this time but explicitly qualifying for the Wolfenstein II & Prey bundle. Meanwhile, the card remains listed on Overclockers UK for £589.99 with estimated availability on December 8, though PowerColor has previously stated that the retail UK price would be at £529.99. However, the Red Devil RX Vega 56 is not listed at any retailers. Given the timing and listings, the Red Devil Radeon RX Vega 64 is arguably more likely than not to arrive in time for the holidays.
Source: PowerColor