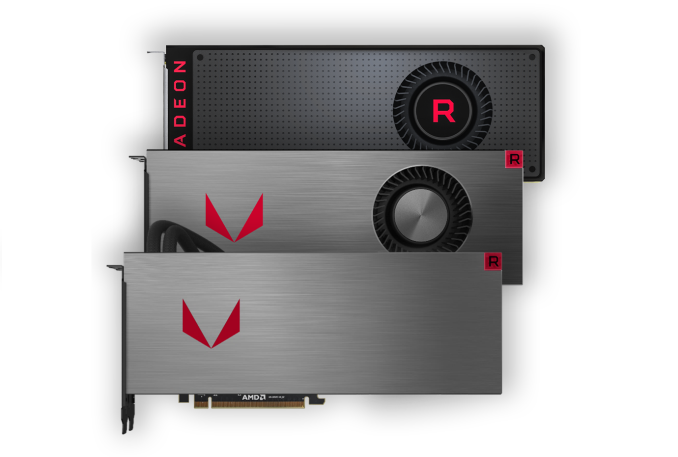 This week, Jon Peddie Research (JPR) released their quarterly discrete video card sales report for Q3 2017. According to JPR's figures, the quarter was a strong one for discrete desktop GPU shipments, with vendors shipping upwards of 15 million units, reaching volumes not seen in four or five years. This high point in card shipments was fueled by positive seasonality, desktop PC gaming, and the tail end of cryptocurrency mining demand, leading to add-in board (AIB) shipments increasing 29.1% over last quarter, more than double the 14% ten-year Q2-to-Q3 average increase. In terms of discrete desktop graphics market share, NVIDIA gained around 3% compared to JPR's revised Q2 figures, putting the balance at 27.2% for AMD and 72.8% for NVIDIA.
In context, the GPU and PC markets fluctuate in a relatively consistent seasonal pattern: shipments trend flat to down in Q1, notably down in Q2, notably up in Q3, and up to flat in Q4. Also in context, of course, is the effect of cryptomining mining demand on last quarter's shipments, resulting in an unseasonal increase from Q1 2017. JPR notes the waning demand of Ethereum-driven cryptomining, but concedes that it continues to have an impact that is "still just as impossible to accurately measure."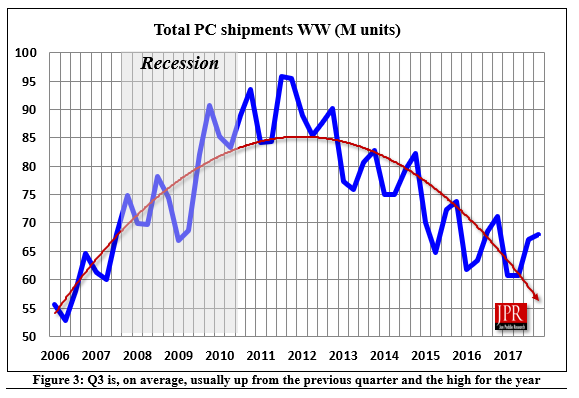 These reports of both strong seasonality and weakening cryptomining are corroborated by AMD and NVIDIA's latest quarterly fiscal results, the former bringing AMD back in the GAAP earnings black and the latter posting yet another record quarter. AMD attributed the 74% year-over-year revenue growth in their Computing and Graphics segment to strong Radeon and desktop Ryzen sales, observing a strong increase in GPU average selling price (ASP). And while on the subject, higher ASPs are certainly not news to many consumers in the market for a mid-range graphics card, with little reprieve as the holiday season approaches.
As for NVIDIA, they attributed continued sales of Pascal based gaming GPUs in growing their quarterly Gaming segment revenue to $1.561 billion. By nature of miners buying GeForce cards, that number includes some amount of cryptomining demand. But in looking at cryptomining specifically, NVIDIA does record crypto-specific boards separately as part of their OEM & IP segment, and they saw sales of those crypto board drop to $70 million from the previous quarter's $150 million.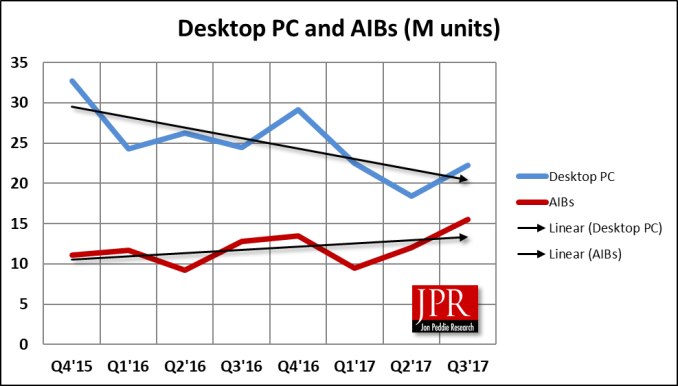 So for explaining Q3's strong AIB shipments beyond Ethereum, JPR unsurprisingly points to gaming PCs, highlighting AMD's Ryzen Threadripper CPU launch and Intel's response. Which in this case would entail engaging AMD in core wars with Skylake-X and later two-upping their 16 cores with 18 under a new 'i9' branding. Among the report's other considerations are the continuing popularization of eSports and desktop gaming PCs over mainstream general purpose PCs. The end result is Q3 2017 AIB shipments edging over 15 million units, a figure closer to quarterly volume in 2013 and a 5-year-high since the roughly 17.5 million units shipped in Q3 2012. But JPR also sees the high water mark of Q3 2017 as evidence for the return of traditional seasonality, in the sense that it suggests Q4 2017 shipments will be flat to down. From the standpoint of noticeably waning cryptomining demand and probable lack of major GPU launches, this is arguably more likely than not.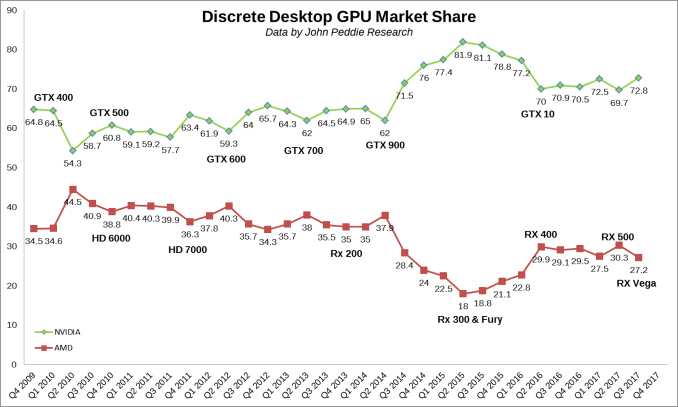 Such atypically high volume always has the potential to affect market share, and for Q3 2017 NVIDIA had the upper hand with their discrete desktop GPU shipments up 34.7% from last quarter, compared to AMD's 16.1% increase. In terms of market share, this resulted in NVIDIA picking up 3.1%, slowly widening what has been a roughly 70-30 split of the past year with AMD. While the major launch of Q3 2017 was the Radeon RX Vega cards in August, the mid-quarter timing should be noted, as well as the limited post-launch availability that afflicts high-end card launches in general.
Keeping to JPR's numbers for comparison purposes, the market share impact of RX Vega is likely to be smaller than previous launches as only the high-end and lower-volume RX Vega 56 and 64 have been released, as opposed to if a fuller stack with Vega 11 were trickling out. But given the turbulence of cryptomining, it seems more likely that the broader impact (or non-impact) of RX Vega and even RX 500 cards will not be clearly visible for another quarter or so.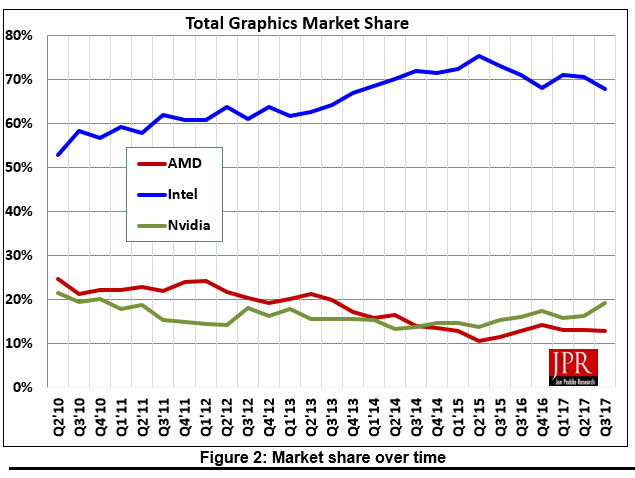 Wrapping things up, the total graphics share, which encompasses discrete and integrated GPUs for desktop and mobile, saw NVIDIA gain more ground mostly at the expense of Intel. Beyond discrete desktop GPU shipments, NVIDIA saw a notable 22.4% increase in discrete notebook GPU shipments. In the aggregate, JPR reports that AMD's overall unit shipments increased 7.6% quarter-to-quarter, Intel's shipments increased 5%, and NVIDIA's shipments increased by a much higher 29.5%. In the next couple years, we may start to see some interesting shifts with AMD's Zen-based APUs and Intel's revived determination to develop discrete high-end GPUs. The union that is Intel's processor with AMD Radeon graphics is unlikely to be high-volume but will be intriguing nonetheless. And as for NVIDIA, their numbers continue to speak for themselves.
Source: Jon Peddie Research