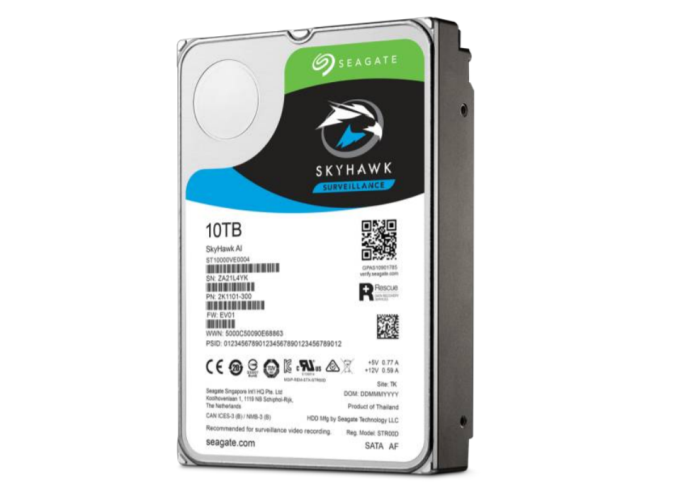 Seagate has released a new family of hard drives for intelligent network video recorders (NVRs) with 'AI capabilities'. The new Skyhawk AI HDDs are built to simultaneously record footage from dozens of HD cameras and provide data for multiple streams used for deep learning, machine learning, and video analytics applications.
The Seagate Skyhawk AI family consists of 8 GB and 10 TB models featuring a 7200 RPM spindle speed, 256 MB cache buffers and a SATA 6 Gbps interface. The new hard drives rely on Seagate's seven-disk enterprise-class helium-filled platforms featuring top and bottom attached motors, RVFF sensors, and other enhancements to handle heavy workloads (up to 550 TB per year) in vibrating machines featuring 16 or more drives. Typical Seagate Skyhawk drives used for surveillance systems are rated for 180 TB per year and are not designed for NVRs featuring more than 16 drives (formally, they are rated for systems with 8+ bays).

The heart of the SkyHawk AI drives is their ImagePerfect AI firmware that builds upon the original ImagePerfect technology from Seagate but has several important enhancements. All higher-end SkyHawk drives support ATA streaming technology and can record data from up to 64 HD cameras. It also allows the HDDs can quickly wake up from idle and resume work. What the ImagePerfect AI adds on top of that is a special caching algorithm that enables "low latency and excellent random read performance to quickly locate and deliver video images and footage analysis." As a result, each SkyHawk AI HDD can record footage from 64 cameras while providing enough read performance for 16 AI streams (8 AI channels).
When it comes to raw performance numbers, Seagate declares 214 MB/s maximum sustained transfer rate, 4.16 ms average latency and up to 7.2 W power consumption for the SkyHawk AI drives. By contrast, the original SkyHawk 8 TB and 10 TB featured up to 210 MB/s maximum sustained transfer rate and 4-4.16 ms average latency (keep in mind that the Skyhawk 8 TB was not helium-filled). Therefore, from a performance point of view, the new AI drives are not tangibly faster than the regular ones and all the improvements are there due to the firmware.
Seagate SkyHawk AI HDDs
ST10000VE0004
ST8000VE0004
Capacity
10 TB
8 TB
HD Cameras Supported
Up to 64
AI Streams (AI Channels)
16 (8)
RPM
7200 RPM
Interface
SATA 6 Gbps
DRAM Cache
256 MB
Peak Sustained Transfer Rate
214 MB/s
Average Latency
4.16 ms
Rated Workload
Equivalent of 550 TB of Writes per Year
Power Rating
Idle
4.9 W
Operating
7.2 W
MTBF
2.0 million hours
Warranty
5 Years
Since the SkyHawk AI drives are based on enterprise-grade platforms, they are also covered by a five-year warranty. In addition, the drives are bundled with Seagate's two-year Seagate Rescue Services. The SkyHawk AI 10 TB will be available in the U.S. for $449.99, whereas the 8 TB model will cost $349.99.
Related Reading
Source: Seagate