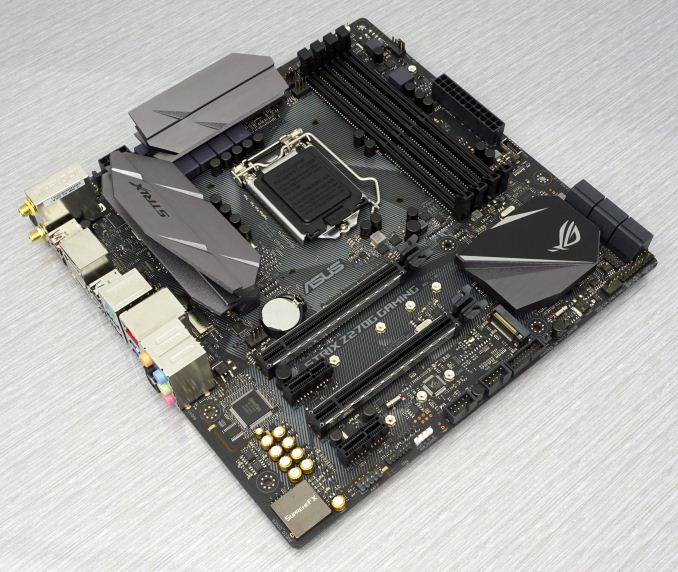 Micro ATX motherboards mark the spot between the limiting Mini ITX motherboards that are limited to a single expansion slot and the classic ATX motherboards that often offer more than what the user requires. Many users need more than a single PCIe slot but not nearly as many as seven. In this review, we are having a look at the Asus ROG Strix Z270G Gaming, a Micro ATX motherboard based on the Intel Z270 chipset.
We have looked at both Mini ITX and ATX motherboards based on Intel's Z270 in the past few months, but not yet a Micro ATX motherboard. Although their market share is relatively low, Micro ATX systems are a viable compromise between the very compact but limiting Mini ITX factor and a full-size ATX motherboard. The Asus ROG Strix Z270G Gaming is specifically designed to be the basis of a powerful SLI/Crossfire gaming system that will be a little bit more compact than that of a full-size ATX motherboard.
Asus ROG Strix Z270G Gaming Overview
A quick look at the Asus ROG Strix Z270G Gaming reveals that the Micro ATX motherboard is loaded with features that are directly comparable in quality and number to those of any ATX motherboard around its price range. As it is 59 mm shorter than an ATX motherboard, the Asus ROG Strix Z270G Gaming has three fewer expansion slots. The configuration that Asus went with is two full-length PCIe ×16 slots (×8/×8 in SLI/Crossfire) and two short PCIe ×1 slots. There are two PCIe ×4 M.2 slots and six SATA connectors, which ought to be enough for the storage requirements of any gaming or home entertainment system. There are no native U.2 connectors, but U.2 drives can be connected to the M.2 slots by using appropriate adapters. Asus does not add any SATA Express connectors on most of their gaming range motherboards and the ROG Strix Z270G Gaming is, expectedly, no exception to that rule.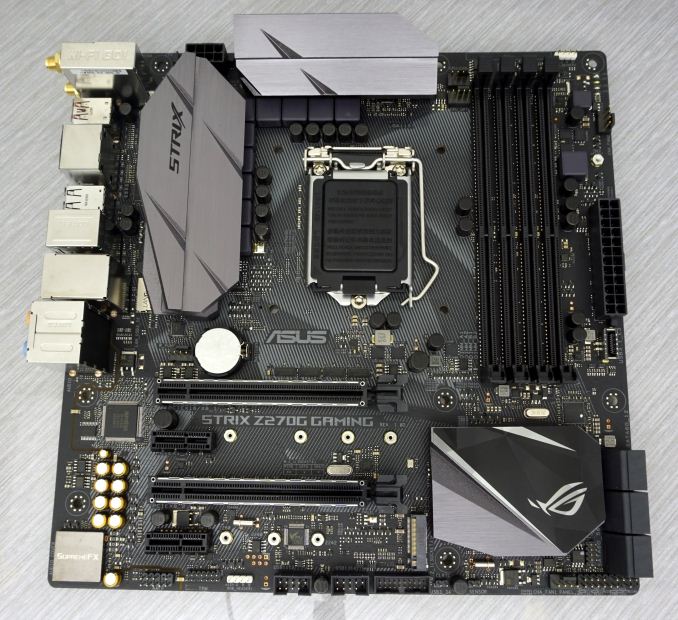 The controllers of the ROG Strix Z270G Gaming motherboard are interesting, yet nothing out of the ordinary for a motherboard of this class. For audio, Asus is particularly proud about their "Supreme FX" audio system that implements the Realtek ALC S1220A (aka ALC1220A) audio CODEC and is placing a lot of their marketing efforts on it. The single wired Gigabit LAN chipset is the very popular Intel I219-V, with Asus expressively advertising the implementation of their surge protection feature called "LANGuard". Asus has also added a WiFi/Bluetooth module from Qualcomm (Atheros QCNFA364A). Finally, there are two USB 3.1 controllers from ASMedia, one for the rear USB 3.1 Gen 2 ports (one Type-A and one Type-C) and one for the internal USB 3.1 Gen 2 header. At this point, we should also mention that the ROG Strix Z270G Gaming is the first Z270 motherboard that we have tested that has an internal USB 3.1 Gen 2 header.
From our testing, the Asus ROG Strix Z270G Gaming performs well under its default settings, with the spotlight being its extraordinary audio performance. In terms of raw speed and/or stability, it does not differentiate from any other typical Z270 motherboard, except when compared to models that do not have multi-core turbo enabled by default or are practicing overclocking under their default setup. We also acquired very good overclocking results that will certainly please more advanced users who are planning on building a very powerful cost-effective gaming system.
Motherboard Comparison
Asus ROG STRIX Z270G GAMING
Socket
LGA1151
LGA1151
MSRP at Review
$349
$140
DRAM
4 x DDR4
4 x DDR4
PCIe Layout
×8/×8
x8/x8
BIOS Version Tested
0604
2.00
MCT Enabled Automatically?
Yes
Yes
USB 3.1 (10 Gbps)
2 × ASMedia ASM2142
None
M.2 Slots
2 x PCIe 3.0 x4
2 x PCIe 3.0 x4
U.2 Ports
No
No
Network Controller
1 x Intel I219-V
1 x Qualcomm QCNFA364A
1 x Intel I219-V
Audio Controller
Realtek ALC1220A
Realtek ALC892
HDMI 2.0
No
No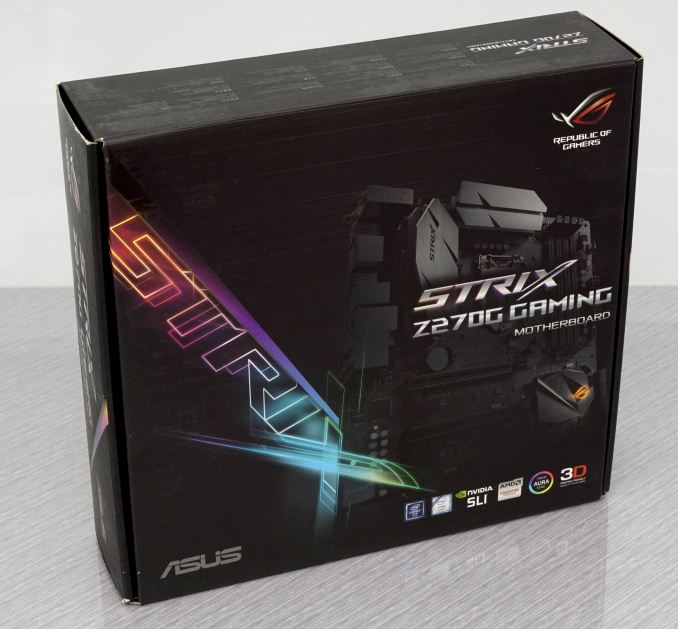 Other AnandTech Reviews for Intel's 7th Generation CPUs and 200-Series Motherboards
($110) The ECS Z270H4-I Durathon 2 Review
($140) The ASRock Z270 Killer SLI Review
($140) The MSI Z270 SLI PLUS Review
($159) The ASRock Z270 Gaming-ITX/AC Review
($170) The Asus Prime Z270-A
($170) The GIGABYTE Z270X-Ultra Gaming
($349) The ASRock Z270 Supercarrier Motherboard Review
The Intel Core i7-7700K (91W) Review
The Intel Core i5-7600K (91W) Review
The Intel Core i3-7350K (60W) Review
CPU Buyer's Guide
In comparison to the older Z170 boards, the Z270 boards on the base specifications are hardly any different. The Z270 ones have four extra PCIe lanes configurable on the chipset, potentially new audio and new networking controllers, and Intel Optane Technology Support. Although four extra PCIe lanes do sound like a huge difference, it is an important upgrade for the implementation of native M.2 slots (on Z170-based motherboards, this usually meant disabling some other device/port on the motherboard). Also, note that Intel Optane drives should still function on other chipsets as drives; the Z270 only allows them to enable their "smart caching" technology.
The Intel Optane Memory (SSD) Preview: 32GB of Kaby Lake Caching
Individual motherboard manufacturers will be sprinkling on new features onto their Z270 products to aid the transition and provide other tangible benefits over the old platform. To read specifically about the Z170 chip/platform and the specifications therein, our deep dive into what it is can be found at this link.
A Small Note on USB Naming
One thing that we should note is that the advent of the Z270 chipset brought a change on the naming of the USB ports. What we knew as USB 3.0 ports are now being dubbed as "USB 3.1 Gen 1" and the 10Gbps ports are now called "USB 3.1 Gen 2". We first encountered this change while reviewing the MSI Z270 SLI Plus a few months ago but it seems that most of the manufacturers are following suit, rewriting their websites and reprinting their manuals. Users need to be extra careful when very high bandwidth connectors are essential.