Board Features
The mid-range Taichi is going to make a name for itself by being a jack of all trades and mastering none. The board carries over its 8 Layer PCB using four 2oz copper inner layers to help stabilize power. The improved efficiency, ASRock says, which comes from such a setup is lower temperatures, as well as having a higher memory speed support of DDR4 4400+(OC). Most boards top out at 4133 or even less. As with the Professional Gaming i9 the 3-Way SLI and Crossfire capabilities are still there along with the included 802.11ac WiFi, Bluetooth 4.2, and use of the Realtek ALC1220 codec. Instead of using the Creative Sound Blaster Cinema 3 for audio control, it uses Purity Sound 4 with DTS connect.
ASRock Fatal1ty X299 Professional Gaming i9
Warranty Period
3 Years
Product Page
Link
Price
Amazon US
Size
ATX
CPU Interface
LGA2066
Chipset
Intel X299
Memory Slots (DDR4)
Eight DDR4
Supporting 128GB
Quad Channel
Up to 4400 MHz
Network Connectivity
1 x Aquantia AQC107 10 Gigabit LAN
1 x Intel I219V GbE
1 x Intel I211AT GbE
1 x 2T2R Intel 802.11ac w/BT4.2

(Intel 3165)

Onboard Audio
Realtek ALC1220
PCIe Slots for Graphics (from CPU)
4 x PCIe 3.0
44 Lane CPU
- x16,
- x16/x16,
- x8/x16/x8,
- x16/x8/x16/x0 or x8/x8/x16/x8
28 Lane - x16, x16/x8, x8/x8/x8
16 Lane - x16, x8/x4
PCIe Slots for Other (from PCH)
1 x PCIe 3.0 x1
Onboard SATA
Eight via chipset, RAID 0/1/5/10
Two via ASMedia ASM1061
Onboard SATA Express
None
Onboard M.2
3 x PCIe 3.0 x4 (SATA Supported)
Onboard U.2
None
USB 3.1
1 x Type-A
1 x Type-C
1 x Front Panel Type-C
ASMedia ASM3142 Controller
USB 3.0
4 x Rear Panel
2 x via headers (ASM1074 Hub)
USB 2.0
2 x Rear Panel
2 x via headers (Chipset)
Power Connectors
1 x 24-pin ATX
1 x 8-pin CPU
Fan Headers
1 x CPU (4-pin)
1 x CPU Opt/Water Pump 1.5A Max (4-pin)
1 x Chassis Opt/Water Pump 1.5A Max (4-pin)
4 x Chassis (4-pin)
IO Panel
2 x Antenna Ports
1 x PS/2 Mouse/Keyboard Port
1 x Optical SPDIF Out Port
2 x USB 2.0 Ports
1 x USB 3.1 Type-A Port (10 Gb/s)
1 x USB 3.1 Type-C Port (10 Gb/s)
4 x USB 3.0 Ports
2 x GbE RJ-45 Ports
1 x 10GbE RJ-45 Port
1 x BIOS Flashback Switch
1 x Clear CMOS Switch
HD Audio Jacks
Curiously, for a motherboard which has "gaming" in the title and having three network ports, we were surprised not to see a Killer Network based NIC which finds its way on to several other gaming motherboards. Network traffic shaping is still possible through software, although Rivet Networks would likely claim they offer an optimized solution if their chip had been used. Perhaps a combination of an Intel GbE, Rivet Networks Killer E2500 GbE, and an Aquantia 10GbE which would have encompassed more of its tarket market.
In The Box
We get the following:
Quick Installation Guide, Support CD (drivers, Utilities, AV Software, etc), I/O Shield
4 x SATA Data Cables
1 x ASRock SLI_HB_Bridge_2S Card
1 x ASRock 3-Way SLI-2S1S Bridge Card
2 x ASRock WiFi 2.4/5 GHz Antennas
3 x Screws for Ultra M.2 Sockets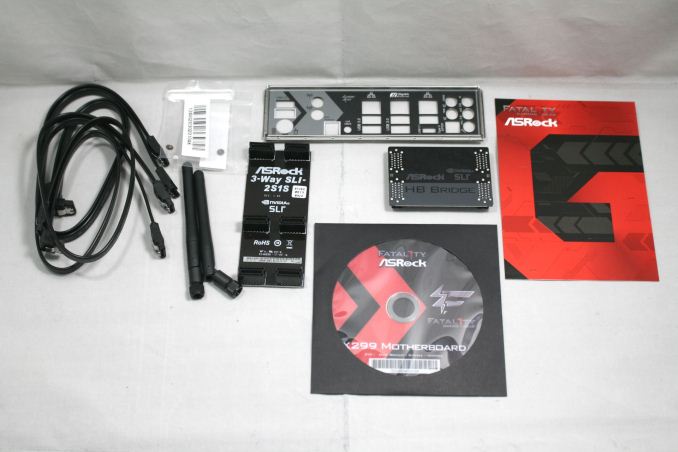 ASRock has included what a user needs to get going in the box, but not much more. Items such as four SATA cables to connect any SATA based devices, a couple of SLI bridge cards – a SLI HB bridge for two cards, and a 3-Way SLI bridge card as well are included. Customers also receive two antennas to connect with their integrated Wi-Fi solution for better reception. Last but not least, three screws for the M.2 Sockets. Again, this is arguably just the basics, likely to help reduce costs - we have seen other gaming focused products provide 'gaming' brand additions. It would be interesting to see what the overall user response to some of these add-ins would be.
Visual Inspection
ASRock used a jet black PCB with some light gray 'racing stripes' printed on it where the three Ultra M.2 slots reside. Surprisingly the only RGB LED on this board sits under the PCH heatsink. With the board being black outside of the PCIe Steel Slots, it should fit into most build themes fairly easily. If users want to add some flare, they are able to do so by adjusting the included ASRock RGB LED software or use one or both of the onboard RGB headers with the appropriate RGB strip (5050 RGB LED – max. power rating of 3A(12V) and shorter than 2M according to the manual).
For CPU cooling, the two CPU fan headers are located on the top of the board to the right of the 8-pin power, flanking the DIMM slots, Another is found on the inside of the DIMM slots below the socket (a curious location for wire management), followed by two more on the bottom right-hand side by the debug area. The CPU fan connector can output a maximum of 1A (12W) while the CPU and Chassis Optional/Water Pump headers can both deliver 1.5A (18W). All fan headers can auto detect if they are 3-pin or 4-pin and adjust control methods as needed.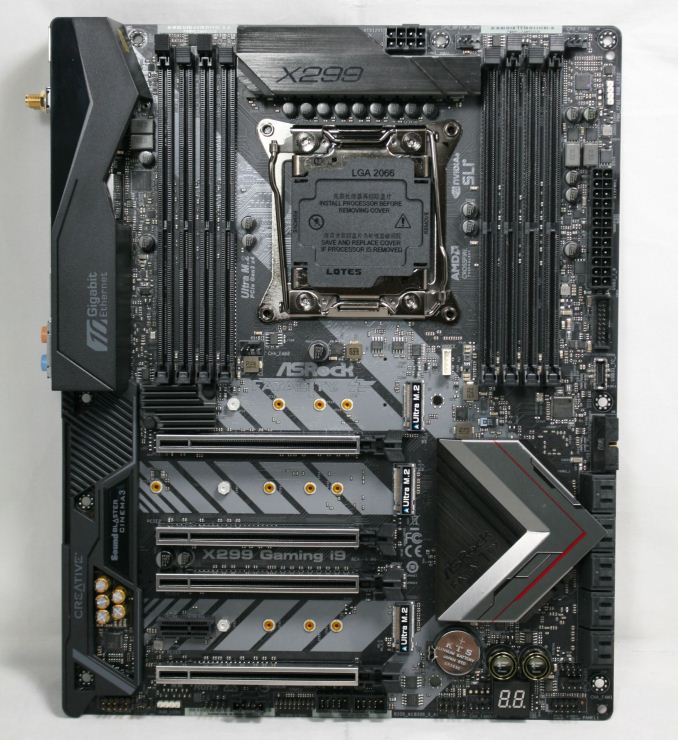 The socket area is fairly clean with a few of the Nichicon 12K capacitors flanking the sides and bottom. Towards the top of the socket lay the majority of these caps as this is where the 13-phase power delivery section makes its home. The power delivery heatsink extends out just a bit past where the chokes and MOSFETs reside, but should not get in the way of Heatsinks as it barely stands taller than the single-sided ram latches. At the heart of the VRMs are three Intersil ISL69138 digital PWMs (supporting up to 6+1 each, with phase doublers on the backside). These are paired with 60A Intersil DrMOS, an ISL99227B and ISL 99227F, both of which are smart power stages offering internal temperature and current sensing. This is said to allow operations at higher efficiency levels due to the quicker and more accurate internal feedback loops. The power delivery subsystem is almost the same for the X299 Taichi and X299 Gaming i9, but one difference is the latter uses upgraded and Fairchild FDPC5030SG for the memory MOSFETs. At the top of the board above the VRM heatsink is where the CPU 8-pin power connector sits, just slightly off center on the right side. We are used to seeing these to the left of center, but I doubt it will make reaching it more difficult depending on where your holes are in the case for routing.
To the right of the DRAM slots, towards the middle of the board, is where we find the 24-pin ATX power connector. Also in that area are the two ASMedia ASM1074 controlled USB 3.0 headers, totaling four USB 3.0 ports between them. Nestled in among those ports sits the front panel Type-C USB 3.1 (10Gbps) header driven by an ASMedia ASM3142 controller. Under the small heatsink just above the first PCIe slot and below the left set of DRAM slots is where the Aquantia 10 gigabit Ethernet controller hides. The Aquantia 10 Gbps LAN port will also step down to 5GbE, 2.5GbE, and 1GbE as required. With internet speeds getting faster and faster (I have 1Gbps service in my area – sadly not at my house) we are likely to start seeing these pop up more frequently, particularly on workstation oriented boards where more use models are found for such fast speeds. We hope and expect to see this feature pop up on other boards down the product stack.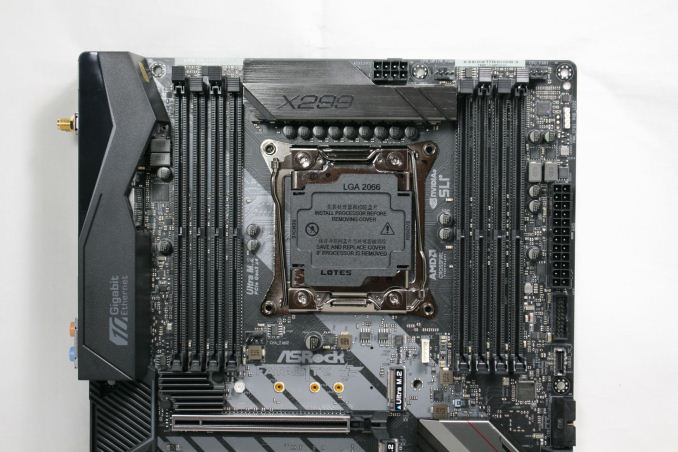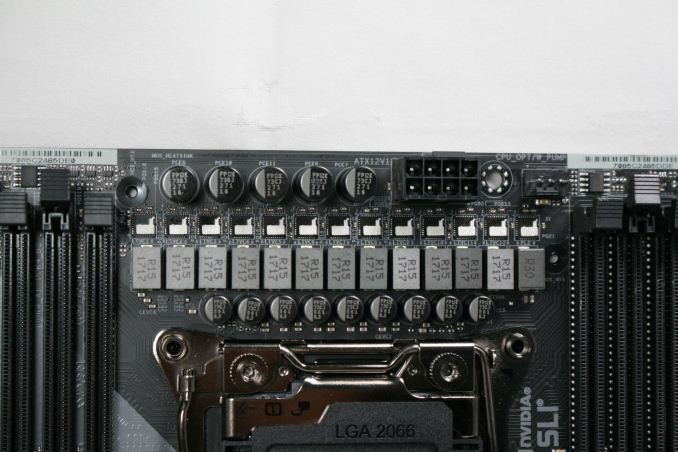 The board has a total of four full length x16 PCIe slots (labeled as PCIe1,2,3, and 5 from top to bottom) along with one PCIe 2.0 x1 slot (PCIe4). All four full length slots are covered by ASRock's Steel Slot said to offer more structural support and EMI protection. The first, third, and fith PCIe slots are used for multi-gpu setups sourcing its lanes from the CPU. This orientation allows for a double or triple wide cooler to fit and still allow for using the optimal PCIe slot spacing. With a 44 Lane CPU, that breaks down to x16/x16 for dual cards and x8/x16/x8 with x4 still going to the first M.2 slot (a constant no matter how many GPUs used, note).The second full-length PCIe slot, also from the CPU, is wired for 8x and will run at x8 with a 44 lane CPU. It can be used for PCIe add-in cards such as more PCIe M.2 storage, RAID, ethernet, etc. The board also has a 1x PCIe slot fed from the PCH.
To the left of the PCIe slots is where we will find the audio. The Fatali1ty X299 Professional Gaming i9 uses the latest Realtek ALC1220 codec, supported by the Sound Blaster Cinema 3 software. ASRock uses Nichicon Fine Gold Series Audio Caps and a TI NE5532 Premium Headset Amplifier for the front panel, supporting auto-detection for up to 600 Ohm headphones.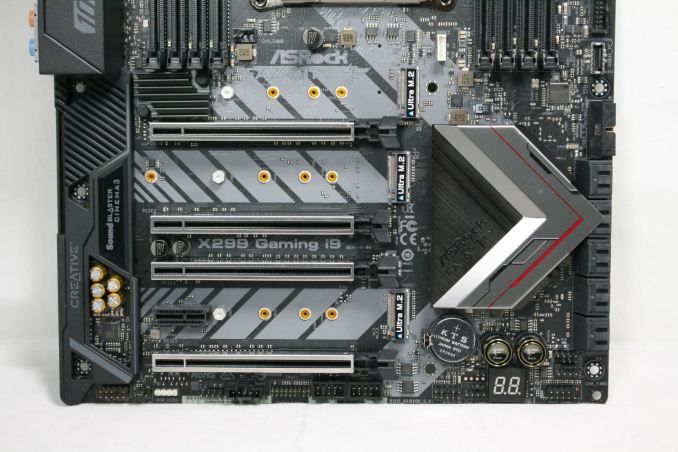 The I/O area is standard fare. There is the assortment of USB ports ranging from USB 2.0 to USB 3.1 (10Gbps) Type-A and Type-C. The BIOS flashback USB port is found directly above the PS/2 port. We see a standard audio stack with Optical SPDIF. Owners will even find a legacy combination PS/2 port, the Intel Wi-Fi module, Aquantia 10 Gigabit LAN (red), and the dual Intel Gigabit LAN ports. Rounding out the I/O section are the BIOS flashback button (for a CPU/RAMless BIOS flash), and reset CMOS buttons.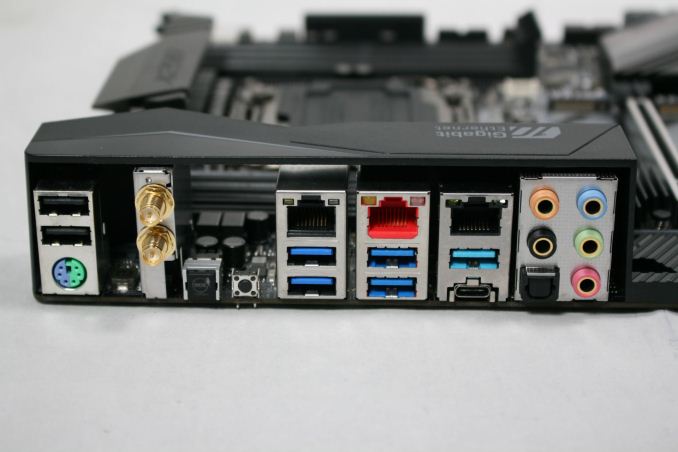 Looking at the SATA ports, ASRock places all 10 SATA ports next to each other. Eight of the ports run natively off the chipset, while the other two are supported by an ASMedia ASM1061 controller. The M.2 slots support both PCIe 3.0 x4 and SATA drives, but when using SATA based M.2 drives, the slots share bandwidth and disable some of the SATA ports. For example:
M2_1 is occupied by a SATA-type M.2 device, SATA 3_1 will be disabled.
M2_2 is occupied by a SATA-type M.2 device, SATA 3_0 will be disabled.
M2_3 is occupied by a SATA-type M.2 device, SATA 3_7 will be disabled.
For M.2 PCIe storage, one of the boards is supported directly through the CPU, offering a lower latency option rather than moving through chipset. This means that RAID-0 support will straddle both the CPU and chipset PCIe lanes, and should lead to better throughput than other boards that focus purely on M.2 slots via the chipset. In total, users can have up to 12 storage drives on the board. Of the three M.2 slots, the second M.2 (middle slot) is capable of supporting devices up to 110 mm in length while the other two, the top and bottom M.2 slots, hold up to 80 mm devices.