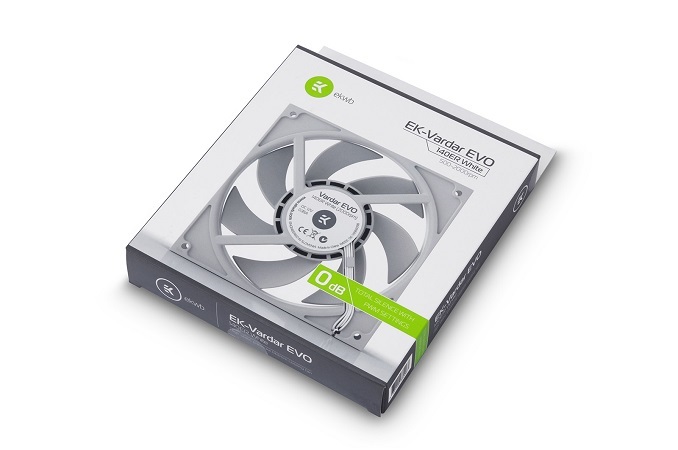 EKWB recently released a new lineup based on its EK-Vardar fans. The Vardar line was established in 2014 and created to be an industrial grade high-static pressure computer cooling fan. EK says the line was designed and built primarily for highest-performance computer liquid cooling systems, a fitting choice as the fan name "Vardar" is a term used for a cold northwesterly wind blowing into the valleys of Macedonia in the Balkans. The Vardar line has now grown into the new EK-Vardar EVO series of fans offering users the ER EVO which an extended range of PWM operation featuring a special start-stop function. The EVO "S" line for quiet operation, and the Furious Vardar EVO for moving the most air.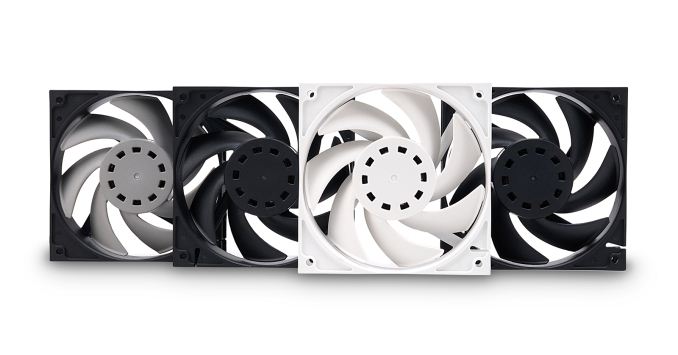 EK says the electronics on the ER EVO fan has been tweaked so the fan stops spinning if the PWM signal falls below a preset duty cycle value. In other words, when the PWM duty cycle is set below 25-30%, the fan will stop spinning. Once the PWM duty cycle is increased, the fan will then spin up. Being able to stop and start the fan can bring benefits of a totally silent PC, prolong the life of the fan, and can slow the buildup of dust on the heatsink or radiator by only running when it needs to.

The new electrical design uses actively cooled motor windings and Hydro-Dynamic bearings with a 50000 hour MTBF. The frame shape is said to provide optimal performance with either pull or push configurations. The shape of the frame allows the power cables to be routed through it when putting fans together on a radiator.
The Vardar EVO line comes in both 120mm and 140mm size. They all aim to be a high-static pressure, low noise profile fan with each using a 7 fan blade design. Vardar EVO fans come in single (all black or all white) and two-tone (black with gray blades). The original Vardar's maximum fan speed was designated by letter/number combination like the Fujita scale F3, F4, etc. The higher the number, the faster the fan would run. The EVO series changes that up usingnd has different names altogether. The basic EVO 120S/140S model spins up to 1150 RPM, the 120ER and 140ER models (ER designates the start/stop ability) reach 2200 RPM, while the EK-Furious Vardar reaches 2500 RPM for the 140mm, and 3000 RPM for 120mm.
EK-Vardar EVO ER fans are already available at the EK Webshop and online through EKWB's Partner Reseller Network. The EK-Furious Vardar EVO and white EK-Vardar EVO fans will be available in the next few weeks.
EK-Vardar EVO
Vardar EVO 120S

Vardar EVO 140S

Vardar EVO 120ER

Vardar EVO 140ER

Furious Vardar EVO 120

Furious Vardar EVO 120

0dB Technology
N
N
Y
Y
N
N
Max. Speed
1150 RPM
2200 RPM
3000 RPM
2500 RPM
PWM Duty Cycle
60-100%
25-100%
(Extended Range)
40-100%

Power Draw

.55W
2.16W
5.64W
9.07W

Max. Airflow (CFM)

40
64
77
108
107
144

Static Pressure (H20)

0.92mm
1.08mm
3.16mm
3.15mm
5.71mm
5.28mm
Noise Level (dBA)
23.7
26
33.5
40.7
42
48.4
Shaft Bearing
Hydro-Dynamic
MTBF
50000 Hours @ 40C
Price (inc. VAT)
14.95€
18.95€
16.95€
20.95€
16.95€
20.95€
Related Items:
Source: EKWB