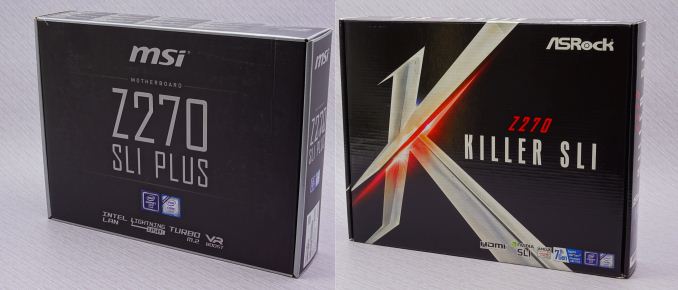 Earlier this year, Intel released their latest Kaby Lake processors and the new Z270/H270 chipsets to accompany them. Myriads of motherboards based on these two chipsets have been released during these past couple of months, covering virtually all of the consumer market demand.
In this review, we are having a look at two cost-effective Z270 motherboards that have been designed with gamers in mind - the MSI Z270 SLI Plus and the ASRock Z270 Killer SLI. As their names suggest, these two motherboards mainly place their marketing focus on the SLI support, and both have a retail price of under $140. We will examine their features, differences and performance in the following pages of this review.
Other AnandTech Reviews for Intel's 7th Generation CPUs and 200-Series Motherboards
The Intel Core i7-7700K (91W) Review - CPU Review
The Intel Core i5-7600K (91W) Review - CPU Review
The Intel Core i3-7350K (60W) Review - CPU Review
CPU Buyer's Guide: Q1 2017 - Guide
In comparison to the older Z170 boards, the new Z270 board on the base specifications are hardly any different. The Z270 ones have four extra PCIe lanes configurable on the chipset, potentially new audio and new networking controllers, and Intel Optane Technology Support. Although four extra PCIe lanes does sound like a huge difference, it is an important upgrade for the implementation of native M.2 slots (on Z170-based motherboards, this usually meant disabling some other device/port on the motherboard). Also, note that Intel Optane drives should still function on other chipsets as drives; the Z270 only allows them to enable their "smart caching" technology.
The Intel Optane Memory (SSD) Preview: 32GB of Kaby Lake Caching
Individual motherboard manufacturers will be sprinkling on new features onto their Z270 products to aid the transition and provide other tangible benefits over the old platform.
To read specifically about the Z170 chip/platform and the specifications therein, our deep dive into what it is can be found at this link.
MSI Z270 SLI Plus Overview
The MSI Z270 SLI Plus is a motherboard trying to implement as many practical features as possible while keeping the price tag below $140. It has two M.2 PCIe 3.0 x4 slots, with one of them supporting M.2 devices up to 110 mm long, and a total of six SATA 6Gb/s connectors. There are no native U.2 connectors but U.2 drives can be connected to the M.2 slots by using appropriate adapters. The new Z270 chipset allows the two M.2 ports to operate PCIe devices without disabling anything on the motherboard, but the use of SATA M.2 drives will disable one SATA port for each drive. MSI also implemented the new Realtek ALC1220 audio codec, as well as the competitive Intel I219-V Gigabit LAN chipset. A TPM header is also present.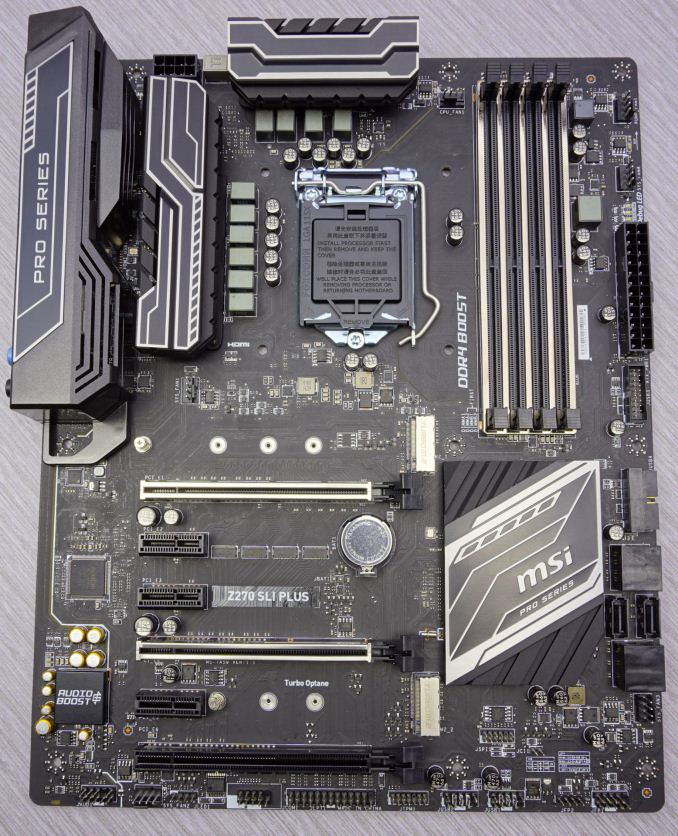 The number and type of USB ports on the MSI Z270 SLI Plus can be a little confusing. The motherboard's specifications state that the motherboard has one USB 3.1 Type C port and five USB 3.1 Type-A ports on the back panel, plus four USB 3.1 and four USB 2.0 Type-A ports available via headers. Once you read the specifications more carefully, it becomes apparent that the unnaturally high number of USB 3.1 ports is due to MSI dubbing the USB 3.0 ports as "USB 3.1 Gen 1", while the 10Mbps ports are the "Gen 2". They have an article posted on why they do so. So, technically, the motherboard has two USB 3.1 ports (one Type-A and one Type-C) that are being provided by the ASMedia ASM2142 controller, while the rest are USB 3.0 ports that are being provided by the Intel Z270 chipset.
ASRock Z270 Killer SLI Overview
Even though the retail price of the two motherboards is very similar, ASRock's approach is significantly different than that of MSI's. The ASRock Z270 Killer SLI is a motherboard trying to combine features with aesthetics. It features RGB lighting (chipset heatsink, plus a header for RGB LED strips) and has a painted PCB to identify with the Killer brand. It is almost identical to SLI's offering in terms of drive support, featuring two M.2 PCIe 3.0 x4 slots with one of them supporting M.2 and a total of six SATA 6Gb/s connectors. The only difference here is that both M.2 slots support devices only up to 80 mm long. Similar to the MSI, both of the main PCIe slots from the CPU come with integrated slot guards to reduce any potential bending or warping from heavy graphics cards.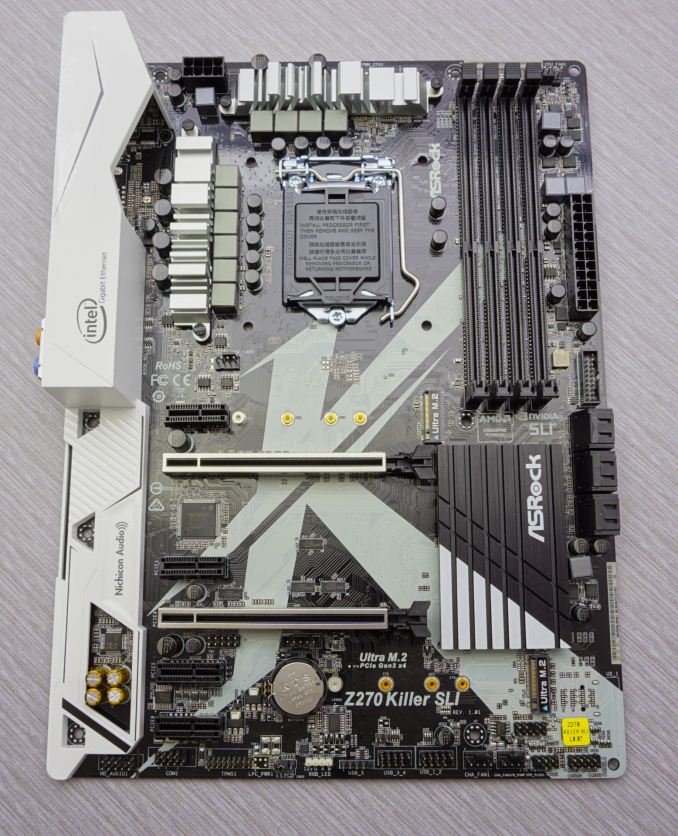 ASRock also went with the highly popular Intel I219-V Gigabit LAN chipset. To contrast, the audio chipset is the now aged Realtek ALC892, which is a mediocre choice for a gaming motherboard. The motherboard also has no support for USB 3.1 (10 Gbps) devices at all. The ASRock Z270 Killer SLI has one Type-C connector and five Type-A connectors, all of which are USB 3.0 (5 Gbps) compliant. Headers for two extra USB 3.0 connectors and up to five USB 2.0 connectors are available. There is also a header for Thunderbolt AIC connectors (5-pin or 10-pin), which cannot be found on the MSI Z270 SLI Plus.
Motherboard Comparison
MSI Z270 SLI Plus
Socket
LGA1151
LGA1151
MSRP at Review
$133
$143
DRAM
4 x DDR4
4 x DDR4
PCIe Layout
x8/x8
x8/x8
BIOS Version Tested
1.4
2.0
MCT Enabled Automatically?
Yes
Yes
USB 3.1 (10 Gbps)
ASMedia ASM2142/Intel Z270
None
M.2 Slots
2 x PCIe 3.0 x4
2 x PCIe 3.0 x4
U.2 Ports
No
No
Network Controller
1 x Intel I219-V
1 x Intel I219-V
Audio Controller
Realtek ALC1220
Realtek ALC898
HDMI 2.0
No
No