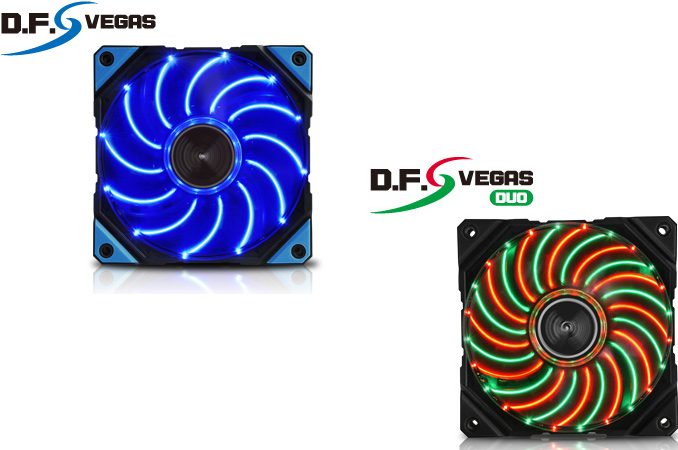 Enermax has announced that they have expanded their lineup of fans with its DFR (dust free rotation) technology, which can clean themselves up from dust, with two new models featuring LEDs. The Enermax D.F. Vegas 120-mm fans with different lighting effects are aimed at modders, who will I suspect will appreciate the self-cleaning mechanism.
Perhaps one of the most annoying things when servicing PCs is removing dust from fans. Dust is definitely not a hygienic compound, but back in the day it was not visually noticeable since PC cases did not have windows and lacked any kind of lighting inside. Today, many enthusiasts run systems with transparent side panels with plenty of lighting effects and dust becomes clearly visible even after a few months of use. Earlier this year Enermax introduced its DFR technology, which they advertise as being able to keep fans relatively clean from dust for longer periods of time. Upon every startup, Enermax's fans with DFR spin in reverse action at the highest RPM for 10 seconds before resuming their normal operation. While DFR will keep fans and heatsinks a little cleaner, fans that blow air outside of PCs cases will suck the dust into those chassis at every startup, which may not be always optimal.
The Enermax D.F.Vegas (UCDFV12P-BL) and D.F.Vegas Duo (UCDFVD12P) support the company's DFR technology and come with 12 blue or 24 red + green LEDs. The latter can work in different modes (all on, sparkle, flash and Vegas), another feature to be appreciated by modders. The D.F. Vegas series fans feature twister bearing, adjustable peak speed (1100, 1300 or 1500 RPM) to ensure optimal performance (minimum speed is always at 800 RPM) and rubber pads to minimize noise and vibration. Like other premium fans, the D.F.Vegas feature detachable blades for easy cleaning.
Specifications of Enermax D.F.Vegas and D.F.Vegas Duo Fans
(UCDFV12P-BL and

UCDFVD12P

)
Ultra Silent
Silent
Performance
Speed
800 ~ 1100
800 ~ 1300
800 ~ 1500
Airflow (CFM)
33.21 ~ 45.33
33.21 ~ 53.66
33.21 ~ 61.92
Airflow (m3/h)
56.43 ~ 77.02
56.43 ~ 91.17
56.43 ~ 105.20
Static Pressure (mm-H2O)
0.979 ~ 1.297
0.979 ~ 1.425
0.979 ~ 1.898
Noise (dBA)
16 ~ 18
16 ~ 20
16 ~ 22
Input Power
2.5
2.8
3.0
MTBF (hrs)
≧160,000 @ 25oC
Connector
4-pin PWM connector
Dimensions (mm)
120 (W) x 120 (H) x 25 (D)
Enermax did not announce recommended prices for its D.F.Vegas and D.F.Vegas Duo fans, but indicated that they should hit the market in late September. Right now, the company sells its Enermax D.F.Pressure (UCDFP12P) case fans with DFR technology for $16.99 in the U.S. The D.F.Pressure fans are more powerful than the D.F.Vegas fans, but are also considerably noisier at peak speeds.
Source: Enermax